A TikToker claimed to make an unfortunate—and unappetizing—discovery in a previously unopened box of Frosted Mini Wheats. As it turned out, several worms were already chomping down on the breakfast cereal, having mysteriously found their way into the box.
While unpleasant, occasionally finding pesky bugs in pantry staples is "not uncommon," says Rutgers University's New Jersey Agricultural Experiment Station (NJAES). In fact, these bugs can find their way into food products "anywhere along the food chain," including "during growth, harvest, or storage in the warehouse, store or your home." Even if an item is sealed and unopened, "many hide in packaging, chew through plastic bags and wrapping, and seek cover in the crevasses of shelves and walls."
It's unclear how exactly the critters, which appear to be mealworms, found their way into TikTok user @mbutler20014's box of Mini Wheats—though their presence alone is enough to send shivers down many viewers' spines.
The clip, found here, begins with @mbutler20014 explaining that ever since he went to the store and bought cereal, he has been hearing noises coming from his kitchen cabinet. "I think it's coming out of this box," he says, grabbing the Kellogg's Frosted Mini Wheats. The TikToker carefully opens the box of cereal and inspects the clear, plastic bag.
"Oh, yeah, buddy," he says, pointing the camera at the bag's contents and revealing several nearly-disguised worms traversing the cereal. "We have friends in here." He estimates there to be about 13 worms in the box. As he jokingly laments in his video's caption: "Found a whole family in my cereal."
A follow-up clip, posted that same day, warns viewers to "watch out for special visitors" and shows further evidence of unwanted pests in the Mini Wheats.
According to a statement from Kellogg spokesperson, Kris Bahner, the company is aware of the claims made by the TikToker and is investigating the issue. "We appreciate that this must have been upsetting," said Bahner. "Despite many precautions to prevent it, insects can penetrate properly sealed packages as products leave our control and work their way through distribution to stores and people's homes. We learned about this report Sunday via social media and we are working quickly to understand more."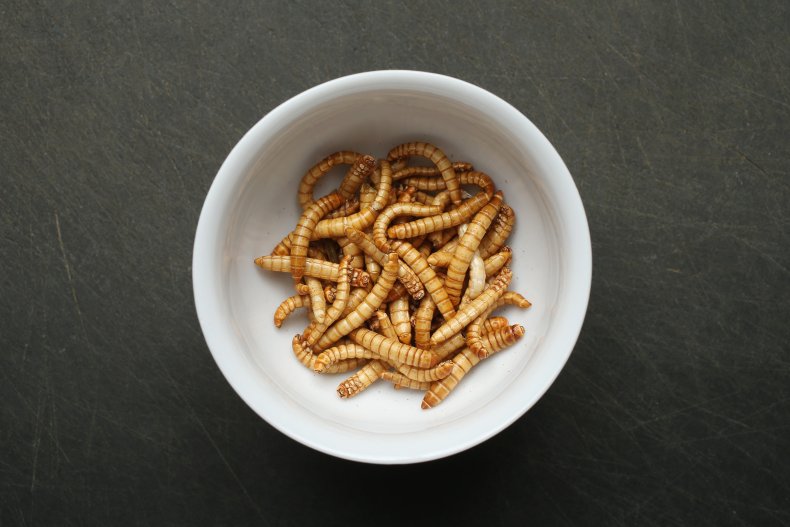 The clips seem to have struck a particular chord with the TikTok community, as both have racked up hundreds of thousands of views and thousands of comments—the first has amassed over 320,000 views while the second trails with about 140,000.
While some suspected the TikToker staged the ordeal, others described having similar experiences with packaged pantry products. "My son had bugs in his bowl of Rice Krispies and hasn't eaten that for 18 years," wrote one commenter.
Added another: "I [used] to work at Kellogg's in Jackson TN....be lucky that's all ya got lol."
Newsweek reached out to TikToker @mbutler20014 for further comment but did not receive a response in time for publication.
This isn't the first time Kellogg's—and Frosted Mini Wheats, specifically—have come under fire in recent weeks. The brand is currently involved in a class-action lawsuit for its mislabeling of certain products, in order to make them appear healthier than they are. The claims extend to cereal bought between Aug. 29, 2012 to May 1, 2020 and include Kellogg's Raisin Bran, Smart Start, and Frosted Mini-Wheats products.
Uncommon Knowledge
Newsweek is committed to challenging conventional wisdom and finding connections in the search for common ground.
Newsweek is committed to challenging conventional wisdom and finding connections in the search for common ground.