Viral Video Shows Man Removing Social Distancing Stickers From Floor: 'I Scrape for Freedom'
A new viral video shows a man in Niagara Falls, Ontario, removing social distancing stickers from a drugstore floor as he says, "I scrape for freedom."
The video was posted to YouTube on Monday and begins with the man scraping off several social distancing stickers from the aisles.
As the video continues, the man, who was identified as Sandor Ligetfalvy by The Niagara Falls Review, can be heard singing about removing the stickers. The Niagara Falls Review also reported that the incident occurred at a Shoppers Drug Mart.
"I scrape in the morning, I scrape in the evening, all over this land," the man says, seemingly alluding to the Pete Seeger song, "If I Had a Hammer." "I scrape for justice, I scrape for freedom, I scrape for love between my brothers and my sisters all over this land."
After removing several more social distancing stickers, the video shows Ligetfalvy being interrupted by a store employee who tells him to leave the store and threatens to call the police.
Ligetfalvy is then followed down another aisle by several store employees who continue telling him to leave and to stop removing the stickers. He then tries to remove another sticker from the floor but is stopped by another employee and says he is there "to liberate the people."
After the employee again tells him to please leave the store, Ligetfalvy responds by saying, "You can say, 'Please,' but they're not saying 'please' to us from the World Health Organization. They're not saying 'please' as they re-write our society."
"We need some pushback now, or there'll be pushback never," Ligetfalvy again says. "So, we're not playing around anymore, we're scraping for truth, we're scraping for freedom."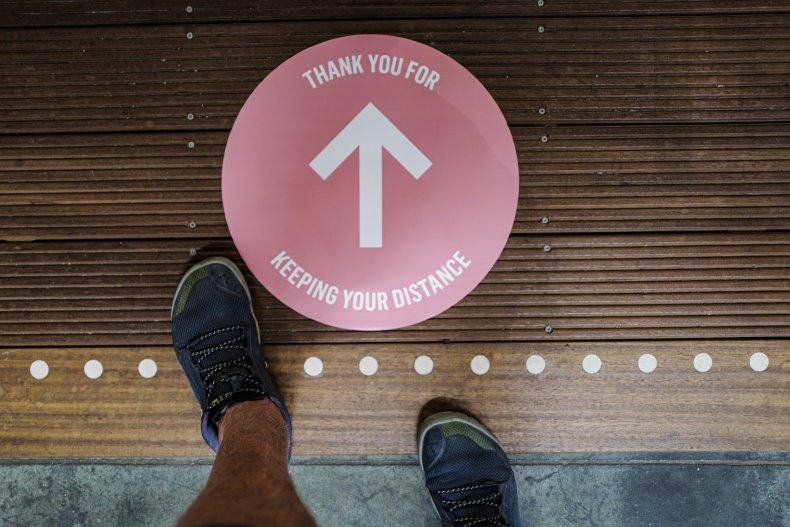 Before the video ends, a store employee can be seen and heard telling Ligetfalvy and other customers to leave the store, as they were going to close for safety precautions.
While speaking with The Niagara Falls Review on Tuesday, Ligetfalvy said that after the birth of his son he began feeling a "psychology of fear" controlling everyone due to the coronavirus pandemic.
"What are we doing to our society when we're promoting fear everywhere we go?" he said while speaking with The Niagara Falls Review. "I'm tired of having to go to a store—which used to be a type of therapy—and now it's a type of trauma."
Ligetfalvy also told the news publication that he was stopped by police and placed in handcuffs after leaving the store and will appear in court in October for one count of mischief.
According to The Niagara Falls Review, he will also appear before a judge in December for violating the Niagara region's mask law, and he could face a fine of up to $1,000.
In an email sent to Newsweek, Ligetfalvy described the different coronavirus restrictions he opposed as the "new normal."
"I reject every aspect of the so-called "New Normal" and understand clearly that this is a massive psychological conditioning operation with the target being administering injections. If mandatory masks and mandatory social distancing -- why not mandatory vaccines?" Ligetfalvy wrote in his email. "The new normal is unacceptable, and by the time it becomes truly intolerable, the target would not be stickers."
He added, "I acted now because any further delay on civil disobedience would only make it more difficult when the time to act finally makes itself obvious to us. By then, it might be too late."
Newsweek reached out to the Niagara Falls Police Department in Canada for comment but did not receive a response in time for publication.