Viral Video Shows Moment Young Moose Pauses to Lick Snow Off Car Hood
A woman shared a video to Facebook that shows a young moose walking by her car on a road in Orono, Maine, before it paused to take a few nibbles of snow from the car's hood.
Margo Lukens posted the video and some photos to the Facebook group "Caribou Bog Cross-Country skiers" where the video was viewed more than 120,000 times. Some commenters shared jokes and were delighted by the video, while some worried for the young moose's safety if its mother was not nearby.
According to the Maine Department of Inland Fisheries and Wildlife, the state is home to one of the highest populations of moose in the United States. Calves typically remain with their mother for about one year. They go off on their own not long before their mother gives birth to another calf.
Lukens' video opens just as the young moose is in front of her car. Up ahead, other cars are stopped from driving in the opposite direction. The moose glances over the car before taking a few delicate bites of snow from the hood. Lukens is heard letting out a laugh just before the moose finishes its snack and continues on its way.
Mark Latti, the communications director for the Maine Department of Inland Fisheries & Wildlife told Newsweek it was difficult to determine the exact age of the moose, but said he believed it was a yearling, which is a moose in its second year.
Lukens told The Bangor Daily News that she was out cross-country skiing at the Caribou Bog Conservation Area with her dog. On the drive home, she said she noticed a line of cars stopped on both sides and immediately know something was happening.
She told Newsweek in an email she thought police were asking for information about someone who was in trouble or missing.
As she looked ahead, she saw the moose.
"It came up close and began nibbling on the snow on my hood," she said. "I didn't feel at all threatened by this moose. He was obviously a yearling or something."
Though she was not worried for her own safety, she said she was concerned that it was "unguarded."
After the moose continued on its way, she said she pulled over to watch it in her rearview mirror. She noticed a police officer and another person managed to coax it off of the road and into the woods.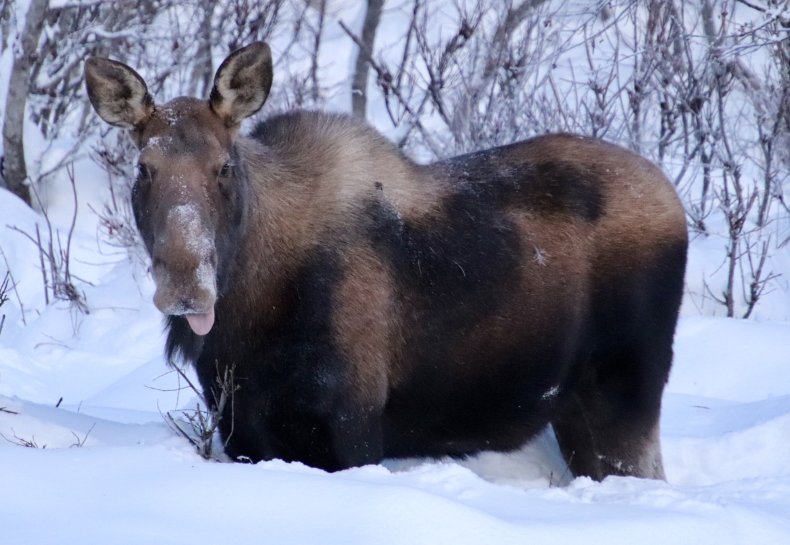 The Maine Department of Inland Fisheries and Wildlife reported that moose can grow up to seven feet tall. The average weight of a female moose is more than 800 pounds, while the average weight of an adult bull is more than 1,000 pounds.
Moose calves typically weigh about 35 pounds at birth, per Live Science, and grow rapidly.
"After [six] months, calves are weaned," the Live Science article stated. "At [four] to [six] years old they are fully grown, though many never make it to adulthood."
While moose are seen frequently on roadsides or in forests, Lukens said she does not often see moose walking around her town, though they may be spotted every few years. When she walks her dog, she often comes across moose footprints in mud or snow.
This was the closest she has ever been to a moose.
"I have had hiking encounters with moose—one feeding on foliage along a trail on Mount Katahdin, taking her sweet time — but we kept a respectful distance," Lukens said.
She said she saw moose in the woods, typically in ponds when she is in the car, and she also spotted them when canoeing.
More than 4,000 people shared Lukens' video after she published it to the Facebook group.
One worried that the moose may have been sick and was concerned that it will have a difficult time surviving through the winter.
Some said the moose looked healthy and was simply curious, while others took the opportunity to joke about the video.
"He's checking your registration," Catherine Healey joked.
"I would have carrots in my car for moments like this," Heather Corbin Newman wrote.
Updated 02/18/2022, 11:56 a.m. ET: This story has been updated to clarify that moose are seen frequently on roadsides or in forests, not in the town proper.
Updated 02/17/2022, 5:54 p.m. ET: This story has been updated with comments from Margo Lukens and Maine Department of Inland Fisheries & Wildlife Communications Director Mark Latti.