Viral Video Shows Python Chomping Down on Zookeeper's Face
Reptile enthusiast Jay Brewer is known online for his videos showcasing the reality of working with snakes, serpents, lizards, and other cold-blooded creatures—a field that can sometimes veer into dangerous territory. In one recent clip that's gaining traction on Instagram, Brewer shows what happened when an angry python lashed out, biting him square in the face.
Brewer, who founded The Reptile Zoo in Fountain Valley, Calif., is no stranger to snakes. On his Instagram account, Brewer posts frequent videos of himself interacting with animals—primarily with reptiles like Komodo dragons, crocodiles, and alligator snapping turtles, to name a few. His daring content has built a massive online presence on Instagram, where Brewer has 3.4 million followers.
In the clip, posted Monday, he stands in front of a giant python who is wrapped around her unhatched eggs. Brewer explains that, in order for the eggs to hatch successfully, he needs to take and relocate them to an incubator.
He tries to lift the small pile of eggs, careful not to disturb the mama python. Brewer, however, is not sneaky enough: the snake lunges towards him, nabbing him right in the jaw. "Right in the face!" he exclaimed. "Blood and all," he added, wiping his face with his hand and displaying it for the camera.
"She GOT ME," wrote Brewer in the video's caption. "I take a risk so I can get the babies...in the incubator where it's safe... in this case, I had to take one for the team."
Thousands of viewers flocked to the video's comments section, joking that the snake's bite was "a cheap shot."
"You took it like a champ though," wrote one commenter.
"I admire how chill [you] are," said another. "I'm pretty sure I almost fainted watching this lol."
And as one commenter put it simply: "Ouch."
For concerned viewers, Brewer also noted in the comments that this particular species of snake is not venomous, meaning the injury is far less serious than it could have been.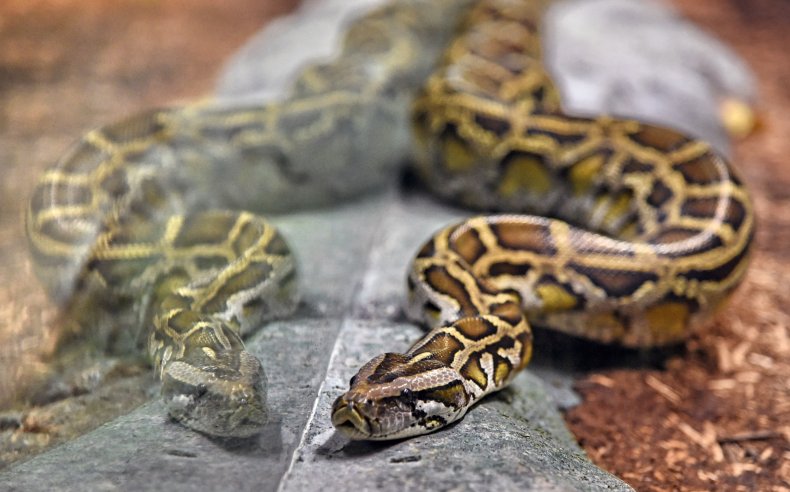 It appears that snake bites—and their ever-present threat—are a common occupational hazard for those that work with reptiles. On Tuesday, Stuart McKenzie, owner of Queensland, Australia's Sunshine Coast Snake Catchers 24/7, shared a video from several years ago, showing a venomous red-bellied black snake nearly biting him in the face. "As I grabbed him I was getting ready to bag him up, and out of nowhere, he shot up towards my face, coming within about 6 inches of my nose! Very, very close!" he wrote. "It's pretty rare to have a close call with a red belly as they are generally quite a placid and calm snake."