Viral Video Shows a Train Crash Into an 18-Wheeler Carrying Wind Turbine
A viral video posted on Facebook by an eyewitness showed the moment a high-speed train crashed into an 18-wheeler carrying a wind turbine. The video currently has 1.5 million views and 71,000 shares on Facebook.
In the video, the 18-wheeler gets caught on the railroad tracks as the crossing gate comes down across the wind turbine on the tractor of the truck. Nearby cars pull over as the person filming the video jumps out of their truck to check out the incident. A man then jumps back into his pick-up truck and drives farther away from the track to avoid the upcoming collision as a train horn can be heard approaching.
Moments later, a large freight train crashes into the wind turbine. The force of the collision overturns the cab of the 18-wheeler and it lands on its side. The crash occurred Sunday afternoon in Luling, Texas as the Northern Lights Specialized Transport truck was traveling north on U.S. 183, according to authorities.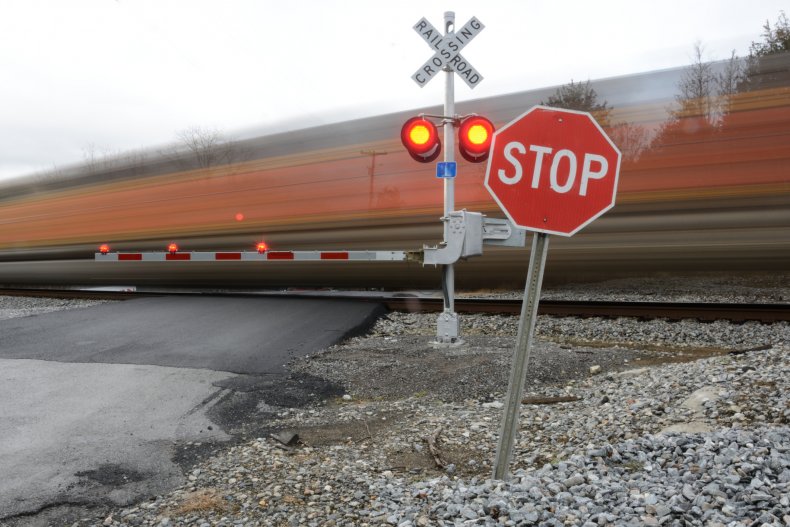 The truck was approximately two-thirds of the way across the railroad tracks when the crossing arms started coming down on the truck. The truck was unable to move off the tracks before the freight train collided, according to the driver of the 18-wheeler.
There were about 1,901 recorded train-car collisions in 2020 in the United States, according to the Federal Railroad Administration. Most of these crashes occurred at railroad crossings and resulted in 728 deaths. The Federal Railroad Administration also found that Texas is the state with the most train-car collisions, reporting over 191 collisions in 2020 which resulted in 11 deaths.
Crew members on the train sustained minor injuries, Union Pacific Railroad Media Relations Manager Robynn Tysver told Newsweek. The tracks have been cleared and the locomotives involved in the incident were damaged. However, three unoccupied parked vehicles were damaged by the wind turbine during the collision. The turbine also caused damage to the railroad crossing signal controller, a utility pole, and a nearby commercial building, according to a press release from the Luling Police Department.
Police also said there was significant damage to the two engines on the front of the Union Pacific train. The engines were replaced and the train and track were both inspected by Union Pacific safety personnel. Both were pronounced safe and the train was cleared to travel around 9 p.m.
The Luling Police Department and Union Pacific Railroad Police are currently investigating the collision.
Union Pacific is one of the largest transportation companies in the world with over 32,200 miles of tracks in the United States. It currently operates over 7,600 locomotives in 23 states.
Updated 08/30/2021, 5:20 p.m. ET: This story has been updated with a statement on railroad worker injuries from Union Pacific Railroad Media Relations Manager Robynn Tysver.