Viral Video Sparks Debate About Whether Trader Joe's Is Cheap
A viral video from a New York grocery shopper has reignited an age-old debate: Is Trader Joe's cheap?
Katarina Kitt shared her thoughts on TikTok, where her clip has reached over 570,000 views.
"So all the new hires were talking about where they like to eat and where they like to shop," began Kitt, who works in New York City. "One girl said Trader Joe's, so I was like, 'Oh, yeah, I like Trader Joe's, if—you know—you have the money for it.'"
Kitt explained that she thought Trader Joe's was pricey, compared with shops such as Lidl and ShopRite. "I was like, 'But you know what, it's worth it, because they're fair trade and all these other reasons.'"
But her manager overheard this, Kitt said. He responded, "What do you mean? Trader Joe's isn't expensive."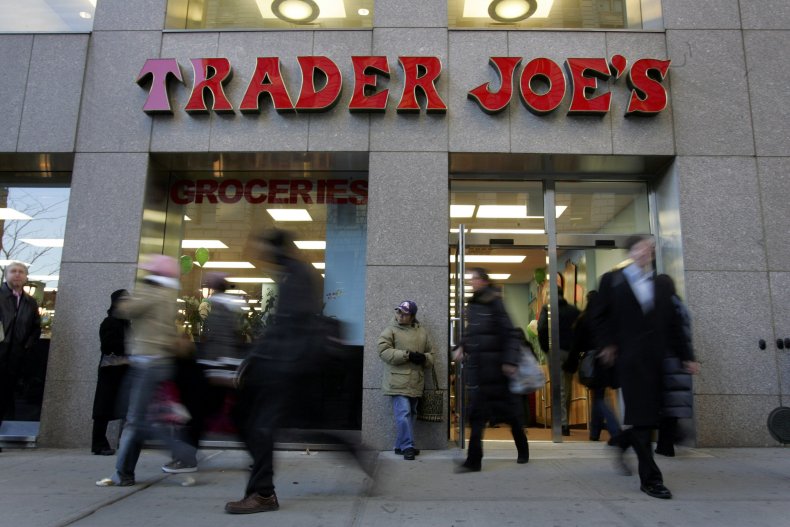 Kitt was perplexed, she told her viewers. "Where I'm from, me and my family, we don't shop at Trader Joe's, because it's expensive to us. Wow, I really do not fit in here, do I? Because am I wrong? Trader Joe's is an expensive supermarket!"
Kitt grew up on Long Island, she added in the comments section, while her colleagues who believed that Trader Joe's was cheap lived in New York City. Some viewers proposed that this geographical divide could explain their differences.
"In NYC, Trader Joe's is definitely cheaper than other grocery stores," one person commented.
Another Long Islander shared Kitt's outlook. "When I lived at home with my parents on Long Island we barely shopped there because [it's] expensive," they wrote. "But then I moved to NYC and it's the cheapest option."
Others argued that the store's packaging fooled people into seeing it as cheap. "It's cheaper because their portions are made for ants," said one comment.
Several people touted their allegiance to other grocery stores. "ALDI girl here," a viewer said. "Trader Joe's is EXPENSIVE for a full grocery shopping but great for a few unique treats and snacks."
A 2018 report by Consumers' Checkbook found that prices at Trader Joe's were about 5 to 10 percent lower than the national average, while the store simultaneously enjoyed high favorability ratings for "overall quality." ALDI's prices were a stunning 40 to 50 percent lower than most other stores, although it received only an average rating for quality.
Both Trader Joe's and ALDI mainly carry their own brands, rather than national-brand products. The downside to this is that consumers may have to supplement shopping there with trips to other stores, since the two unique chains carried fewer items than other conventional supermarkets, Consumers' Checkbook noted.
Thanks to inflation, the cost of groceries is rising no matter where you shop. Grocery prices were up 7.9 percent in February compared with the previous year, recent Consumer Price Index data showed. Meanwhile, food-at-home prices are expected to continue increasing between 3 and 4 percent by the end of 2022, according to the U.S. Department of Agriculture.
Newsweek reached out to Kitt for comment.