Car Salesman Appearing to Urinate on Woman's Driving License Sparks Outrage
A video of a car salesman appearing to urinate on a woman's driving license has gone viral on social media and sparked outrage. The Kenosha police in Wisconsin have confirmed they are investigating the matter.
The owner of the driving license, Leah Jefferson, took to Facebook on Sunday and gave wider context to her encounter prior to the incident.
She said that she arrived at the NH Auto Sales on 9000 Sheridan Road in Kenosha, Wisconsin, on Sunday around 1 p.m.
She said she was interested in purchasing a vehicle and had reached out to a worker Bryan Slaven about viewing and test-driving one of the cars available.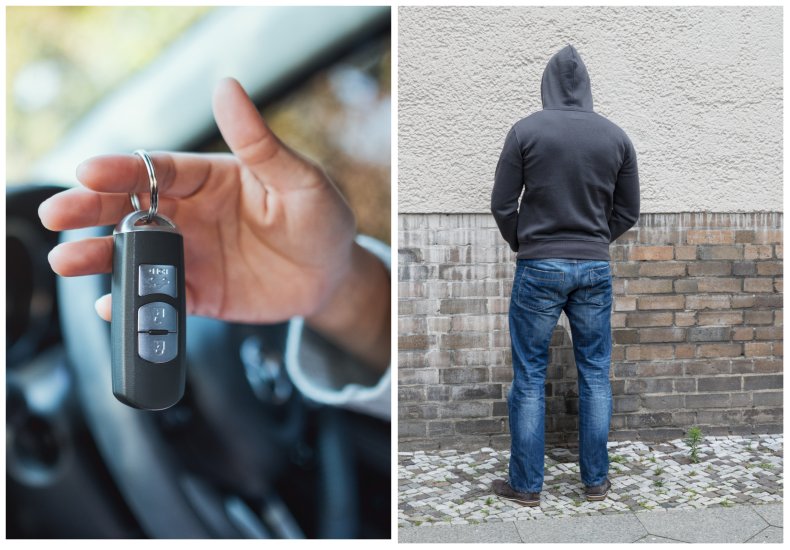 The viral clip was posted to Slaven's Snapchat profile but Slaven's face is not seen in the clip.
The person in the clip can be heard saying: "This is what happens. Do you want to see what else is going to happen? Think you are going to say stupid s*** to us?"
They proceed to damage the ID card before placing it on a car bumper. They then appear to urinate on it.
In order to test drive the vehicle, Jefferson had to hand over her driving license to the dealership, an act she said was seen by her friend's mom and a member of the public.
After the 30-minute test drive, she returned to the dealership and attempted to barter about the price and ask further questions.
In her Facebook post, Jefferson explained what happened when she realized the dealership still had her ID.
The post read: [Me and my friend's mom] went outside to discuss and decided the vehicle just wasn't for me.
"We left and headed back to town [and we realized] I never got my ID back from Bryan and his counterpart. I called Bryan immediately and told him I left my ID.
"My exact words were, 'I left my ID [so] can I cashapp you like $5 to send back to me.' I don't have time to just drive an hour away I made time today because I was viewing a car but I work all the time.
"BRYAN'S response was along the lines of, 'm not in the office right now. I don't have your ID, and I wont be back until Monday.'
"My response back was, 'Okay, can I call you on Monday?' Mind you, I went out of my way to ask can I call you on Monday to get MY PERSONAL PROPERTY BACK.
"Bryan's response back was, 'Yeah.' We hung up, here I am thinking damn K don't have my ID I cant get a drink after this non successful car lot day. Then BOOM."
Jefferson shared a chat log she had with an Instagram user who said he had seen the video of the car salesman seemingly urinating on her license and said it was also clear that her full name and address were also visible, explaining how he was able to contact her.
Jefferson said she felt "violated" and was "sick to [her] stomach" about the video now circulating and was now concerned the public knew where she lived.
The Kenosha Police Department has since released a statement about the incident and said they are investigating the video.
While the department called the video a "disgusting act" they called on the public not to take the matter into their own hands.
The statement read: "KPD is aware of a disgusting act of disrespect towards a persons property, a video of which is being widely shared on social media. We have been in contact with the victim and are working with that person on the investigation.
"KPD is also aware that this video has been viewed, a lot! We are aware of the threats being made ... [and] while we can understand that viewing this video causes emotional reactions, we cannot and will not tolerate any acts of violence towards those [seemingly] responsible or associated with the business or the business itself."
Newsweek has contacted the Kenosha Police Department, Leah Jefferson, and the NH AUTO SALES company for comment.