Virgin Australia Flight Diverted After 'Large Chunk of Wing' Comes Loose Mid-Air
A Virgin Australia flight was diverted back to Brisbane after a "large chunk" of the aircraft's left wing was discovered to be "peeling away" shortly after take-off.
Bill Mauger, a passenger on board Melbourne-bound flight VA346 who was seated near the wing, attempted to alert a cabin crew member when he noticed the issue.
"As we were starting to get some altitude I looked over to the wing and it looked like there was something caught in it. It looked as though there was a bit of cardboard," he told Nine.com.au.
"I thought that is a bit weird. But then I took a bit of a closer look and it was actually part of the wing peeling away.
"It was quite a large chunk of wing flapping in the breeze."
Mauger claimed he wasn't able to immediately get the attention of flight staff due to passengers being required to remain in their seats with the seatbelt on during take-off. But he was reported to have flagged a flight attendant as soon as the seatbelt sign had been switched off.
"I was waving to get her attention and she said, 'Yes, we've seen it, the captain is dealing with it.' She shut the conversation right down," Mauger said.
Passengers were then informed via an in-flight announcement that the plane was heading back to Brisbane due to technical difficulties.
The outer skin of the left wing was reported to have partially separated from the lower flap of the wing while the aircraft was mid-air, according to Nine.com.au. The plane was reported to have been redirected back to Brisbane Airport due to "an engineering" issue and "not a safety issue," a Virgin Australia spokesperson said.
"This was not a safety issue, however the Captain made the decision to conduct an air return so the aircraft could be inspected by our engineers as a precautionary measure," the spokesperson said.
"The aircraft is currently being inspected by our engineers and is expected to return to service on Tuesday 21 January," Virgin Australia told the ..
Upon arrival at Brisbane Airport, passengers were reported to have been transferred to another Melbourne-bound flight just minutes after disembarking the plane, according to Mauger.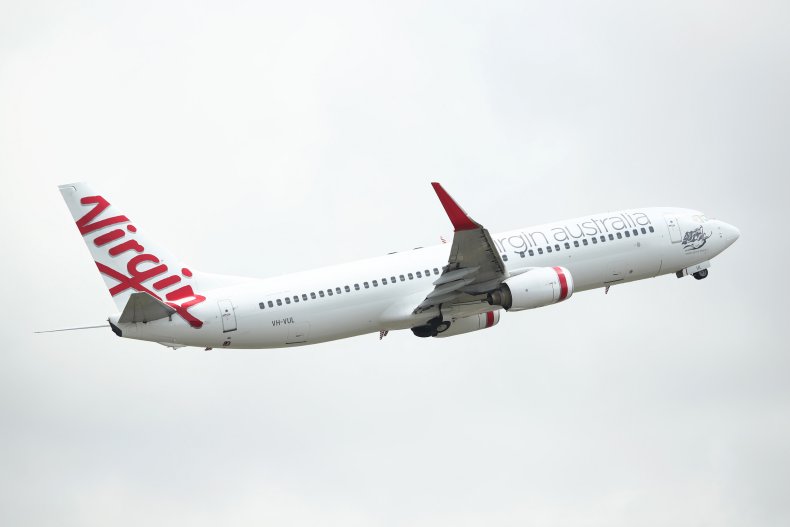 Last week, a United Airlines flight heading to Los Angeles was forced to make an emergency landing in New Jersey after flames were reportedly spewing out of the engine on the right wing of the plane, according to a video captured by a passenger on board the flight, WABC-TV reports.
"The engine, it shot like 10 times, and I got about six of them on video with flames, and it sounded like gunshots, and everyone just kind of freaked out," passenger Gabrielle Guzy, who posted the video on social media, told WABC-TV.
Another passenger, Nicole Adamo, who described the incident as "the most terrifying experience" of her life, reported several people were screaming.
"Most terrifying experience of my life. Flight delayed 2 hours for Maintence issues. Flight takes off, Right wing of the plane (where I'm sitting in the aisle seat) sparking & now one engine failed. They're making announcements but i can't hear anything b/c people are screaming," she said in a post shared on her Twitter account.
The plane was reported to have been diverted to Newark Airport due to a "mechanical issue," according to a statement by the airline. Passengers were landed safely at Newark and put onto another L.A.-bound flight.
Virgin Australia Flight Diverted After 'Large Chunk of Wing' Comes Loose Mid-Air | News