Flight Diverted after Passenger Shouts 'Get Me off This F***ing Plane' and Threatens to Kill Crew
Pilots had to divert a Virgin Australia plane after a passenger started screaming and threatening cabin crew.
An hour into the VA697 flight from Melbourne to Perth, a witness said a female passenger started shouting "Get me off this f***ing plane, don't f***ing come near me, I can't breathe."
When cabin crew tried to calm her, she warned that she would kill people if they did not stop the plane, ABC News reported.
Pilots diverted the plane to Adelaide where the woman was arrested by Australian Federal Police officers. The plane continued on its journey to Perth after it was inspected and refuelled.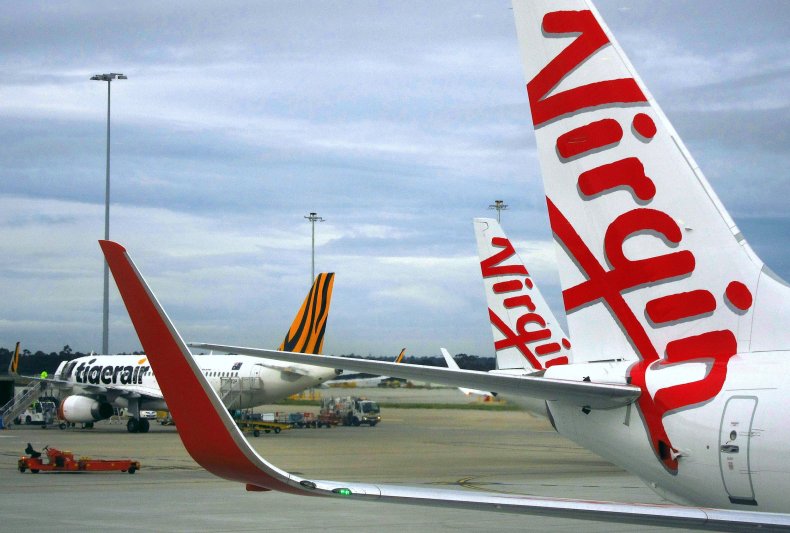 Witnesses told ABC that many passengers, including children, were frightened by the outburst.
But one passenger, with the handle Brosh said on Twitter: "Passenger was experiencing some mental illness. No one was at any actual risk at any point - empty threat from (a) very distressed person."
A Virgin Australia spokesperson said: "As a result of a disruptive passenger onboard Virgin Australia flight VA697 from Melbourne to Perth, the captain made the decision to divert to Adelaide and the passenger was removed from the aircraft by the Australian Federal Police.
The flight had already left Melbourne one hour late and it touched down in Perth four hours later than scheduled.
"The aircraft has since landed in Perth this morning and we apologize for any inconvenience this may have caused guests," the spokeswoman added.
The incident comes after a Sri Lankan man was jailed on Thursday for threatening to set off a bomb on an international flight from Melbourne last year.
Manodh Marks, 26, forced Malaysia Airlines flight MH128 in May 2017 bound for Kuala Lumpur to turn back when he screamed he had a bomb, which turned out to be an audio device.
He must serve a minimum of nine years of a 12-year sentence, the Sydney Morning Herald reported.