Virgin Galactic's Sirisha Bandla Wants More Women, People of Color in Space
Sirisha Bandla is one of five people joining billionaire Richard Branson on board a Virgin Galactic flight to space on Sunday.
The 34-year-old scientist is Virgin Galactic's vice president of government affairs and research, and will be handling a University of Florida research project onboard.
When V.S.S. Unity reaches its maximum 55-miles up, Bandla will become only the second India-born woman and third person of Indian descent to leave Earth's atmosphere. Although there is some debate about the point at which the planet ends and space begins.
The scientist has spoken out about a lack of diversity in the space industries—and space itself—in the months leading up to the flight.
"Women and people of color you don't often see...I don't often see students that look like myself in this industry just yet," Bandla said in a September 2020 interview with Matthew Isakowitz Fellowship, a program helping college students into the commercial spaceflight industry.
Historically, most astronauts have been white, male, and military.
Analysis of NASA's intake from 1959 to 2017 by National Geographic, however, has shown how things are changing at the space agency. It did not look at the emerging private space industry, of which Virgin Galactic is a part.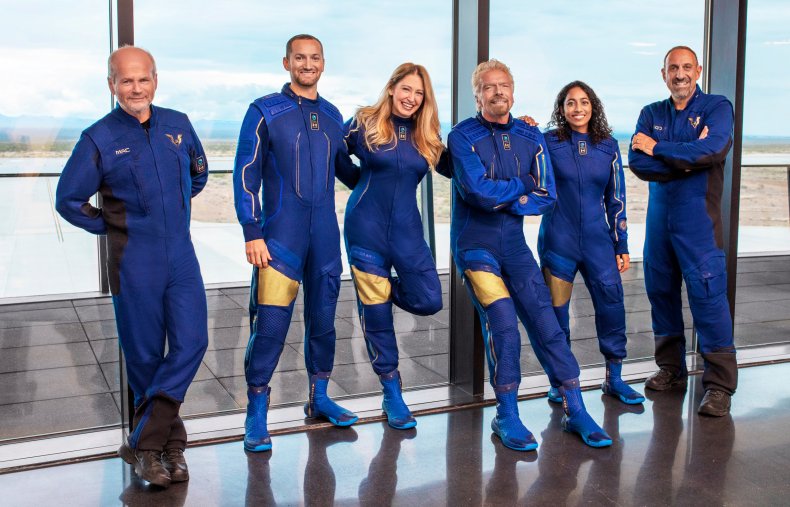 The first time non-white and women astronauts were selected by NASA was in 1978 as the agency looked to add candidates with a wide variety of backgrounds for its then-upcoming Space Shuttle program.
In 2013, the agency selected an equal number of men and women.
In a promotional video released six days before launch, Bandla also described how it felt to be given the role, and about Branson's goal of using the private sector to bring "space travel for everyone."
"When I first heard that I was getting this opportunity, it was just...I think that probably captured it very well, I was speechless," she said.
"This is an incredible opportunity to get people from different backgrounds, different geographies, different communities into space."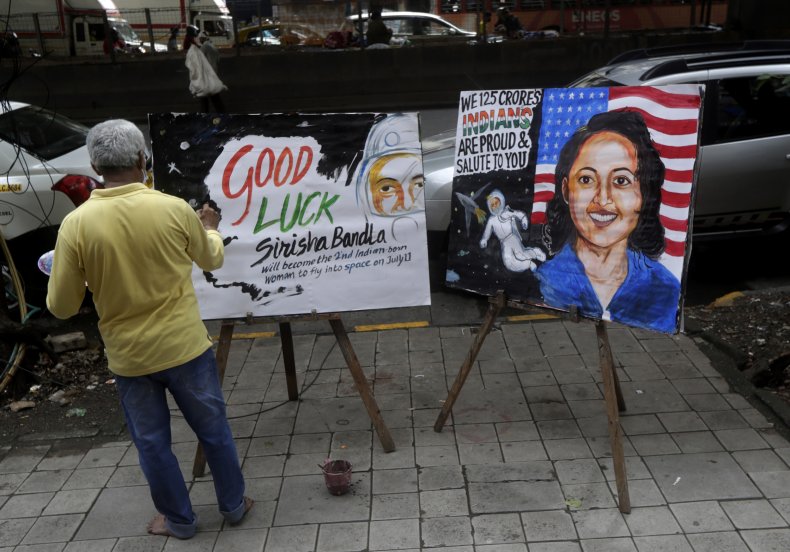 In a 2015 interview with Rocket Women, a site run by the European Space Agency's Vinita Marwaha Madill, Bandla told how her old boss' daughter had asked whether or not girls could be astronauts. "Every time she saw astronauts either speaking at an event or on TV, it was a male," Bandla explained.
"That's what she got in her head that there weren't any girl astronauts because of that lack of visibility. So even having some female astronauts speaking to them, it resonates in a different way."
Space diversity firsts
First person from an Asian country in space
July 23, 1980: Vietnam-born Phạm Tuân (joint 97th person in space)
First American woman in space
June 18, 1983: Sally Ride (joint 120th)
First African American in space
August 30, 1983: Guion Bluford (joint 125th)
First Indian in space
April 3, 1984: Rakesh Sharma (joint 139th)
First Indian American astronaut and first Indian woman in space
November 19, 1997 Kalpana Chawla (joint 366th)
Asked whether the space industry has become more inclusive for women, Bandla said: "I think it's definitely changed from when it started. Just looking at the astronaut class, which has gone from all male, to the latest class which is 50/50, which was unheard of."
But, while there were more roles available to women now, she added at the time: "I don't think it's a completely equal playing field just yet, I think it's a better environment for sure and everyone that I've ever worked with has been amazing.
"I've never felt that I'm less qualified than the next person and that's because of the people I work with who are fantastic.
"But I have run into people that have felt that they didn't have a problem getting the job, but in the workplace, people may make comments or speak down a little bit, because you may be a woman."
For her, the mission will be a realization of a dream she has held since she was a young girl growing up in Houston, near NASA's Johnson Space Center.
But—much like a space plane—Bandla's journey into space did not take the direct route. Her eyesight held her back.
"I will admit that I've always wanted to be an astronaut, but when I was in high school I looked at the traditional route of maybe being a pilot or at least be an engineer, being great in my field and applying but my eyesight is awful," she told Rocket Women.
"By the time I reached high school, it reached the limit where I could never be a NASA astronaut and I was a little bit disappointed but I still wanted to be in the space industry."