Michigan Man Forced to Remove Virgin Mary Statue From His Yard; "It's an Attack on Christianity"
A family in the Detroit suburbs says its being forced to remove a statue of the Virgin Mary that's been in the yard for 16 years by an overeager homeowner's association.
Joseph Samona says he received a letter from his homeowner's association (HOA) about six unapproved pieces of statuary on his yard, which violated the homeowner's agreement for Tollgate Woods, a neighborhood in Novi, Michigan.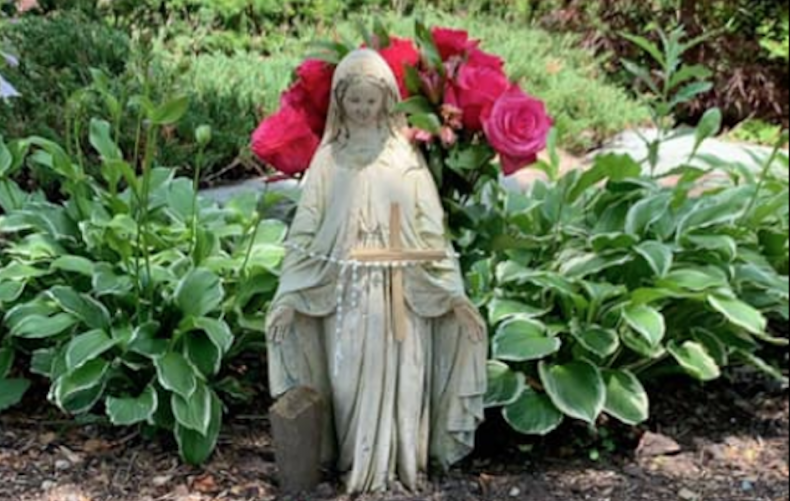 Samona told the Detroit Free Press he believes it's a case of discrimination.
"There is no doubt in my mind that this is an attack on our religion. We have already received an outpouring of support from friends and family, and we are prepared to fight this tooth and nail."
Samona's parents immigrated to the United States from Iraq, where they faced religious persecution for being Catholicism. He says every member of his family stops to pray in front of the Virgin Mary regularly since they moved into the area in 2003.
He calls the statue "a symbol of peace," and says the demand to remove it is "an attack on Christianity."
On Facebook, he shared that neighbors have sent letters of support, and even placed roses behind the statue. "I just got home and am sitting in my car for a minute and I [saw[ a lady walk by, kneel and pray," he posted on Sunday.
This isn't the first time the Tollgate Woods HOA has complained about the statue. In 2009, it asked for it to be removed, but the Samona family didn't respond and the association never followed up.
In a 2005 incident, the HOA objected to the nativity scene on the Samonas' lawn, which featured large plastic figures of Jesus, Mary, Joseph and Santa Claus. But when the complaint made the news, readers complained to the HOA, which soon backed down and apologized.
"I am going to anger every homeowners association president here, but I have to say I never liked [them]," wrote Free Press columnist Mitch Albom after the 2005 incident. "To me, they often end up being run by people with too much time on their hands and too big a sense of their own power."
Samona says that he's not only standing up for his family, but for religious expression in general: "We don't know what's going on over here. We just want to be able to freely practice our religion," He told WDIV. "Whether you're Christian, Jewish, Muslim, Buddhist—whatever you are—don't let anyone tell you that you can't practice your religion."
The family is considering legal action, though discrimination would be difficult to prove. The Samonas would have to show that the HOA is arbitrarily enforcing its rules.
Homeowner's associations have often come under fire for overzealousness. Last November, a federal jury ruled that a HOA in Coeur D'Alene, Idaho, acted illegally in banning a resident's nativity scene.
This month, a Tallahassee, Florida, HOA was found to have racist language in its covenant, which dated from the 1930s and declared only white residents could live in the neighborhood.