Everything the Cast and Crew Have Said About 'Virgin River' Season 4
Virgin River season three is streaming on Netflix now after nearly one year of waiting. The show's third outing ended on some huge cliffhangers and left many questions unanswered, from surprise proposals to a shocking arrest and potential death.
Unfortunately at the moment, Netflix has not made any official announcements regarding Virgin River's future, but that has not stopped the show's cast, and creator Sue Tenney, from speaking out on their plans for a fourth series.
At the end of Virgin River season three, Jack (played by Martin Henderson) proposed to Mel (Alexandra Breckenridge) after a few rocky weeks in their relationship.
Earlier in the season, Mel and Jack had called it quits on their relationship, leading Mel to visit a fertility clinic in Los Angeles that housed the extra embryos she and her late husband, Mark (Daniel Gillies), had frozen for when they were ready to have children.
Exactly what went down during her trip to the fertility clinic was never revealed, but before Mel could respond to Jack's proposal, she dropped a huge bombshell which will undoubtedly make a mark on their relationship.
Mel revealed she was pregnant but did not know whether the baby was Jack's or Mark's.
Virgin River showrunner Sue Tenney teased in an interview with TV Line that the father of Mel's baby would not be revealed until the end of season four—if a fourth series goes ahead.
Speaking to TV Insider, Alexandra Breckenridge, who plays Mel in Virgin River, opened up on what could be in store for Mel and Jack's future, including whether she would continue to work alongside Doc (Tim Matheson) at the Virgin River clinic or whether her new home would be with her sister in Los Angeles.
She said: "I think that now that Jack and Mel are back together—we'll see though. Who knows? If there is [a Season 4], we don't know how Jack's going to react. We truly don't.
"So if they split up again and she's pregnant, she might move back to Los Angeles to be with her sister, because she probably wants that kind of support. And if that's not the case, if she and Jack stay together, I'm sure she would stay on in the clinic because she loves what she does. She's devoted to her job through and through."
As for Jack, midway through season three of Virgin River, it was revealed he had been married to his high school sweetheart, Mandy, for three months.
Insisting the marriage and divorce are irrelevant in the present day and have no impact on his feelings for Mel, Martin Henderson, who plays Jack, recently teased the prospect of Mandy's return to Virgin River.
Speaking to TV Line, Henderson said: "Mandy showing up in Virgin River would complicate things even more. It's possible with this show."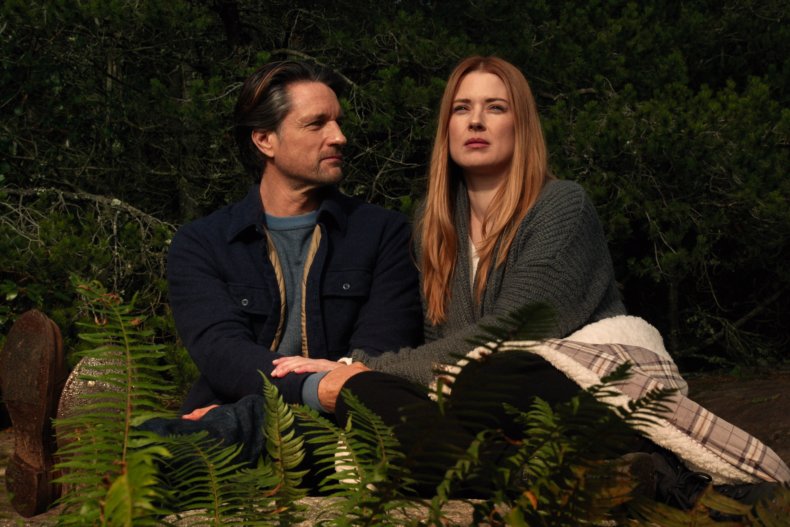 Elsewhere in the finale, things came to a head between Charmaine and Jack over the custody of their twins.
A huge custody battle could be in the cards for Charmaine (Lauren Hammersley) and Jack, after Charmaine made it clear she intended to seek full custody of their children and that her new husband, Todd, would do anything to make sure that happens.
Speaking to TV Line, Tenney teased that Jack may have to rely on his sister, Brie (Zibby Allen), who knows a few things about courts and the legal system.
Tenney said: "We will utilize the fact that Brie is an attorney in the show going forward."
The finale saw the arrival of a brand new character into the world of the Virgin River.
It turns out Doc has a mysterious grandson who is actively searching for him.
Tenney explained: "All of your questions [about Doc] will be answered in Season 4. It's a really interesting addition, another outsider in Virgin River. He's carrying a secret that will come out [if the show is renewed for] Season 4. It'll be interesting to see. It's worth the wait!"
Season three of Virgin River also ended on some huge cliffhangers, leaving the door open for a fourth series alongside many unanswered questions.
For starters, Brie watched on as her boyfriend, Brady (Benjamin Hollingsworth), was put in handcuffs for shooting her brother Jack, but was he really the person responsible?
His alibi may have fallen through but what possible motive would he have to shoot his girlfriend's brother? Hopefully, Virgin River returns for season four so we can find out.
Speaking to US Weekly ahead of season three's release, Tenney said: "There will be an arrest at the end of season three—but everything is not the way it looks. The story is not over with the arrest."
Benjamin Hollingsworth, who plays Brad added: "I want to leave the possibility open that it could have been him because it is possible. I'd like to believe that he didn't, but that's because I'm playing him. Being so close to him, I don't believe he's someone that would do that, regardless of his state of mind. But it's impossible not to make him a suspect."
Ricky (Grayson Gurnsey) also decided to pursue his dream and enlist in the U.S. army, raising big question marks over his future with Lizzie (Sarah Dugdale).
Hope (Annette O'Toole) also tried to make her way back to Virgin River, but unfortunately ended up in a coma after being involved in a car accident on the way to her best friend Lilly's funeral.
The last time viewers saw Hope, she was fighting for her life in hospital.
Unfortunately, fans will not know if Hope lives or dies unless Netflix goes ahead and renews Virgin River for a fourth series.
The outcome of Hope's fate may also depend on actress Annette O'Toole, who was noticeably absent from the third series due to filming disruption caused by the coronavirus pandemic, reported Entertainment Weekly.
At the moment, it is still early days for any news on the show's future, considering it only premiered on Friday, July 9.
Based on the show's history, fans can expect Virgin River season four to arrive in late 2021 or summer 2022 at the earliest.
Things are looking good for the show's future considering the show is based on Robyn Carr's book series of the same name, which contains 21 novels in total.
In the meantime, the first three seasons of Virgin River are available to stream and download on Netflix now.