'Virgin River' Location: Where Does 'Virgin River' Take Place?
Virgin River Season 3 is streaming on Netflix now after more than six months of waiting. The latest series saw the town of Virgin River recovering from the shooting of Jack Sheridan (played by Martin Henderson), with his attacker still on the loose. Despite everything that has happened in the quaint town, from divorces, storms, pregnancies, and betrayals, its inhabitants are reluctant to leave. Where does Virgin River take place? Newsweek has everything you need to know.
Where does 'Virgin River' take place?
Virgin River follows the story of Melinda (Alexandra Breckenridge), a big-city midwife, who moves to the small town of Virgin River from Los Angeles following the death of her husband Mark (Daniel Gillies).
In Virgin River, she crosses paths with former marine Jack Sheridan, who owns a restaurant and bar in the sleepy town.
Virgin River is set in North California, in a fictional town called Virgin River located in the forests of Humboldt County.
In the town of Virgin River, all of its inhabitants know each other, live in cozy log cabins close to nature, and fall in love at the local bar.
If the characters and show's storylines weren't enough to make you want to visit, the show's breathtaking scenery is sure to be enough.
Sadly, the small town of Virgin River is entirely fictional. Speaking to Entertainment Weekly, Virgin River author Robyn Carr said: "It's idealized, it's utopian, it's the perfect small town. People always write and say, 'Where is it? I want to go there,' and I have to remind them that it only exists in our hearts and minds.
"But to further that thought, we can have that sense of community in our own neighborhood or school or church group or community center or library association. All we have to do is try to create it. We create it by being helpful neighbors and good friends and positive people. They're not without their flaws."
Carr also shared her inspiration behind the show's setting was her own work, the Grace Valley Trilogy series and Jan Karon's Father Tim book series.
Many of the characters from Grace Valley, set in California, feature in the Virgin River books and the small-screen adaptation.
She said: "The thing that really inspired me—I just loved Jan Karon's small-town series with Father Tim. I always said to myself, 'If I ever write a series, my people are going to swear and have sex.' And they do. They're just like real people, and my first series was the Grace Valley series and it was very popular, even though the books came out once a year.
"People wrote to me a lot, so I thought, 'I'm going to do that again, and I'll put the town closer to Grace Valley so that I can use the people from Great Valley in the new series,' and it was just a runaway train. It just kept going and going and going. There were new people all the time."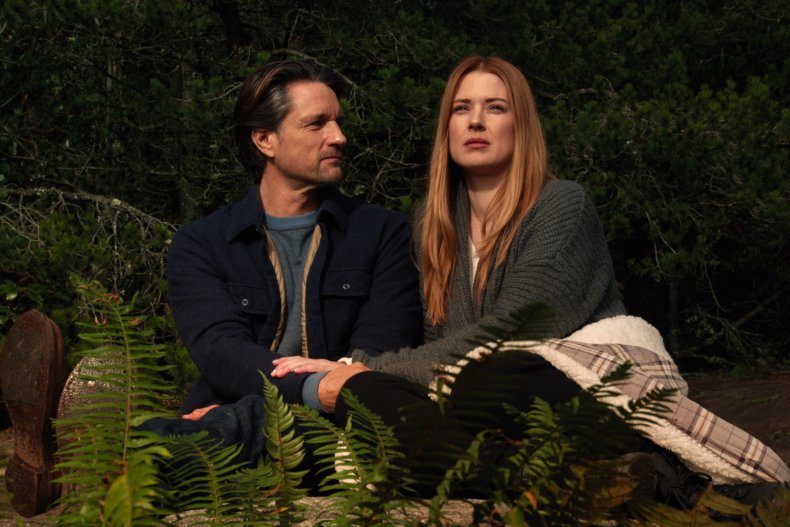 Where is 'Virgin River' filmed?
Despite the series being set in North California, Virgin River is filmed in Vancouver and other parts of British Columbia, Canada.
The exterior shots of the town are filmed at Snug Cove on Bowen Island and Port Coquitlam in British Columbia.
Jack's Bar, where Mel and Jack first meet is filmed at the Watershed Grill in Brackendale, which overlooks the Squamish River, a popular spot for eagle-spotting.
The town of Squamish is no stranger to the small screen, with filming for The Man in the High Castle and the Twilight Zone reboot taking place there.
Mel's log cabin, situated next to a beautiful lake and surrounded by trees is located in Murdo Frazer Park, North Vancouver.
Doc's Vernon Mullins' Family Practice Clinic house is located on First Street in New Westminster, British Columbia. However, the interior of Doc's house is built on studio sets.
The mayor of Virgin River, Hope McCrea's home is located at the Edgar Residence on Deer Lake Drive in Burnaby. The bungalow, built in 1912, is registered as a historic heritage building.
Other notable locations include the Lynn Valley Suspension Bridge, Capilano River Regional Park, and The Lynn Canyon Cafe.
Scenes were also shot at Shannon Falls Provincial Park, Deer Lake Park, Steveston Harbour, and Foreshore Park.
Conde Nast Traveller reports Virgin River's location may look familiar as it also serves as the backdrop for many popular films and TV series.
For example, Mel's cabin has appeared in Once Upon a Time, The Flash, and Fringe, and her clinic in Supernatural and Caprica.
Virgin River is streaming on Netflix now.