Virginia Amber Alert Issued For 7-Month Old Emma Kennedy 'Abducted by Sex Offender'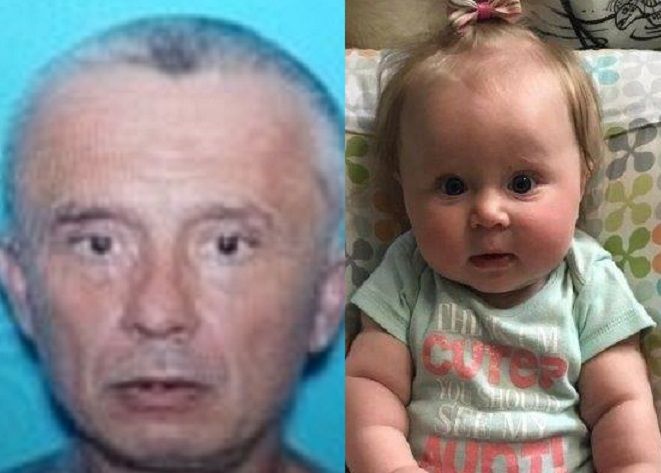 Police in Virginia have issued an Amber Alert after a 7-month-old baby was abducted by a sex offender after he allegedly assaulted the mother at a gas station.
Officers fear Emma Grace Kennedy is in "extreme danger" after she was last seen at the Kwik Stop on Riverside Drive in Danville, Virginia, just before 8 p.m. on Sunday (June 3).
The baby is thought to have been taken by Carl Ray Kennedy, a registered sex offender in North Carolina state.
Carl Ray Kennedy is alleged to be armed with a knife and assaulted the infant's mother before taking the child at the Kwik Stop.
He was last seen driving a gold four door Suzuki, with NC license plates reading FAA-1873. He was heading eastbound on route 58, possibly driving to North Carolina.
The suspect is described as a white male with gray hair and green eyes. He is 5 foot 8 inches in height and weighs 170 pounds.
He was last seen wearing a brown, short-sleeve shirt with gray shorts and black-&-white Sketchers. He has a tattoo of an eye on the back of his right hand.
On his left arm, he has a skull tattoo and a wizard tattoo. On his right arm, he has a tattoo of a skull with a bandanna over its mouth along with a Pitbull tattoo with "American bulldog" written underneath.
Emma Grace Kennedy is described as a white female with blond hair and blue eyes. She is approximately 2 foot 2 inches in length and weighs 18 lbs. She was last seen wearing a light-blue onesie.
It is not yet clear if there is a possible relationship between Carl Kennedy and the 7-month-old girl. He is currently out of jail on a $250,000 bond for drug distribution.
Update June 6 | Emma Kennedy has been found safe and the suspect arrested. When he arrives in Danville, Danville Police will serve Carl Ray Kennedy with warrants for domestic assault and abduction.