Virginia Beach Shooting: What We Know About Deadliest Firearm Rampage on U.S. Soil in 2019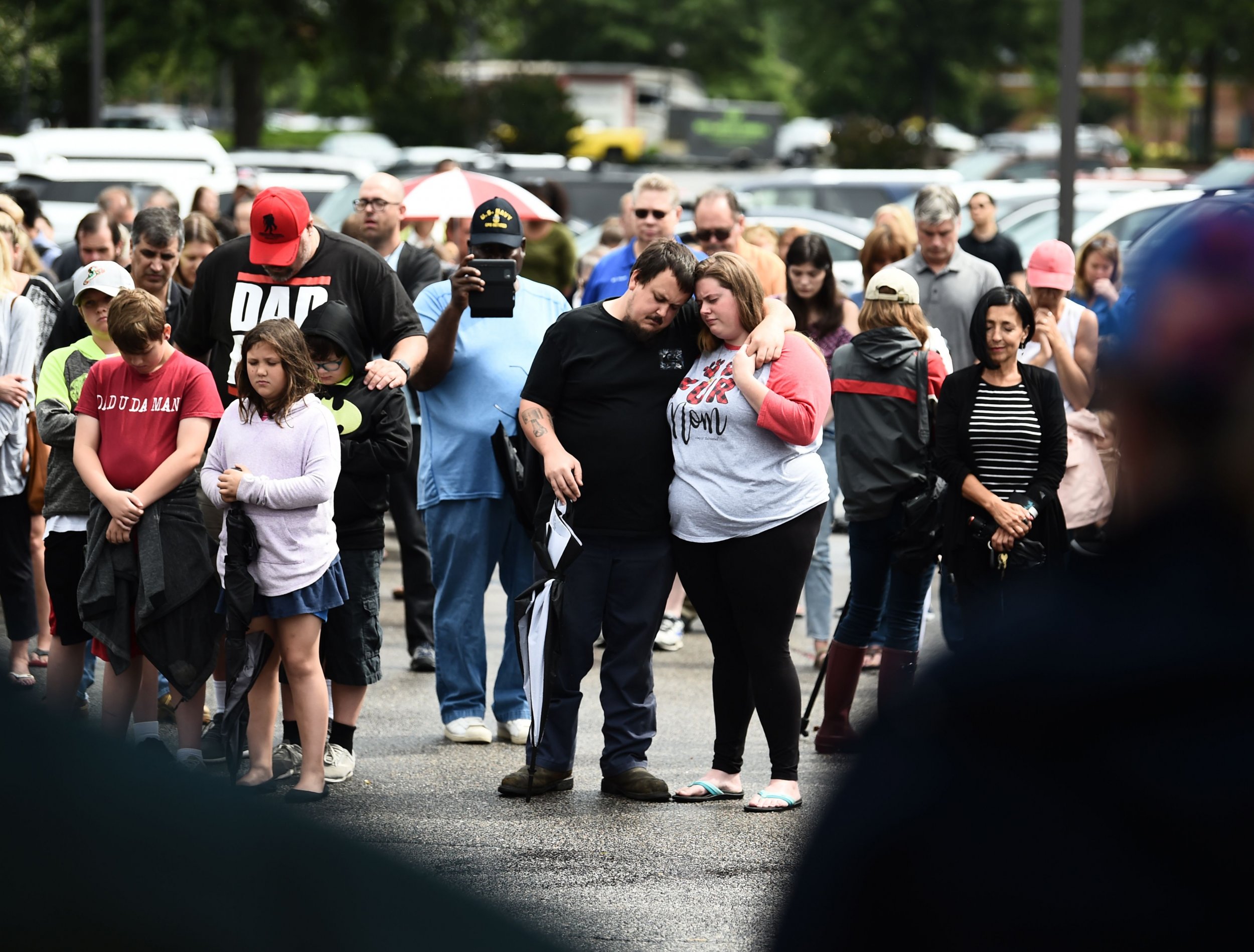 At least 12 people were killed and four others injured Friday afternoon when a gunman stormed into a municipal center in Virginia Beach, Virginia, and released a barrage of gunfire.
The shooting is now the deadliest on U.S. soil in 2019 and the worst mass killing in the history of the coastal city.
During press conferences on Friday and Saturday, authorities said they were investigating the circumstances of the rampage, including the suspect's motives.
Here's what we know so far.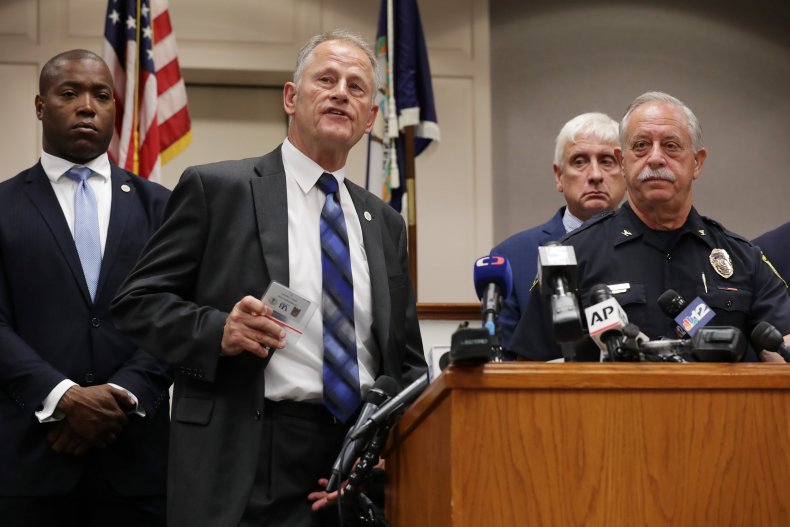 The Shooting:
Shortly after 4 p.m. on Friday, the shooter entered Building No. 2 of the Municipal Center, which houses Public Works and other city agencies. He was armed with a .45 caliber handgun and extended magazines, which police said appeared to have been purchased legally.
The gunman was killed during an extended shootout with police, according to Virginia Beach Chief of Police James Cervera. Including the gunman, the current death toll is 13 people.
"The suspect was reloading extended magazines in that handgun and firing at victims throughout that building and at our officers," Cervera said Friday. "I want you to know that during this gun battle, basically, the officers stopped this individual from committing more carnage in that building."
The suspect, a professional engineer who worked for the Public Utilities Department, was able to gain entry into the building with a security pass.
The Victims: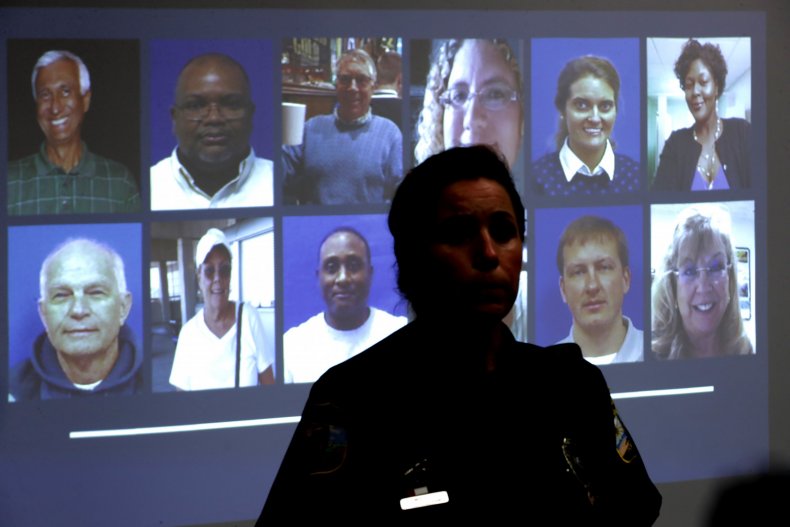 Most of the victims were employed by the city. "This is the most devastating day in the history of Virginia Beach," Mayor Bobby Dyer said in a Friday news conference. "The people involved are our friends, co-workers, neighbors and colleagues."
The victims killed in the attack have been identified as:
Laquita C. Brown, of Chesapeake, a right-of-way agent at Public Works for more than four years.
Ryan Keith Cox, of Virginia Beach, an account clerk with Public Utilities for 12 years.
Tara Welch Gallagher, of Virginia Beach, an engineer for Public Works for six years.
Mary Louise Gayle, of Virginia Beach, a right-of-way agent at Public Works for 24 years.
Alexander Mikhail Gusev, of Virginia Beach, a right-of-way agent for Public Works for nine years.
Joshua A. Hardy, of Virginia Beach, an engineering technician with Public Utilities for 4 years.
Michelle Langer, of Virginia Beach, an administrative assistant with Public Utilities for 12 years.
Katherine A. Nixon, of Virginia Beach, an engineer for Public Utilities for 10 years.
Richard H. Nettleton, of Norfolk, an engineer with Public Utilities for 28 years.
Christopher Kelly Rapp, of Powhatan, an engineer with Public Works for just under 1 year.
Herbert "Bert" Snelling, of Virginia Beach, a contractor and was in the building filing a permit.
Robert "Bobby" Williams, of Chesapeake, a special projects coordinator with Public Utilities for 41 years.
Four other people were hospitalized; three were in critical condition as of Friday night, and one was in fair condition. A police officer was also wounded in the shooting but was saved by his bulletproof vest, authorities said.
The Shooter
Police have identified 40-year-old DeWayne Craddock as the shooter. The gunman worked in the city's water and sanitary sewers branch and had no apparent criminal history.
Virginia Beach City Manager Dave Hansen said during a Saturday press conference that Craddock was still a city employee at the time of the attack—a statement that conflicts with previous reports by The New York Times and other publications that indicated Craddock was disgruntled after being fired from his position.
Hansen did not say whether Craddock was facing termination proceedings at the time of the attack.
During an investigation after the shooting, police found more weapons at Craddock's home. Craddock appeared to have made firearm purchases within the last few weeks.
Cervera said Friday that he would only state the suspect's name once.
"He will be forever referred to as the suspect because our focus now is the dignity and respect to the victims in this case and to their families."
National Response:
Local and national leaders responded to the attack, releasing public statements and offering their condolences to family members of the victims. On Saturday, community members gathered at an impromptu vigil in a supermarket parking lot to pay respects to the victims.
"My deepest condolences and prayers go to the families of those who left home this morning, and will not return tonight, as well as those who have been injured in this tragedy," Virginia Gov. Ralph Northam said. "This is unspeakable, senseless violence. I commend local and state law enforcement, first responders, medical teams, and all others who acted swiftly to respond to this situation. My thoughts continue to be with the victims and their families."
President Donald Trump also tweeted on Saturday that he had spoken with the governor and offered aid.
"Spoke to Virginia Governor [Ralph Northam] last night, and the Mayor and Vice Mayor of Virginia Beach this morning, to offer condolences to that great community. The Federal Government is there, and will be, for whatever they may need. God bless the families and all!