Virginia Businesses Face Up to $130K Fines After State Becomes First to Pass COVID Safety Rules
Amid the coronavirus crisis, Virginia businesses could be fined up to $130,000 if they violate new mandatory workplace safety rules, after the state became the first to pass such comprehensive regulations for employers.
"Workers should not have to sacrifice their health and safety to earn a living, especially during an ongoing global pandemic," Governor Ralph Northam, who proposed the rules, said in a statement Wednesday.
Northam added that he felt the regulations were necessary because of "federal inaction," criticizing the Occupational Safety and Health Administration's (OSHA) apparent lack of enforcement. OSHA is the federal body in charge with upholding workplace safety.
The Virginia Department of Labor's safety and health codes board voted 9-2 Wednesday to adopt an emergency order requiring businesses to implement safety measures to protect people from being infected with coronavirus at work.
"The Virginia Department of Labor and Industry is pleased to announce that efforts made to enact an emergency temporary standard to protect employees workers from COVID-19 have been successful," Jennifer Rose, a spokeswoman for the department, wrote to Newsweek in an email. "This groundbreaking regulation will ensure that Virginia workers feel safe and protected against COVID-19 in their workplace."
The policies will prohibit workers suspected of having coronavirus from coming to work and will mandate the use of personal protective equipment, sanitation, social distancing and infectious disease response plans, according to the news release.
Additionally, Virginia businesses must notify workers of possible exposure to infected co-workers within 24 hours, and employers will now be prohibited from retaliating against workers who express concern about infection risks on the job.
"The actions come in the absence of federal guidelines," the news release stated.
In a memo released mid-April, OSHA said that during the initial months of the coronavirus outbreak, it had received complaints from workers describing a lack of protective equipment and appropriate safety training.
But as of mid-June, OSHA had not issued a single pandemic-related citation under its general-duty clause of requiring employers to provide a workplace "free of recognized hazards," The Washington Post reported. So far, OSHA has issued only voluntary guidance on coronavirus mitigation.
Virginia businesses, however, will now receive a maximum penalty of $13,000 if found in violation of the rules, but "willful and repeat" violations could accrue fines up to $130,000, according to the order.
"That's what these standards do," Megan Healy, Northam's chief workforce development adviser, told Newsweek. "It's a mechanism of enforcement that we didn't have before."
Per state rules, the guidelines proposed under the emergency order will go into effect once published in a widely-circulated newspaper and will remain in place for at least six months.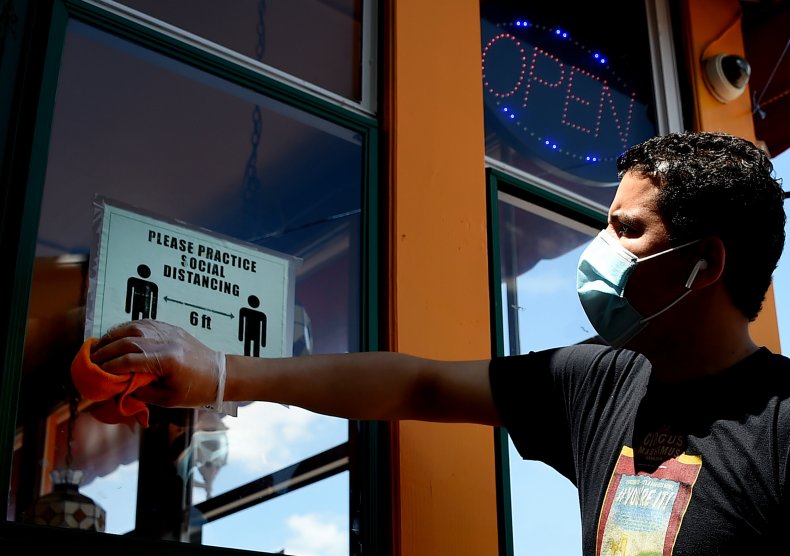 Northam had directed his state's Department of Labor to begin promulgating emergency regulations concerning the workplace in late May, according to an executive order.
Many business groups criticized the governor's decision to act, complaining that the new regulations were too strict.
"Perhaps some will feel pleased Virginia is the first to impose a state-wide pandemic workplace mandate promoted by labor groups, but ignoring the harm it will cause the state's businesses is shortsighted," Jodi Roth, a lobbyist for the Virginia Retail Federation, said in a statement. "It sends a message to Virginia businesses that the state doesn't value their contributions and isn't listening to their concerns."
Nicole Riley, the Virginia director for the National Federation of Independent Business, echoed these concerns.
"Gov. Northam ignored almost every suggestion we gave to make this proposal more palpable for small business by having his agency chiefs push through a labor-backed amendment at the last moment that raises business costs and adds regulatory burdens at the worst possible time," Riley said in a statement. "With this vote, Virginia's repeated ranking as a top state for business has evaporated, we won't be able to compete with other states and our economic recovery will be put in low gear."
Virginia Secretary of Commerce and Trade Brian Ball disagreed, stating that keeping workers safe was essential to recovering the state's economy.
"COVID-19 is unfortunately going to continue impacting our everyday lives, and these regulations will provide for safer, more predictable workplaces for Virginians," Ball said in Wednesday's news release.
Healy echoed this statement, referencing the 2.6 percent unemployment rate seen in Virginia in February, right before the pandemic hit.
"If we ever want to get back to that — we were the best state for business last year — we have to make sure our workers want to come back to work and help our economy. And they're not going to want to come back if it's not safe," she said.
Update (07/17/20, 4:45 p.m. ET): This article has been updated to include comments from Gov. Ralph Northam's Chief Workforce Development Adviser Megan Healy and the Virginia Department of Labor and Industry.