Virginia City Votes to Permanently Relocate Confederate Monuments
City Council members in Richmond, Virginia voted Monday to permanently relocate Confederate monuments in the city.
Confederate monuments became a controversial flashpoint during U.S. protests against racism. Protesters viewed the statues as representations of slavery and hatred going back to the U.S. Civil War. Some Democratic lawmakers agreed, stating a desire to see the monuments removed. In some states, demonstrators defaced the statues with graffiti or attempted to topple them. While many of Richmond's Confederate monuments had already been taken down, Monday's decision allows them to be permanently relocated.
"The Lost Cause has officially lost," tweeted Richmond Mayor Levar Stoney on Monday. "Thanks, Richmond City Council, for formally supporting the removal of these confederate symbols of hate and oppression that for generations have cast long shadows over the lives of Black and brown people in our city."
"I look forward to the community process to reinvent these spaces with art that unites, not divides, and celebrates the inclusivity, equality and equity we value as a city," Stoney added.
Newsweek reached out to the office of Virginia Governor Ralph Northam for comment.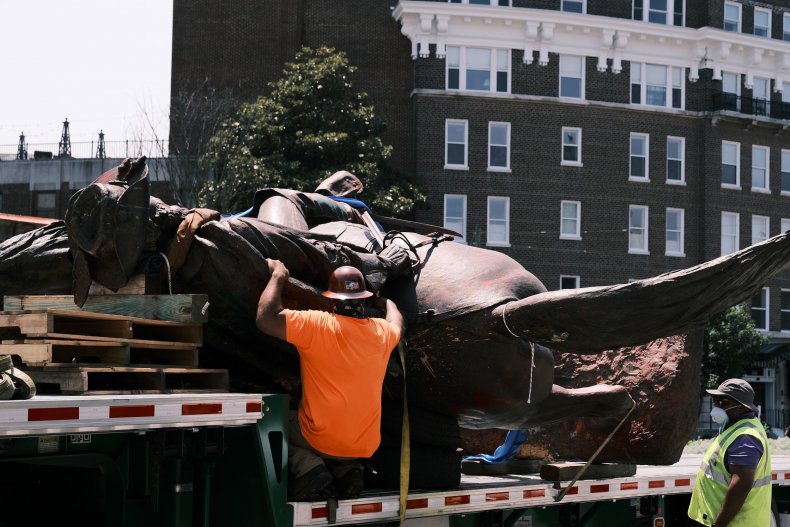 According to the new city ordinance, Richmond will "offer the monument or memorial for relocation and placement to any museum, historical society, government, or military battlefield" for a period of 30 days.
In February, Virginia state lawmakers voted to allow local governments the leeway to remove or relocate "any monument or memorial for war veterans located in its public space, regardless of when erected." That bill went into effect in July.
Richmond began removing the monuments at the time, taking statues memorializing such Confederate figures as Stonewall Jackson, J.E.B. Stuart and Matthew Fontaine Maury.
Protesters in Richmond had already taken matters into their own hands, pulling down statues of Jefferson Davis and General Williams Carter Wickham in June. At the time, Mayor Stoney applauded the loss of the Davis statue although he implored protesters to allow professionals to move the monuments in the name of public safety.
"Jefferson Davis was a racist & traitor who fled our city as his troops carried out orders to burn it to the ground," Stoney tweeted in June. "He never deserved to be up on that pedestal."
A statue memorializing General A.P. Hill is still owned by the city of Richmond. Hill's remains are located beneath the statue on Hermitage Road. Members of the Hermitage Road Historic District Association said in June that they want the statue to be removed, even if it takes more time to relocate Hill's remains.
"We are asking that the Mayor and City Council of Richmond create a plan to remove the monument and remains expeditiously," read a statement from the Hermitage Road Historic District Association. "We understand the reinternment process may take more time, so we ask that the statue itself be removed as soon as possible."