Company Allegedly Gave Clients 'Untrained Puppies' Instead of Service Dogs for Diabetes
A company sold $25,000 "service dogs" that were actually untrained puppies, according to a lawsuit filed by Virginia on Tuesday. The dogs sold by Service Dogs by Warren Retrievers (SDWR) were "little more than incredibly expensive pets," the suit stated.
Virginia Attorney General Mark R. Herring accused Warren Retrievers Inc. and CEO Charles D. Warren Jr. of misleading people about so-called diabetic alert dogs.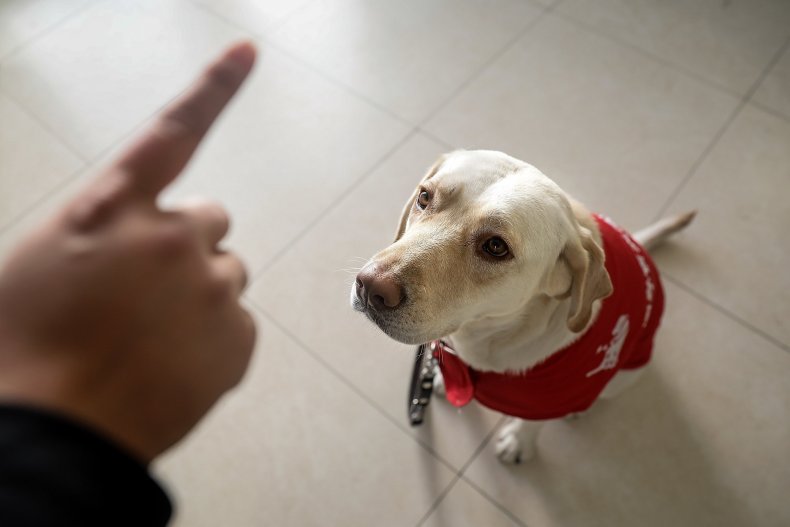 The lawsuit claims that the company represents itself as a nonprofit organization that raises, trains and places service dogs with individuals who have "invisible disabilities." The company is accused of violating Virginia's Consumer Protection Act by charging $18,000 to $27,000 for 3-month-old Labrador retriever puppies that were unable to walk properly on leashes, respond when being called and were overall poorly trained.
Customers were told that they would receive a diabetic alert dog (DAD) that would be able to detect high and low blood sugar, get help and even dial 911.
"In reality, in many instances, these hopeful and vulnerable consumers receive poorly trained, ill-behaved dogs that are not equipped to help them manage a life-threatening disability and are little more than very expensive pets," the suit said.
The lawsuit is seeking civil penalties of up to $2,500 per "willful violation of the Consumer Protection Act" and $5,000 per violations of the Solicitation of Contributions law. The suit also seeks refunds for dogs that do not have the advertised skills and any future sales.
"This suit alleges not just dishonest and unlawful business practices, but a recklessness that could have endangered the lives of customers who relied on the claims made by Service Dogs and its owner," Attorney General Mark Herring said in a statement.
Herring continued, "Our investigation shows that, in many instances, Service Dogs was simply selling a $25,000 pet, leaving customers with a huge bill and no protection against a potentially life-threatening blood sugar situation."
In an email to Newsweek, Herring's office said it spent several years investigating more than 50 complaints against the company.
The lawsuit also alleges that the company's CEO claimed to have served in the Marine Corps, to have trained dogs for the military and to have been medically discharged due to a diabetes diagnosis. Herring's statement said Warren has never served in the Marines or any other military branch.
In a statement to Newsweek, Service Dogs by Warren Retrievers' lawyer John Russell said, "We have not yet seen the attorney general's lawsuit, but we deny any allegation of wrongdoing and we absolutely deny that we have ever set out to mislead, cheat or defraud our many happy clients."
SDWR said it was working with the attorney general's office "to address any areas of concern they may have." Russell also accused the investigation of contributing to Warren's alleged "brain injuries."
"We will review the lawsuit when we receive it, and we promise to fight these ridiculous allegations at every step," Russell added. "We ask that all of our loyal clients who are all fighting their own battles against invisible disabilities know that we continue to work with them and support their efforts in training and improving the performance of their support dogs."