Virginia Democratic Party Sues Postal Service Over Delays in Delivering Election Materials
The Democratic Party of Virginia filed a lawsuit against the U.S. Postal Service (USPS) on Friday over delivery delays of election-related mail that may potentially disenfranchise Virginia voters.
The lawsuit comes on the state's deadline for voters to file an absentee ballot application. According to the complaint, there are currently thousands of absentee ballots at USPS facilities across the state that have been unprocessed for weeks. With Election Day less than two weeks away, the Virginia Democratic Party hopes a judge will force the postal service to prioritize voter mail and expedite its process.
"Because of the USPS slowdowns, some voters' applications are likely to miss the deadline, due to no fault of the voter," the complaint said. "If the voter is expecting an absentee ballot that never arrives, they may realize too late they will have to plan another way to vote and for some voters ... they may be unable to vote at all."
The party argued that the USPS' failure to deliver absentee ballot applications and ballots in a timely manner will "severely burden" voters and violate the First and 14th Amendments. In Albemarle, Portsmouth and James City counties, where there are significant delays, the complaint asks for all unscanned election materials to be processed immediately.
Court documents allege the problems began in early 2020 when newly appointed Postmaster General Louis DeJoy implemented operational changes to USPS nationwide that created slowdowns in mail delivery.
Some of the new policies specifically impacted election-related mail which made it difficult for voters and election officials to meet voting-by-mail deadlines, the complaint argues.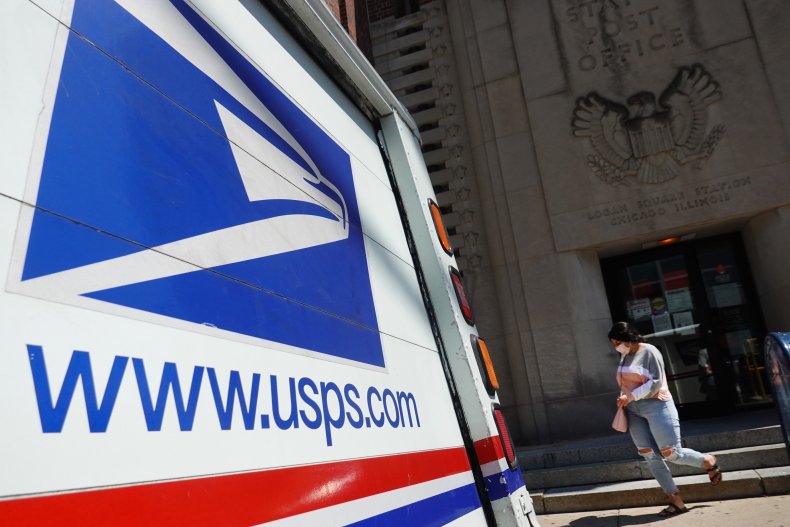 Forty-six states were warned by the General Counsel of the USPS on July 29, 2020, that their mail-in voting deadlines did not align with the USPS' likely delivery times.
Virginia joined a joint federal lawsuit challenging the "drastic operational changes" in August, and Virginia Attorney General Mark Herrin described the new policies as "a thinly veiled attack on our democracy and blatant voter suppression."
Almost a year later, the USPS announced a new 10-year plan for the postal service in April 2021, which was reportedly designed to help ease financial burdens.
The plan included an additional "slowdown to first-class mail service" beginning October 1, 2021. Almost four in 10 pieces of first-class mail will be impacted by decreased mail processing and delivery time, which will make the latter equivalent to the organization's speed in the 1970s, according to court documents.
"Even if these voters do eventually receive their ballots before Election Day, the slowdowns promise that they will not have sufficient time to send them back with the assurance that they will arrive in time to be counted," the lawsuit argues.
It continues, "And even if a ballot reaches the appropriate election official before the receipt deadline, if the official identifies any issues with it that require remediation before it may be counted, the voter will have run out of time to rectify the problem."
The complaint concluded that the postal service's slowdown and delays in delivering election materials via mail will make deadlines "more difficult—if not impossible—for voters to meet."
In an email statement to Newsweek, the USPS said, "The Postal Service has a robust and tested process for the proper handling and timely delivery of Election Mail. Our Election Mail processes and procedures are fully operational in Virginia. We are not aware of any processing delays of any ballots within our facilities nor any ballot delivery delays, and we have fully communicated this information to election officials."
It continued, "Throughout the election cycle we work closely with state and local election officials and have been addressing any concerns that they raise. Daily sweeps are being conducted in all our Virginia facilities."
"Through no fault of their own, these voters will be denied their fundamental right to vote," the lawsuit states.
The USPS said it remains committed to "fulfilling our important role in the electoral process as a secure, efficient and effective way for citizens to participate when policymakers decide to use mail as part of their election system."
Newsweek reached out to the Virginia Democratic Party.
Updated 10/25/2021, 5:46 p.m. ET: This article has been updated with comments from the United States Postal Service.