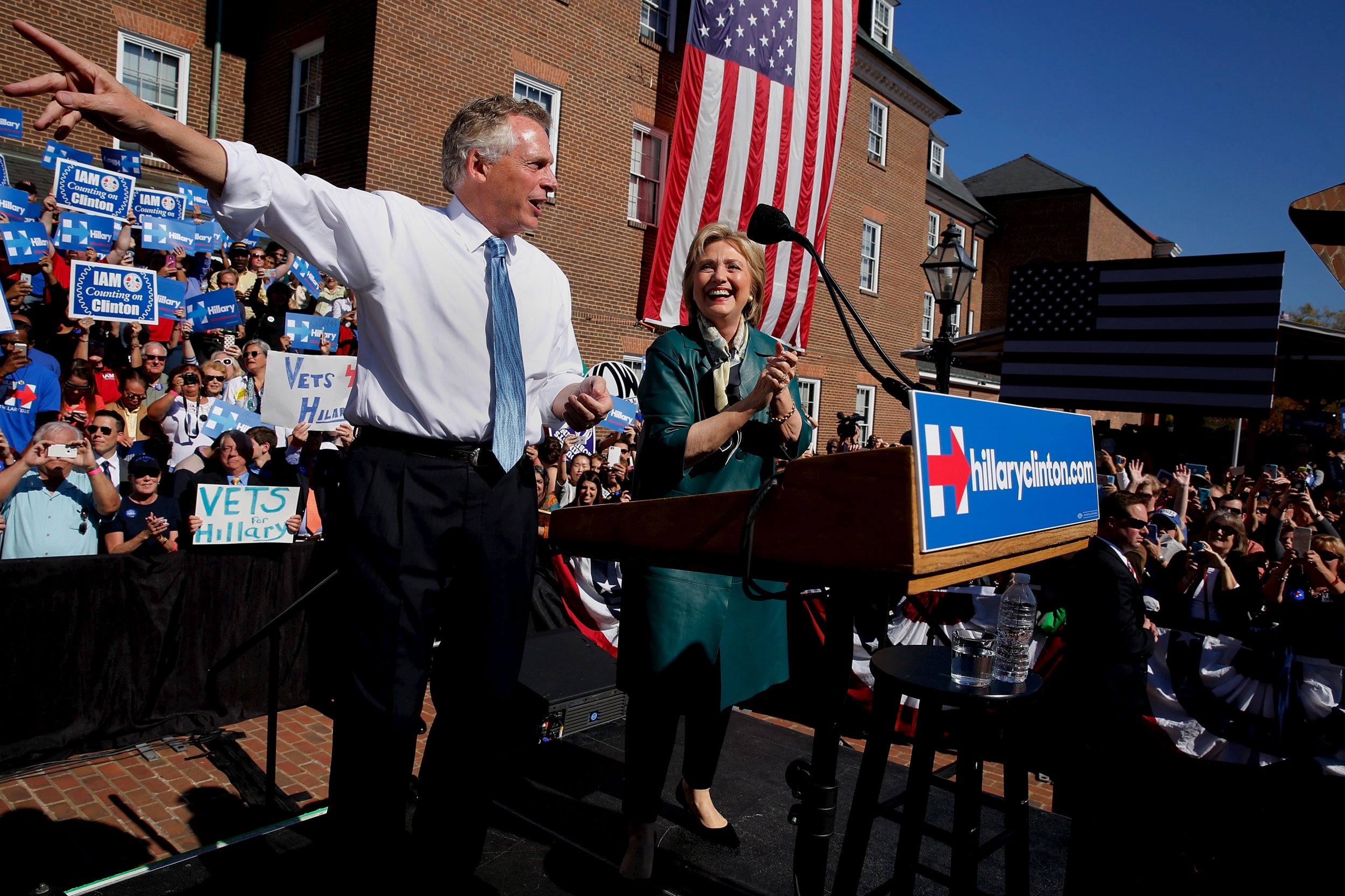 Virginia state Senate candidate Jeremy McPike got only a few minutes to speak to the crowd gathered in front of Alexandria's city hall on October 23. He was a warmup act for Hillary Clinton at a balmy, midday rally. In his remarks, the director of general services for the city of Alexandria emphasized kitchen-table issues that affect families in this Washington, D.C., suburb, like traffic congestion and economic development. He did not once mention the word guns.
Others, however, are bringing up the issue for him in his tight race to win the open 29th District Senate seat, representing a strip of suburban Northern Virginia that stretches from Dale City on the edge of the Potomac, perhaps best known for its mammoth mall, to Manassas, famous for its Civil War battlefields. Everytown for Gun Safety, the advocacy group formed by billionaire businessman and former New York City Mayor Michael Bloomberg, is running $1.5 million worth of broadcast, cable and digital ads in support of McPike, who is in one of just a handful of competitive contests that could flip control of the Senate from the Republicans to the Democrats. The TV ad features Andy Parker, father of the Roanoke-based local news reporter Alison Parker, who was shot and killed on the air in August by a disgruntled former colleague. "We can save lives if our leaders take action," Parker says. "Politicians' condolences aren't enough. It's time for them to act."
The 29th District ad campaign, as well as $700,000 worth of advertising Everytown has bought in support of Democrat Dan Gecker in the race for suburban Richmond's 10th District Senate seat, is part of a gamble Democrats are taking that gun safety will galvanize Democratic voters to turn out and vote. That's particularly critical in Virginia's low-turnout legislative election in this off year. But turnout will also be a crucial factor in Democrats' success in the 2016 presidential race, particularly in a swing state like Virginia. And for that reason, the response to gun control advocates' appeals this fall will help Democrats determine just how aggressive to be on gun issues going forward. It's an abrupt change from when Democrats avoided talking about guns or even cozied up to the National Rifle Association (NRA) out of fear that hunters and sportsmen would clobber them in this Southern state.
Colin Goddard, a Virginia Tech shooting survivor and senior policy advocate for Everytown for Gun Safety, says the group decided to get involved in the two Virginia Senate races because "we think it could give us the best chance to succeed in policy improvements" at the state level. Terry McAuliffe, the state's Democratic governor, has already signaled he wants to do more to combat gun violence. "We need to lead the way here in Virginia," he told the crowd at Clinton's rally in Alexandria. "After the tragedy we had down in Smith Mountain Lake [where Parker and her cameraman were shot and killed], after the tragedy we had at Virginia Tech, I took executive action, and I banned every firearm in any state office building." That brought roars of approval from the crowd, dominated by 60- and 70-something women and young mothers with baby strollers.
Clinton, herself, took on guns at the rally. "I'm running for president to protect our families and communities from the plague of gun violence," she told the crowd, solemnly. It's an issue she's used to chide Bernie Sanders, the Vermont senator who has opposed some gun control legislation.
Yes, Clinton and McAuliffe were preaching to the choir. Northern Virginia is largely Democratic turf. The growth of the cities and towns that sit across the Potomac from Washington, D.C., has pushed the state from solid red to purple status. (No Democratic presidential candidate won here from 1968 to 2004. Obama won the state twice but by thin margins.)
Still, it's pretty remarkable that Democrats think gun control can be a winning issue in the state that was once the heart of the Confederacy. Virginia is also, as Goddard likes to point out, the "backyard" of the NRA, which is based in Fairfax, about a half-hour drive from Washington. Democrats' newfound boldness points to changing national paradigms—both on guns and on political strategy, generally. Parties are no longer nearly as concerned about scaring off swing voters as they are about rallying their own voters. And for the Democratic base, guns are a huge concern, even in the Old Dominion State.
Pat Dewey, 63, brought up the issue of gun violence, unprompted, as she sat in the back of the crowd waiting for Clinton and McAuliffe to appear onstage in Alexandria last month. "I feel really strongly...about guns," she told Newsweek. "My son went to Virginia Tech when the massacre happened and lost a friend." That 2007 campus shooting killed 32 people and remains the deadliest mass shooting in American history. Dewey said she realizes hunting is part of the cultural heritage in Southern Virginia. "But these semi-automatic weapons? Insanity."
"Democrats' challenge is to say, How can we take the voter who disengages...how can we turn the voter on?" says Quentin Kidd, director of the Wason Center for Public Policy, at Christopher Newport University in Newport News, Virginia. "They've gambled that gun control is an issue that will do that."
Democrats will see if that pays off when the results start to roll in Tuesday evening. Clinton supporters at the rally in October weren't too certain their fellow Democratic voters were plugged into the legislative races. Dewey herself was more focused on 2016. Asked if she and others in Northern Virginia were energized to turn out on Election Day this November, the Alexandria resident responded, "That's a good question. I am not sure."
Kidd thinks Virginia's election "really is a good laboratory for Democrats." Turnout for the typical disengaged voter "is so historically low that you can probably measure the influence of your turnout operation and the particular issues much more accurately" in this 2015 race, he says.
And Kidd notes, "If they can make it work here, in a suburban Richmond election…then you've really in some ways perfected something that you can then replicate." That's what Everytown for Gun Safety's Goddard is hoping for. "Candidates are running on this issue in a new way," he says. They're "getting away from this old mentality that this is a losing issue."
Or in McPike's and Gecker's cases, not really running on the issue themselves but letting others make the case for them. "I think if you were to ask Jeremy McPike and if you were to ask Dan Gecker, 'Is gun control the issue you want to run on?,' they probably would say no. It's been forced on them in some ways. But they're also not running away from it," Kidd says. And they're not rebuffing support from those gun control advocates, like Bloomberg, who want to put it front and center.