Virginia's gubernatorial election on Tuesday will serve as a test for whether the anti-Trump messaging Democrats employed throughout the election cycle will be enough to rally voters in an increasingly close race and deliver a win to the party.
Virginia, one of only two states holding a regularly scheduled gubernatorial election this fall, has been identified by political strategists as a likely indicator of how voters are leaning ahead of next year's midterm elections. Republicans will be aiming in those races to shift the balance of power in Congress, where Democrats hold slim majorities in both chambers.
President Joe Biden won Virginia by about 10 points last year, and Hillary Clinton won the state by more than 5 points four years earlier. But over the past several decades the state has shifted between electing Republicans and Democrats as governors, and the race between Democrat Terry McAuliffe and Republican Glenn Youngkin is close.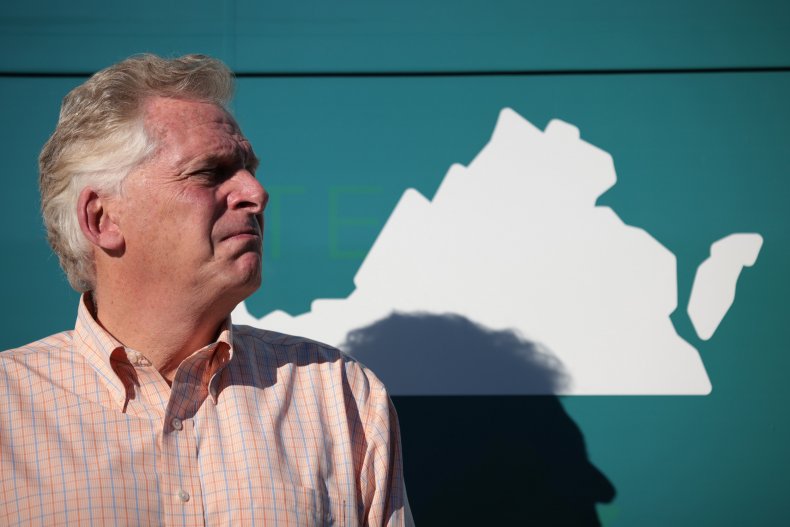 With just one day remaining until Tuesday's election, polling averages suggested McAuliffe and Youngkin were about 1 point apart, with Youngkin surpassing the lead McAuliffe held for months in the race's final days.
Less than two months ago, California Governor Gavin Newsom defeated an effort to remove him from office through a recall election, after comparing his top Republican challenger to former President Donald Trump. Newsom's campaign drew comparisons early on between Trump and the individuals behind the recall effort.
After conservative radio host Larry Elder entered the race and began leading among Republicans in the polls, Newsom focused many of his campaign ads and speeches on the similarities he said existed between Elder and Trump. A majority of voters ultimately chose to keep him in office for the remainder of his term.
In Virginia, Democrats have again focused on drawing comparisons between Trump and Youngkin, whom Trump endorsed in May. While Biden, Vice President Kamala Harris, former President Barack Obama and many other top Democrats have campaigned alongside McAuliffe, Youngkin has not done the same with Trump. Even so, the Democratic Party has largely framed Virginia's gubernatorial election as a Democrat versus Trump Republican kind of race.
Whether that strategy is successful in a purple state will be telling for Democrats leading into next year's midterms, according to Alexandra Reckendorf, the associate chair of the Department of Political Science at Virginia Commonwealth University.
"For Democrats, Virginia's gubernatorial election should provide the national party with some clarity about whether the strategy almost exclusively geared toward attacking a candidate's ties to Trump is effective enough to win an election," Reckendorf recently told Newsweek.
Regardless of this strategy's effectiveness, Reckendorf said, it is normal for the sitting president's party to lose seats during the midterms, and thus the outcome of the Virginia race won't necessarily predict how those races will turn out. Additionally, voters are currently one year past the 2020 presidential election and less than a year away from Trump's final days in office, and next fall even more time will have passed since Trump's time in office.
"If McAuliffe loses, people will point to the drop in Biden's favorability, but I think a stronger lesson if they lose is that they need to run candidates that will enthuse their base and they will need to adopt a forwarding-facing message, because pointing to a boogeyman like Trump won't necessarily be enough to mobilize voters," Reckendorf said.
Since so much of the Democratic message heading into Virginia's election has been focused on Trump, Reckendorf said, a loss for McAuliffe could also be viewed as a win for the former president.
"Trump's remarkable 2016 victory, and near 2020 victory, was largely due to his ability to mobilize new voters—those who had felt disillusioned by both parties and so had given up on politics altogether—and it's not clear whether those voters would have turned out for a candidate whose campaign isn't even allowing Trump to visit the state," she said. "But Terry is giving those voters a chance to view a Youngkin victory as a Trump victory by making the election a referendum on Trump."