Virginia Gov. Northam to Announce 'Inside Businesses' Mask Policy After Facing Criticism For Not Wearing Mask Outside
Virginia Governor Ralph Northam will announce a new statewide policy on Tuesday requiring the use of face masks for all inside businesses, sources in his administration told NBC. But on Saturday, the governor faced criticism for not wearing a mask while outside and interacting with members of the public during a visit to Virginia Beach.
Until now the wearing of masks in the state has been largely voluntary, although the face coverings are recommended by the Virginia Department of Health (VDH).
"Facial protection is one of the ways that we stop the spread of this virus," Northam told reporters at a press conference on Friday. "We are working through the policy over the next couple of days and I will make an announcement Tuesday regarding that."
A day before the press conference, Northam said he had received a letter from Richmond Mayor Levar Stoney highlighting that many residents were not wearing masks while out and about, Patch reported.
"I applaud the mayor for wanting to do what's safe in our city of Richmond," Northam said, noting that making the use of masks obligatory in some situations would raise "equity" issues.
"We want to make sure everybody has access to a mask. We also want to talk about how we enforce that, especially for individuals who are going into places of business because that's one of the most vulnerable places," Northam said.
On Friday, the VDH confirmed 813 new cases of COVID-19 in Virginia, and 37 new fatalities. The latest figures bring the total in the state to more than 34,900 cases and 1,100 deaths.
The state's stay-at-home order expires on June 10, some business, such as salons and bars have already been allowed to reopen in much of the Virginia with restrictions. But as the state reopens, the governor said that taking precautions, such as washing hands, practicing social distancing and using face coverings, could help to prevent the spread of the virus.
"We know these guidelines will be part of our new normal as we continue to move forward," he said.
The governor also had a message for people in the state for the memorial day weekend: "Don't gather in large groups, don't crowd parks or natural areas, remember to maintain social distancing, and please wear face covering while you are out in public," he said.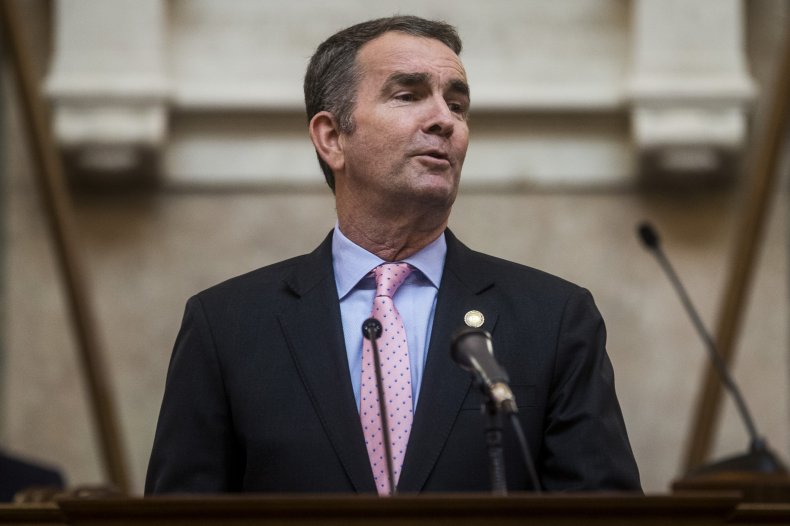 Gov. Northam faced criticism on social media after he made a trip to the city of Virginia Beach with Mayor Bobby Dyer during which he was pictured coming into close contact with members of the public without wearing a face mask.
The city's beach is being viewed as a test to see whether people can follow social distancing rules before others in the state reopen.
"The governor has repeatedly encouraged wearing face coverings inside or when social distancing is impossible," the governor's office said in a statement to NBC. "He was outside today and not expecting to be within six feet of anyone."
The Centers for Disease Control and Prevention (CDC) advises the use of face coverings to slow the spread of the virus, given that it can spread between people in close proximity—by coughing, speaking or sneezing—even if those infected are not displaying symptoms.
"CDC recommends wearing cloth face coverings in public settings where other social distancing measures are difficult to maintain—for example, grocery stores and pharmacies—especially in areas of significant community-based transmission," the agency said.
While there is some evidence to suggest that coronavirus particles may be able to travel through the air, outdoor spaces offer better ventilation, meaning the risk of infection is likely lower than in indoor spaces—although it is important to note that there is still much we don't know about the virus.
"People envision these clouds of viruses roaming through the streets coming after them, but the risk of [infection] is higher if you're closer to the source," Linsey Marr, a professor from Virginia Tech, told The Atlantic. "The outside is great as long as you're not in a crowded park."