Virginia Gov. Says He Won't Be Intimidated After FBI Reveals Kidnapping Plot Considered Targeting Him
Virginia Governor Ralph Northam said that he will not be intimidated after learning that members of an anti-government group allegedly considered kidnapping him earlier this year.
Special Agent Richard Trask with the FBI broke the news during a court hearing in Michigan on Tuesday, according to the Associated Press. The hearing was held after members of the anti-government group were arrested last week for allegedly plotting to kidnap Michigan Governor Gretchen Whitmer.
Both Whitmer and Northam are Democratic governors whose efforts to impose lockdowns in their states during the coronavirus pandemic were criticized by protesters. Trask said during the hearing Tuesday that the individuals "discussed possible targets, taking a sitting governor, specifically issues with the governor of Michigan and Virginia based on the lockdown orders" during a June meeting in Ohio, according to the AP's report.
"It's unfortunate," Northam said during a news conference Tuesday when asked about Trask's testimony. "I will let you know and let all of Virginia know I will not work under a cloud of intimidation. That's not who I am. I was elected to serve the Commonwealth of Virginia, and that's what I plan to do."
Michigan Attorney General Dana Nessel announced arrests in the alleged kidnapping plot last week. According to a news release from the U.S. Attorney's Office for the Western District of Michigan, six of the individuals arrested in connection with the alleged kidnapping plot face federal conspiracy charges, and another seven individuals were arrested on state charges. Some of the individuals allegedly helped surveil Whitmer's vacation home in August and September, according to a federal complaint.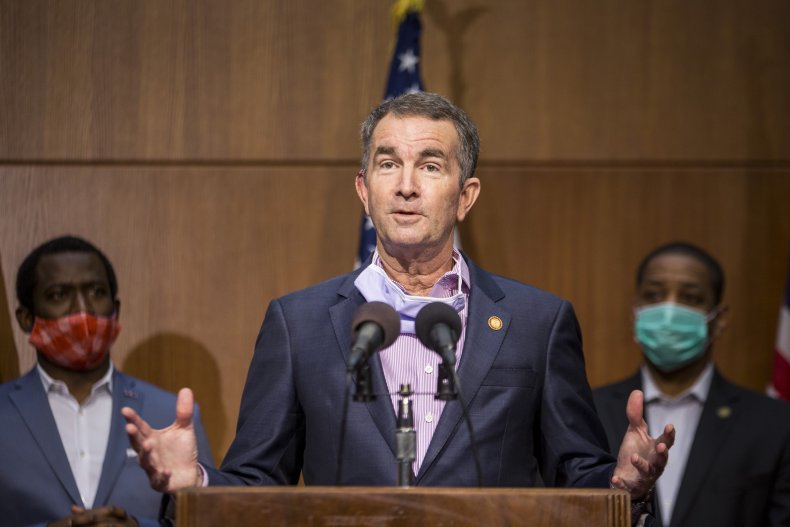 Northam said that he could not provide details about the extent to which the alleged plot considered targeting him or when he was notified by the FBI because the investigation is ongoing. He said that his office has encountered other threats over the last several months and added that he personally faced threats to his safety while serving in the U.S. Army.
While Northam said he "wasn't intimidated" by knowing he was in harm's way during his years serving overseas, he said the threats he encounters now are different. "These threats are not coming and this rhetoric is not coming from another country. It's coming from Washington," he said. "And that I regret. And it needs to stop."
Northam referenced a tweet that President Donald Trump posted on April 17 that encouraged people to "liberate Virginia." Trump posted the tweet, which also said that Virginians' Second Amendment rights were "under siege," two days after Northam extended business closures and banned public gatherings of more than 10 people. Trump posted similar "liberate" tweets about Michigan and Minnesota on the same day.
"When language is used, such as to "liberate Virginia," people—they find meaning in those words, and thus these things happen. And that's regrettable," Northam said.
Northam credited his executive protection unit with keeping his family safe. "In regards to today's developments, there is no imminent danger to me or my family, and I am continuing my work for the Commonwealth as I would any other day," he said.
In a statement shared with Newsweek, White House Press Secretary Kayleigh McEnany said the comments Northam made about Trump were "sowing division."
"President Trump has continually condemned white supremacists and all forms of hate," McEnany said. "Governor Whitmer, and now Governor Northam, are sowing division by making these outlandish allegations. America stands united against hate and in support of our federal law enforcement who stopped this plot."
The U.S. Attorney's Office for the Western District of Michigan told Newsweek it could not comment on details regarding Northam due to the ongoing investigation.
Updated 10/13 at 5:50 p.m. ET: This article has been updated to include responses from White House Press Secretary Kayleigh McEnany and the U.S. Attorney's Office for the Western District of Michigan.