Virginia Governor Ralph Northam Says Lt. Governor Justin Fairfax Will Have to Resign if Sexual Assault Allegations Are True
Virginia Governor Ralph Northam once again dismissed calls for him to resign over photos of him in blackface but said if the sexual assault allegations against Lieutenant Governor Justin Fairfax prove to be true, he will have to step down.
During an interview with Gayle King on CBS This Morning, Northam said that he won't resign because Virginia needs a person who can heal. As a doctor, he said there's "no better person to do that."
"Virginia also needs someone who is strong, who has empathy, who has courage and who has a moral compass," Northam told King. "And that's why I'm not going anywhere."
He didn't stray away from the scandal and instead said that it was a learning experience and there's an opportunity to make impactful changes in Virginia. While Northam said he won't resign in the wake of the scandal, if a scandal plaguing another person in Virginia's government proves to be true, he said Fairfax will have to resign.
Dr. Vanessa Tyson, a professor at Scripps College, accused Fairfax of sexually assaulting her in 2004 while they were both working at the Democratic National Convention. She claimed the two had cordial interactions and Fairfax asked her to accompany him to his hotel room. That way, she could get some fresh air and he could grab documents he needed.
While standing in the doorway of the room, he kissed her, which she said she reciprocated. However, she claimed he then pulled her toward the bed and pushed her head toward his crotch.
"Utterly shocked and terrified, I tried to move my head away but could not because his hand was holding down my neck and he was much stronger than me," Tyson said. "As I cried and gagged, Mr. Fairfax forced me to perform oral sex on him."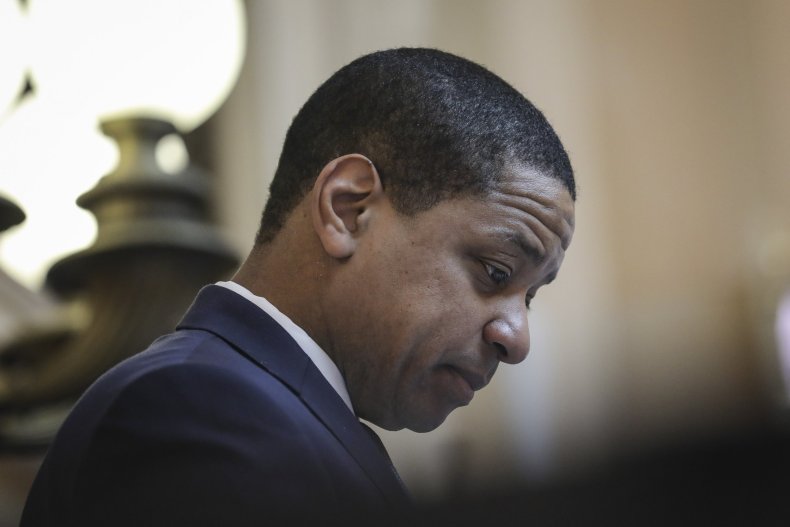 Fairfax denied that he sexually assaulted Tyson and said that he thought the act was consensual during and after the encounter until she recently came forward with the accusation.
Another woman, Meredith Watson, also accused Fairfax of sexual assault, alleging that he raped her while they were both attending Duke University in 2000. Fairfax denied Watson's allegation as well.
"I say again without reservation: I did not sexually assault or rape Meredith Watson, Vanessa Tyson or anyone else," Fairfax told The Washington Post. "Our American values don't just work when it's convenient — they must be applied at the most difficult of times."
Along with denying the allegations, Fairfax called on all appropriate and impartial investigatory agencies, including the FBI, to investigate the claims made against him.
Fairfax faces impeachment and Northam told King he believes it took courage for the women to come forward with their stories, calling the accusations "very, very serious." He acknowledged Fairfax called for an investigation into the allegations and said it's time America gets to the truth.
"The truth is important," Northam said. "If these accusations are determined to be true I don't think he's going to have any other option but to resign."