Virginia Governor Calls for Mandatory Face Masks in Public Indoor Spaces After Not Wearing One During Weekend Beach Visit
Virginia Governor Ralph Northam, a Democrat, called for residents of his state to wear face masks in many public situations during a Tuesday news briefing as part of the state's reopening guidelines. Northam's mandate was called hypocritical by Republicans after Northam was photographed without a mask during a Saturday visit to the beach.
Virginia's mask mandate is expected to begin Friday. According to Northam, everyone over the age of 10 will be required to wear masks inside buildings where people gather, such as retail establishments, personal service provider locations and restaurants. Masks will not be required while drinking, eating or exercising.
"I am taking this step because science shows the virus spreads less easily when people wear face coverings," Northam said Tuesday. Northam also specified that homemade masks would be allowed under the mandate, saying that "all you need is a piece of cloth and a rubber band."
Enforcement of the mandate is expected to be done by the Virginia Department of Health and not by law enforcement officers. Virginia Chief of Staff Clark Mercer said Tuesday the enforcement would be for "businesses that would be grossly negligent and refusing to adopt this policy."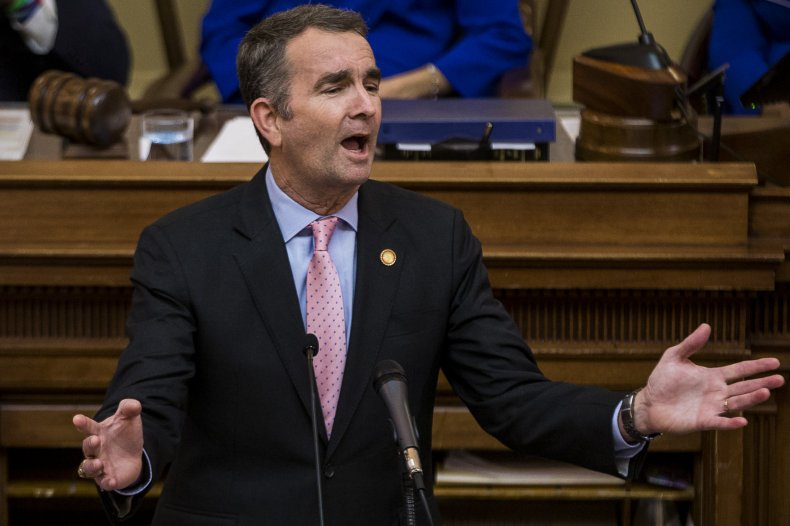 Members of the Virginia Senate Republican Caucus issued a statement Tuesday criticizing Northam's face mask requirements.
"Requiring Virginia's businesses to enforce this mandate under threat of action by the Department of Health only adds to the incredible and stifling burdens placed upon them by the Democrat majority and the Governor this year," read the letter, which also called for Northam to either rescind the face covering mandate or make it a "voluntary recommendation without threat of enforcement."
"Virginians are responsible and sufficiently informed to make these determinations for themselves without coercive threats from their leaders," the letter concluded.
Newsweek reached out to Governor Northam's office for comment. This story will be updated with any response.
Northam was photographed Saturday during a visit to Virginia Beach interacting with the public without wearing a face mask. He also appeared to be violating social distancing protocols, drawing ire from critics.
Virginia Caucus Whip William M. Stanley, Jr. said on Saturday in a Facebook post that Northam's choice not to wear a mask to the beach meant Virginia residents have "been had. Nothing he says from this day forward means anything."
In a Saturday statement to NBC, the governor's office said Northam "has repeatedly encouraged wearing face coverings inside or when social distancing is impossible. He was outside today and not expecting to be within six feet of anyone."
Recent data from the Virginia Department of Health showed 39,342 positive cases of coronavirus in the state on Tuesday. That number represents 1,615 new cases since Monday. The rise in new cases could be attributed to virus testing expansion enacted across the state in May.