Virginia Governor Election: Polls, Candidates and Why the Race Is So Important for Trump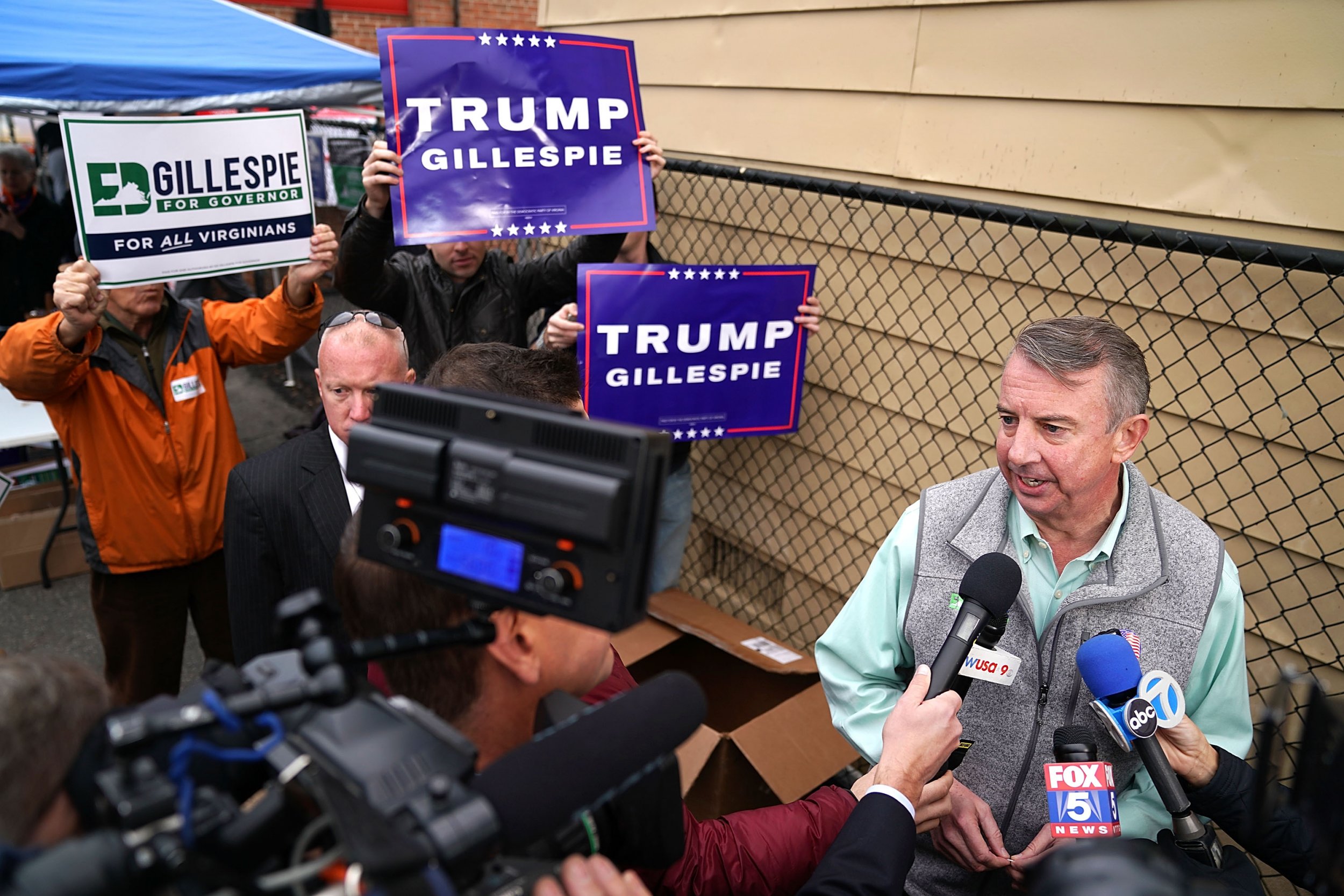 Voters are going to the polls Tuesday for local elections across the United States, and no race will receive as much attention as that for governor in Virginia. And for good reason: It may be just an off-year election, but as the first competitive statewide race following the 2016 presidential vote, Virginia's gubernatorial battle is steeped in significance.
Related: Trumpism without Trump could be the way forward, Steve Bannon says of historically unpopular president
With a country and two parties still figuring out how to operate in the age of Trump, Tuesday's contest is being watched with an even keener eye than would often be the case in the year after a presidential race.
Here's what you need to know about Tuesday's vote.
The Leading Candidates
Ralph Northam (Democrat)
Currently serving as the lieutenant governor under termed-out Governor Terry McAuliffe, Northam is a former Army physician who twice voted for George W. Bush but who entered politics as a Democrat in 2007. Predictably, given his voting history, he has been a target from some in the liberal wing of the party, who claim he is out of step with its leftward shift. Northam defeated a Bernie Sanders-backed candidate in the Democratic primary and further hurt his standing with progressives after stating last week that he would sign a bill banning sanctuary cities in Virginia.
Ed Gillespie (Republican)
As establishment a Republican as they come, Gillespie is a former lobbyist and chairman of the Republican National Committee. However, since defeating a Trumpian candidate in the Republican primary, Gillespie has made a dramatic shift to embrace the populist culture-war rhetoric of the man in the White House. The 56-year-old has played up the threat of the MS-13 gang in the state with a series of ads that accused Northam of being soft on immigration. The ads earned widespread condemnation as being racial dog whistles.
Polls
Virginia has leaned increasingly Democratic in recent years and hasn't elected a Republican to statewide office since 2009. Last year, Hillary Clinton defeated Trump by more than 5 points, and the president's approval rating in the state is now mired at around 35 percent. Add all of that together, along with Virginia traditionally voting against the party that won the White House the previous year, and this race was thought by many to be a shoo-in for the Democrats.
But Northam's advantage in the polls has dwindled in recent days, not helped by his mixed messages regarding sanctuary cities. His lead in an average of polls stood at just over 3 points going into Election Day. Still, Democrats believe that a surge in motivation in opposition to Donald Trump will steer Northam to victory.
Why It Matters to Trump
In such an unpredictable and divisive political landscape, whatever the result is on Tuesday, it is likely to be seized on as having outsized importance for both parties, as well as the president, in view of the 2018 midterms and even the next presidential election, in 2020. Gillespie has kept Trump at a distance during the race, echoing his messages but deciding against having him campaign. Trump's former chief strategist, Steve Bannon, said this week that a Gillespie win could point the way forward for Republicans as being "Trumpism without Trump."
A significant Republican loss, though, would imply that Trump's record low approval ratings are having a damaging impact on the party as a whole. It would also give Democrats confidence that they are on the right path as they seek to recover from their debilitating election experience last year.
A defeat for Northam, meanwhile, would be a crippling blow for the Democratic Party and almost certainly reignite the division between the progressive and moderate wings that has never fully healed since last year's bitter and controversial presidential primary.