Virginia Governor Ralph Northam joined a growing number of states in issuing a stringent "stay at home" order on Monday, telling residents to remain in their homes except for essential purposes until June 10.
Many states and municipalities across the country have already issued stay at home or "shelter in place" orders as the coronavirus pandemic continues to spread rapidly. Announcing the executive order on Monday, Northam said: "I want to be clear: Do not go out unless you need to go out. This is very different than wanting to go out."
The executive order from Northam, a Democrat, is set to remain in place far longer than the stringent social distancing guidelines laid out by the federal government. President Donald Trump on Sunday extended the guidance through April 30, saying that the data the White House coronavirus taskforce had gathered suggested that the surge in infections and deaths would peak in the middle of April.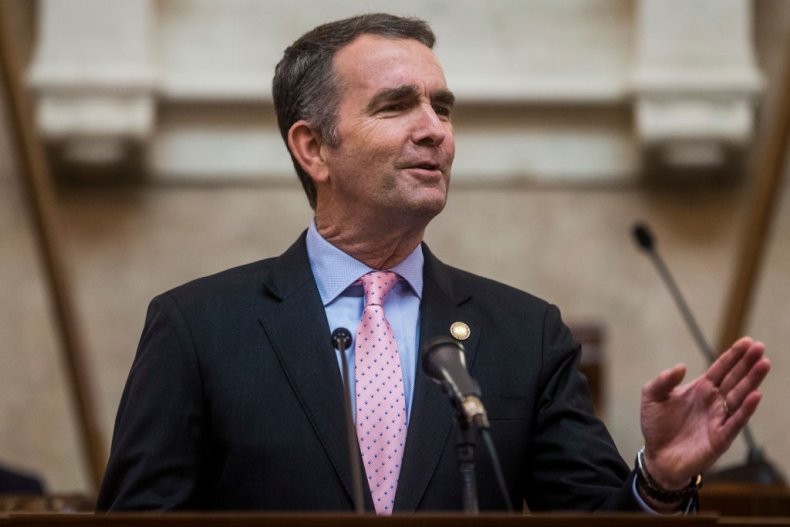 Other states have set shorter deadlines for their stay at home orders to expire, although they can always be extended at the governor's discretion. New York's Governor Andrew Cuomo on Sunday extended his "New York at Pause" deadline until just April 15, although the state has the highest number of confirmed coronavirus cases in the country by far.
Northam's stay at home order for Virginia requires all state residents to remain in their homes except for specific essential activities. These include obtaining food and beverages, seeking medical care, taking care of family or animals, visiting family members, exercising in compliance with social distancing guidelines and traveling to a place of worship, work or education.
The executive order also bans any gatherings of more than 10 people, including parties and religious services. Additionally, all universities are required to suspend in-person classes, and all public beaches will be closed, except for fishing and exercise, so long as social distancing is maintained.
"This is a communitywide effort, and I thank you for complying. This is a time of sacrifice. We need everyone to take this seriously and act responsibly," Northam said.
Maryland's Governor Larry Hogan, a Republican, issued a similar stay at home order on Monday.
"This is a public health crisis. We are no longer asking or suggesting that Marylanders stay at home. We are directing them to do so," Hogan said.
There have been more than 2,800 confirmed cases of the coronavirus in the Virginia, Maryland and Washington, D.C., area, according to news station WTOP. The number has more than quadrupled in the past week.
The U.S. is now the global leader in the number of confirmed cases, which reached more than 153,000 Monday afternoon. More than 2,800 people have died, and over 5,500 have recovered from the infection.
About the writer
Jason Lemon is a Weekend Editor at Newsweek based in Brooklyn, New York. Prior to taking on the editor role, Jason's reporting focused on U.S. politics and international affairs. He joined Newsweek in 2018, and had previously worked as a founding editor at a Middle Eastern media startup called StepFeed. He also worked a year as a contributor to The Atlanta Journal-Constitution and has bylines in The Christian Science Monitor, The Palm Beach Post, Al Fanar Media and A Magazine. He is a graduate of the American University of Beirut in Lebanon and Andrews University in Michigan. You can get in touch with Jason by emailing j.lemon@newsweek.com. Languages: English, Spanish, French and Levantine Arabic