Virginia Governor's Race, Replacing Minneapolis Police: Key Votes to Watch on Tuesday
Tuesday's elections may not have the grand-scale implications as last year's divisive presidential contest, but some major and historic decisions will still be made.
Two states are holding gubernatorial elections that are being watched by many national political figures, while several of the country's biggest cities will elect new mayors. National issues such as the response to the COVID-19 pandemic, crime and the economy have been hotly debated in many of the races, setting the stage for national elections in the coming years.
Below is a guide to some of Tuesday's key elections.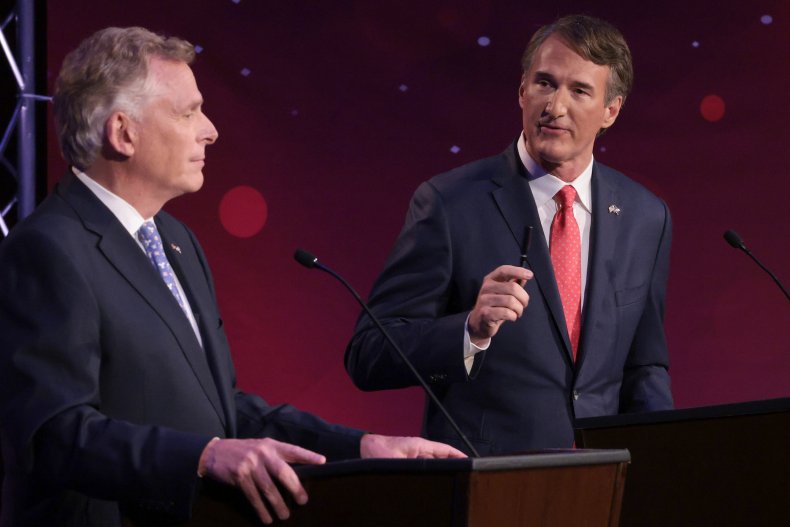 Virginia
The gubernatorial race between Democrat Terry McAuliffe, the former governor, and the GOP challenger Glenn Youngkin, a businessman in private equity, has received a lot of national attention. Though President Joe Biden won the state by 10 points in 2020, the governor's race has narrowed considerably in the polls.
Abortion has been pushed to the forefront of the issues for the state following Texas' restrictive ban. The race has come to represent something of a rematch from the presidential election, with former President Donald Trump endorsing Youngkin, while Biden and former President Barack Obama have actively campaigned on behalf of McAuliffe.
Virginia will also elect its first female lieutenant governor and its first woman of color in a statewide contest. The only question is whether that winner will be the Democrat Hala Ayala, who is Afro-Latina, or the Black GOP candidate Winsome Sears.
New Jersey
The race for governor of New Jersey has also tightened in recent weeks, though the Democratic incumbent, Phil Murphy, still holds a small lead over Republican challenger Jack Ciattarelli.
State House and Senate seats will also be decided in the Garden State on Tuesday.
Atlanta
Atlanta Mayor Keisha Lance Bottoms announced earlier this year she would not seek reelection. A crowded field of more than a dozen candidates are looking to replace her, but former Mayor Kasim Reed and City Council President Felicia Moore have emerged as the frontrunners. However, a recent poll from the Atlanta-Journal-Constitution/University of Georgia found 41 percent of voters were still undecided.
Boston
Similar to Virginia's lieutenant governor race, the winner of Boston's mayoral runoff will be the first woman and the first woman of color to be elected into the office. (The current interim mayor, Kim Janey, is the first woman and first woman of color to serve as mayor of Boston, but she was appointed to the position. She lost in a runoff in September to stay in office.)
Voters will choose between Michelle Wu, a member of the Boston City Council, and Annissa Essaibi-George, a fellow council member. Both women are Democrats. Janey has endorsed Wu, while Essaibi George has tried to paint herself as a more moderate candidate.
Minneapolis
Mayor Jacob Frey, a Democrat, is seeking reelection, but he faces challengers AJ Awed, Kate Knuth and Sheila Nezhad. The city uses ranked-choice voting, allowing voters to put their choices in order. The candidates with the lowest amount of votes will be eliminated, and those candidates' votes will go to other candidates still on the ballot until one person emerges with at least 50 percent of the vote.
The city's voters will also decide on a referendum about whether Minneapolis should replace its police department with a public safety department that would prioritize a "comprehensive public health approach." If passed, licensed "peace officers" would provide law enforcement services.
The killing of George Floyd by a former Minneapolis police officer will be reflected in the vote on the public safety measure. It may also influence whether Frey, who was mayor at the time of Floyd's death, stays in office.
New York City
Brooklyn Borough President Eric Adams, a Democrat, faces off against Guardian Angels founder Curtis Sliwa, a Republican. Though polls indicate it will be a lopsided victory for Adams, the race nonetheless has garnered national coverage not just because it's held in the country's most populated city but also due to Mayor Bill de Blasio's controversial tenure.
Seattle
M. Lorena González and Bruce Harrell are vying to be the next mayor of Seattle, and the city's housing, homelessness and response to COVID-19 have become hot topics in the election. Recent weeks have seen attack ads from González on her fellow Democrat Harrell, as well as her getting endorsements from Bernie Sanders and Elizabeth Warren.