Armed Gun Rights Activist Turns up at House of Lawmaker Who Sponsored Weapon Restriction Bill: 'We Know Where You Live'
A guns rights advocate angered by the prospect of tougher arms laws in Virginia turned up to the house of the lawmaker who sponsored the legislation armed with two semi-automatic weapons.
Hopewell GOP Chairman and founder of Right to Bear Arms Virginia, Brandon Howard, brought a Rock Island VR60 12-gauge shotgun and a Bersa .380 Thunder handgun and as a protest, stood in front of the Alexandria house of Democrat delegate Mark Levine, The Washington Post reported.
Last week, the Democratic-backed House Bill 961 passed through Virginia's House of Delegates and aimed to prohibit the the sale, transport, transfer or manufacturing of certain semi-automatic firearms after July 1, the Richmond Times-Dispatch reported.
Advertising his protest on Saturday on Facebook, Howard said he had peaceful intentions, and his action was against a "domestic threat" to the U.S. Constitution.
In a Facebook video he listed his objections to the bill which he said would mean police would raid the houses of law-abiding citizens.
"So we're going to tell Mark Levine, we know where you live. And armed citizens of the commonwealth are going to come to your house. To your doorstep," he said in the video.
An Alexandria Police Department spokesman said it was investigating the incident, and that Howard had the right to carry the guns in a public space, according to CBS affiliate, WUSA. In a statement to Newsweek, police said: "We have received the complaint and it is being investigated."
Howard justified his actions afterwards, saying: "I can redress my grievances, with my government, where I see fit," Howard said. "In the park, at his home, behind his house. It's perfectly legal," WUSA reported.
"If the delegate felt intimidated or threatened, he just admitted to being a tyrant, because only a tyrant would be intimidated and threatened," Howard added.
Levine said he wanted to press charges and that if he was unable to, he would try to make it law.
"He was not outside my home for self defense," Levine said. "He was not outside my home for hunting. He was not outside my home for target shooting," Virginia Public Media reported.
Levine told Newsweek that he had filed a complaint with the police and that it was up to the commonwealth attorney to decide what to do.
"I am confident that they will press charges if there is a legal right to do so. There is some question in Virginia law over whether there is a legal right, I think there is.
"If they feel the law is insufficient to prosecute, one of the advantages I have as a lawmaker is to come back to the Virginia House of Delegates and propose a law to make sure it is prosecutable if it happens in the future."
He said it was important to send a message to those who disagree with lawmakers, "don't try to threaten us with a loaded gun, that is not how democracy is run."
A Senate committee killed the proposed ban on Monday but seven other pieces of gun-control legislation are still alive in the legislature, The Washington Post reported.
Democrats in the state have been spurred to action on gun control after a mass shooting last year at a building in Virginia Beach.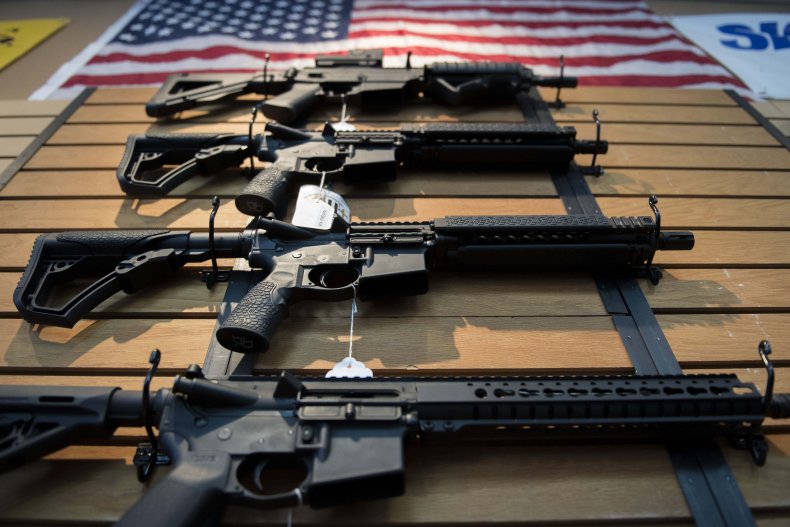 This story has been updated to include comments to Newsweek by Mark Levine.