After Massive Pro-Gun Rally, Virginia Democrats Advance Slew of Gun Control Measures
Starting in July, the Commonwealth of Virginia is poised to experience a massive shift in public policy governing firearms controls.
The General Assembly's newly empowered Democratic majority has proposed a package of legislation that would, among other measures, limit handgun purchases, enable emergency confiscation petitions and expand background checks.
"Democrats think we need to have reasonable restrictions to protect people from gun violence," Senator John S. Edwards, the chairman of the Judiciary Committee, which has jurisdiction over gun-related legislation, told Newsweek, citing the recent Virginia Beach shooting as a motivating factor. "People ran on the fact that we needed to do something. We have constituents who feel we need reasonable bills to protect the public with respect to gun violence."
Edwards said that he doesn't expect Virginia Governor Ralph Northam, a Democrat, to veto legislation that clears both the House and Senate, though the governor could remand bills with his own amendments that would need to gain additional approvals.
The majority of the legislation, if enacted, could see an effective date as early as July 1.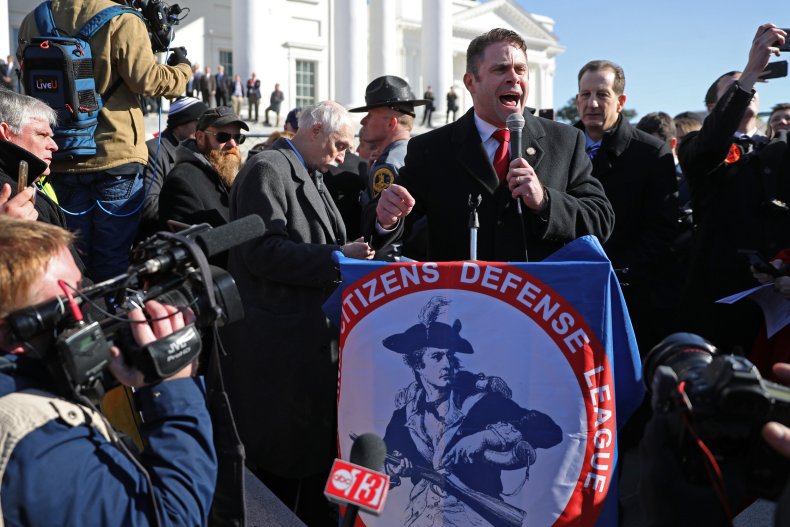 Groups like the Virginia Citizens Defense League (VCDL) have organized in vocal opposition to the measures and against the prospect of gun control more broadly. The league helped lead demonstrations in Capitol Square on Martin Luther King Jr. Day, when the commonwealth traditionally observes grassroots lobbying efforts.
Tens of thousands of demonstrators participated in a largely peaceful show of support for the status quo in Virginia, which has, under divided government, shrugged off previous calls for gun control after high-profile mass shootings.
The VCDL has worked to frame the conversation among gun-rights supporters as one skeptical of government intervention. The group says about a bill that would allow for extreme risk protection orders, for example, that "it shreds the Constitution." Other language implies that a House bill could lead to more successful home invasions.
In general, gun-rights supporters have voiced serious reservations about due process protections that they feel the proposed measures could erode.
Edwards believes he has made inroads with residents who have opposed his efforts and those of his House Democratic colleagues. Notwithstanding the tenor of the dispute between lawmakers and demonstrators, he said gun-rights supporters on Lobby Day were "all very polite when they came in to see us."
"I spoke to many people with the Virginia Citizens Defense League," he recalled. "They just wanted to make sure that what we were doing didn't violate their Second Amendment rights. I think there was a lot of misunderstanding with some of them. Some of them came in with the belief that we were going to violate their rights. When I explained how it worked, they seemed to understand."
The group still formally opposes the Democrat-led effort to reform the state's gun laws and sends alerts informing its members on how to effectively lobby against them.
So far, the Senate has passed red flag legislation, which allows for the temporary confiscation of a firearm if its owner is believed to be at risk of harming someone, and measures strengthening local control over firearms, limiting handgun purchases and implementing universal background checks.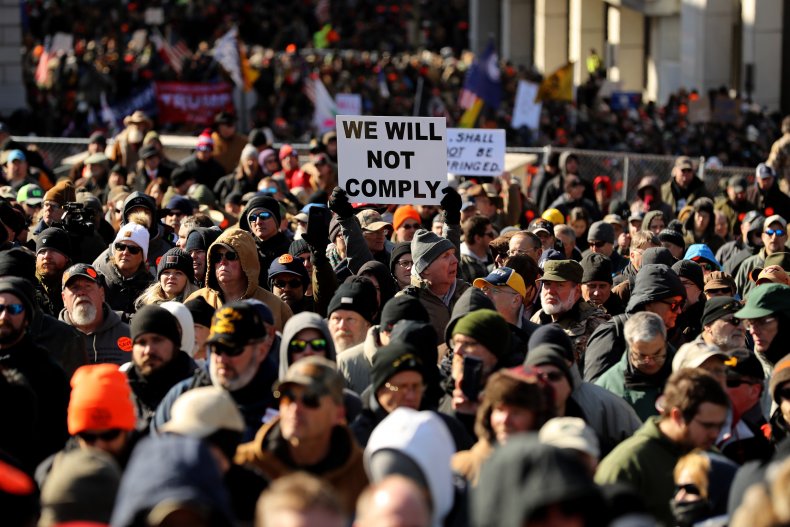 The House is considering legislation that would expand background checks for all firearm transfers (beyond just sales), penalize gun owners who do not report stolen weapons and tighten restrictions on unlocked guns in the home when there are minors present.
Senate Democrats scuttled an especially controversial measure that would have banned possession of so-called assault weapons, which are prevalent among gun owners. Edwards said that there was "a lot of misunderstanding about" the bill, but conceded that "it wasn't written right."
"It's kind of hard to define what an assault weapon is, and there was a lot of misunderstanding," he said. "If the House sends us something, then we will take a look at it. But holy cow, the definitional problems are kind of complicated."
Facing more than just definitional quandaries, Virginia Democrats could encounter substantial, additional hurdles to implementing their gun reform proposals: local sheriffs who vow not to enforce the laws they pass.
While viewed as largely symbolic, Second Amendment sanctuary declarations that have swept the state could stand in the way of top items on the Democrats' agenda, many of which require coordination with county and local law enforcement.
One state representative went as far to declare that the governor may need to send in the National Guard "to enforce the law."
Edwards rejected this proposition outright, emphasizing to Newsweek that law enforcement will remain "at the local level."
"There's no state authority to come in and make them do it," he said, with the caveat that "sanctuary localities, as they call themselves, have no legal teeth."
When pressed about how Democrats would respond to ardent holdouts who continue to refuse to enforce laws passed by the legislature's Democratic majority, Edwards reiterated that the state has no plans or desire to force their hands.
"There's no mechanism for that to happen," he said.
Edwards also stated that Democrats are not considering passing specific criminal or civil penalties for law enforcement followers of the Second Amendment sanctuary movement who decline to enforce gun laws.
"It's up to the local law enforcement officials to carry out the law if they want to," he said. "It's not up to the state to come in and tell them what to do. If they're not going to enforce the law, the state's not going to come in and do anything about it."
Ultimately, whatever happens in Virginia may hinge on the commitment of a handful of legislators and the unity of the Democratic caucus, which has a vanishingly thin margin in the Senate. Many of the bills in both chambers are advancing on largely party lines, and the threat of a backlash is difficult for some representatives of swing districts to ignore.
Edwards acknowledged that "there are always political ramifications in any legislature," but he projected that Democrats will stand together against dissenting voices.
"We've had a lot of conversations within the caucus, and I think we are in agreement," he said.
Around the second week of February, the General Assembly has a cross-over period where legislation that passed one chamber is exchanged for consideration in the other chamber. After that point, the bills will be sent to Northam's desk for his signature.