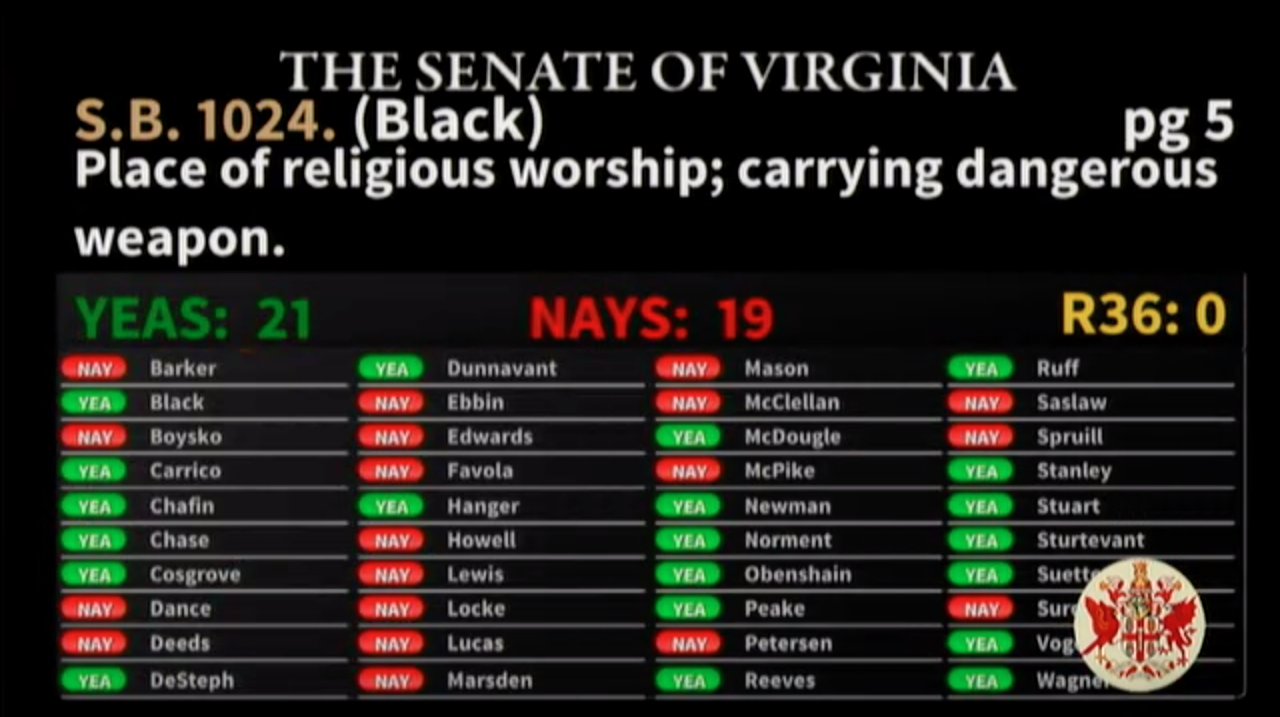 Mass shootings, the Bible and the Vietnam War were channeled by passionate Virginia lawmakers in a verbal scrap to make it legal to pack a pistol or other weapon while praying to God.
Senate Bill 1024 set the stage for Republicans and Democrats to duel over the merits of three lines in the Virginia Code (dating back to 1950 but whose provenance tracks to Colonial times) making it a misdemeanor if "any person carry any gun, pistol, bowie knife, dagger or other dangerous weapon, without good and sufficient reason, to a place of worship while a meeting for religious purposes is being held at such place…."
After several minutes of debate, the bill, titled Place of Religious Worship; Carrying Dangerous Weapon, passed, with 21 senators in favor and 19 opposed.
It's the language of "without good and sufficient reason" that Republican Senator Mark Obenshain took issue during his stump in favor of the bill on the Senate floor on Thursday.
"I'd like to meet the lawyer in this chamber who cannot craft a good and sufficient reason that anybody who may choose to carry a bowie knife or pistol into any place couldn't avoid prosecution under this statute," he said. "This bill is simply about making sure that our places of worship have the option to adopt the same policies that any of our businesses or any other place has the ability to adopt."
The idea that firearms are off-limits in places of worship was something was harped on by Republican Senator Dick Black.
"These people are uniquely vulnerable as we all know because they're lined up in a church pew exiting the pew is very difficult," he said. "It makes them sort of the ultimate target of someone who intends to inflict mayhem on the congregation."
The senator said the choice came down to two options: either cower in place or "you fight back."
The lawmaker, who is also a decorated Vietnam War veteran, recalled a 2012 mass shooting at a Wisconsin-based Sikh temple back in 2012 and more recently the Emanuel African Methodist Episcopal Church in Charleston, South Carolina, where Dylann Roof, who was apparently propelled by white supremacist beliefs, killed nine people who were engaged in a Bible study.
Black said he has faith that the bill will grant choice to churches to decide if parishioners should carry arms or not.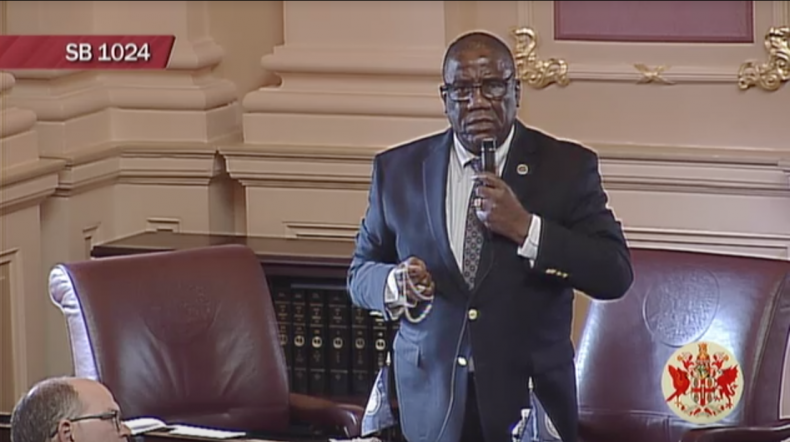 But he was vehemently dismissed by Democrat Senator Lionell Spruill Sr. who while rubbing what white beads in his right hand, read from the scriptures.
"Psalm 46 said, 'God is our refuge and strength,'" Spruill said. "What we're saying with this bill is, 'We don't have a trust in God because I'm going to carry a gun, because God is not safe.'... We always say in our church is that 'God will make a way somehow.'"
The reality for Spruill and others who opposed 1024 was that there was no clergy packing the halls or any other parishioners packing the halls demanding this repeal.
"I truly believe that all the trouble we had through the years we've had always had all those killings. No one has said, 'We want bring our gun in church!' When we start doing that then we no longer trust in God, we gonna trust in the guns."
But at the end of the spirited back-and-forth, Black stood back up toward the end of the floor dispute and said he felt morally obliged to mention that he saw firsthand how fellow Marines in Vietnam armed with M-16 rifles put their trust in God.
"Somehow it's thought that having guns present in church is going to exclude God from those churches… I gotta tell you, I've been too many places where men who were armed to defend themselves and defend their nation went into battle often knowing that they were not going to survive and they were not going to come back out.
"And I have no doubt that God was not excluded from their presence."
Black countered with his own scriptures (Psalm 23:4) "Yea, though I walk through the valley of the shadow of death, I will fear no evil: for thou art with me; thy rod and thy staff they comfort me."
And he said he used to repeat this passage while navigating perimeters in the dead of night in landmine terrain in Vietnam.
"I don't accept that God abandons those that are armed."
After passing in the Senate, the bill will be considered in the Commonwealth's House of Delegates.