Virginia Considers Ban on Gun Ownership After Certain Hate Crimes Convictions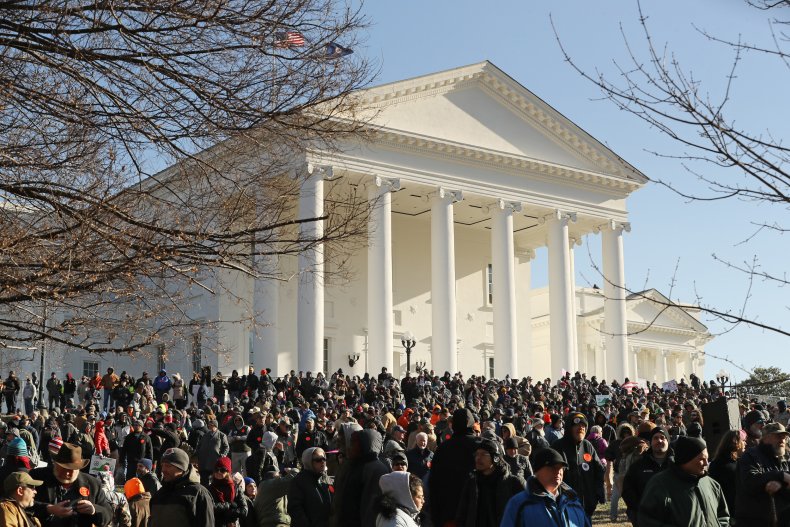 Virginia lawmakers are considering legislation that would prohibit residents convicted of certain misdemeanor hate crimes from possessing firearms.
On Tuesday, a House of Delegates subcommittee reported the bill, sponsored by Delegate Richard Sullivan Jr., as part of a package of gun-control legislation the body is considering.
Already the House and state Senate, both controlled by Democrats, have either introduced or passed gun measures to expand background checks, provide for "red flag" orders, limit handgun purchases and expand local control over firearms regulations, among other provisions.
The hate crimes legislation, confined to misdemeanor convictions for the crime of "simple assault," mirrors sporadic efforts in Democratic states to crack down on firearms ownership by individuals convicted of crimes because of a victim's race, religion, gender or sexual orientation.
Simple assault requires the threatened use of force, as opposed to the actual use of force, which is considered assault and battery, already a crime that would lead to a loss of gun rights in Virginia when committed against a protected class of victim.
In New York, Assembly Bill A7547 would add hate crimes convictions to the list of offenses that would disqualify an individual from firearms possession. A version of the bill had been introduced in multiple legislative sessions in recent years, but Democrats only retained nominal control of the state Senate until they unified their caucus with the 2018 elections.
In the federal Congress, a bill introduced by Congressman David Cicilline of Rhode Island would enshrine gun-ownership prohibitions for individuals convicted of violent hate crimes nationwide. The Disarm Hate Act was reported out of the House's Judiciary Committee in September, though it faces near-certain defeat in the Senate, whose gatekeeper, Mitch McConnell of Kentucky, has not allowed most legislation passed by the House to advance.
It is already illegal, under federal preemption law, for individuals convicted of felony offenses to purchase or possess firearms.
The Virginia legislation contains a somewhat unique provision permitting firearms rights to be restored after two years based on the approval of a state judge. Hate crimes convictions in other states, and even at the federal level, would count toward the proposed prohibition.
Violators could face up to one year in jail and a fine of $2,500 or less.
In 2018, there were 51 reported cases of simple assault in Virginia motivated by bias against a protected class, according to data collected by the Virginia State Police.
"At a time when hate crimes are on the rise in Virginia, we must take this important step to keep our communities safe from further attacks," Sullivan told Newsweek in a written statement. "The link between violence and bigotry is clear—no one found by a court of law to have committed this type of hate crime should be walking around with a deadly weapon in Virginia."
Some gun-rights groups have expressed concern about expanding disarmament beyond felony convictions. The Virginia Citizens Defense League, for example, argues that misdemeanor convictions "should never strip away a person's civil rights."
"It is bad enough that misdemeanor domestic violence takes away a person's right to possess firearms," the group said in an action email.