Virginia Infections Drop for Third Day as Governor Holds Out Against Trump-Supported Protests
Virginia authorities reported a drop in the number of new coronavirus cases for the third straight day on Monday as Governor Ralph Northam (D) continues to resist protesters calling for the economy to be reopened.
The Virginia Department of Health confirmed a total of 8,990 coronavirus cases today, with 453 additional individuals testing positive over the past 24 hours. The death toll also increased by 23 from 277, bringing the total number of fatalities across the state to 300.
The figures mark the third consecutive drop in new cases for the state. Virginia saw 484 individuals test positive for COVID-19 on April 19 and 562 on April 18, according to data maintained by the Virginia Public Access Project. The decline came after the state saw its sharpest increase in infected individuals on April 17 with 602 confirmed cases.
As protests against the state's stay-at-home measure grows louder, Northam has continued to push back against calls to reopen the economy. "This is not the time to play politics," the governor said during Monday's press conference. "We're all trying to get through this together."
Demonstrations broke out in several states over the past week—among them Virginia, Kentucky, Minnesota and Michigan—as anti-quarantine protesters took to public areas to demand an end to the stay-at-home orders that have drastically slowed virus' spread, as well as the country's economy.
Northam described seeing around 50 protesters congregate outside the governor's building last week with their children. They were not adhering to the White House's social distancing guidelines or wearing masks, he said, adding that he doesn't need protesters reminding him that the economy is still closed.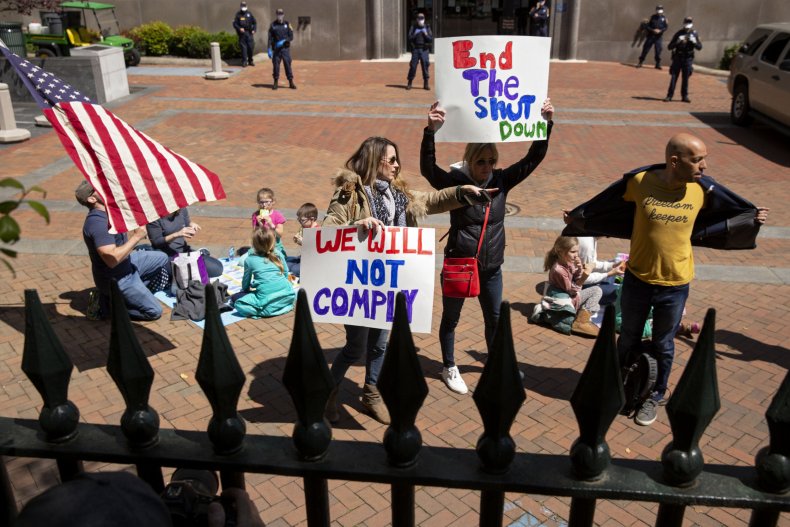 Despite their efforts, Virginia leaders have continued to warn that the state isn't ready to safely reopen. Northam on Monday said the state will follow the White House guidelines, which requires benchmarks such as increased testing for health care workers and a 14-day decline in confirmed cases.
As President Donald Trump continues to push for a quick reopening, some state governors have had to balance public safety with calls from the president's base to shorten their lockdown measures. According to Bloomberg, a Trump campaign surrogate and the Michigan Conservative Coalition were among those that led protests in Michigan.
Republican and Democratic governors have criticized Trump over a series of tweets he posed on Friday that appeared to support the protests. "LIBERATE MINNESOTA!" the president wrote in one tweet. "LIBERATE MICHIGAN!" he said in another. Northam has found it difficult to reconcile Trump's tweets with the federal government's guidelines to relax stay-at-home orders. On Monday, the governor said the president's remarks sent mixed messages.
Trump sympathized with the protesters and declined to condemn their demonstrations during Sunday's White House news conference. Instead, he lashed out at governors for allegedly taking coronavirus restrictions too far.
"Some have gone too far, some governors have gone too far. Some of the things that happened are maybe not so appropriate," the president said. "And I think in the end it's not going to matter because we're starting to open up our states, and I think they're going to open up very well."
Newsweek reached out to Northam's office for comment.