A delegate who represents part of the Washington, D.C. metropolitan area said he was teargassed by police who "instigated riots" as a crowd was protesting peacefully near the White House on Sunday night.
Protests in Washington, D.C. mirrored nationwide rallies triggered by the death of George Floyd, a black man who died after he was pinned to the ground by a white Minneapolis Police officer who knelt on his neck for more than eight minutes.
Ibraheem Samirah, a Democratic member of the Virginia House of Delegates, told Newsweek that he had been with a crowd of protesters in Lafayette Park who were chanting "Hands up, don't shoot" and "black lives matter" when police fired tear gas in a bid to disperse protesters at around 10.35 p.m. on Sunday night.
"It was really painful in the moment, I've never felt anything like that, being basically blinded entirely for a good five minutes," Samirah said.
He said shortly before a citywide curfew took effect, officers in riot gear began "breaking out of their positions" and "going after people" with batons, pepper spray, tear gas and flash bangs.
They were creating "a level of fear in people, making them think they might be harmed if they stick around," he added. "They were literally instigating riots with a lot of people who were just standing saying 'hands up, don't shoot.'"
Samirah told Newsweek that police treatment of protesters was "undercutting our democracy."
"This is turning into the closest thing to a police state that America has ever seen" in modern times, he said, adding it was the kind of escalation "you see only in dictatorships and authoritarian regimes, you don't see it in functioning democracies."
He added: "There needs to be specific solutions in place that if not followed by police departments should result in defunding of police."
Samirah said funds should be redirected to social services and healthcare, especially as black people have been disproportionately affected by the COVID-19 pandemic.
"We shouldn't be investing so much in policing, we should be investing more in social services that can empower our public health system," he added. "As we've noticed, the American public health system also kills people on the margins, people of color, black people and Latino people."
Samirah took to Twitter early Monday, sharing videos he had taken in the immediate aftermath of the incident.
"They just shot tear gas at me," he said in one video. In the clip, Samirah's face is visibly wet and a face mask he was wearing has been pulled down around his chin.
"I couldn't see for like, five minutes. This is crazy. Oh my God, the cops are f**king crazy," Samirah added in the video.
"I represent the DC area in the Virginia House of Delegates. Last night, the police tear gassed me anyway," he wrote in the first of a series of tweets posted alongside videos he captured of police clashing with protesters.
"My constituents, along with countless others across the country, were exercising their right to protest yesterday," he added in another tweet. "The cops didn't care. They instigated riots by firing into our peaceful crowd & charging towards us for no reason."
He added: "Elected officials are not spared."
Alongside a video of police in riot gear spraying a liquid at demonstrators, Samirah, a second-generation Palestinian-American who was born and raised in Chicago, wrote: "These scenes of authoritarianism were coming out of DC last night, not my motherland."
Samirah said he and other protesters demanding justice for George Floyd refuse to be intimidated by police.
"They can try to intimidate us. We won't stop. We won't stop chanting "Hands up, don't shoot." We won't stop demanding justice, for #GeorgeFloyd & everyone else killed by our system," he said.
On Twitter, he also condemned President Donald Trump for "fanning the flames of racism" for years.
"Our country was on fire last night. Just as it was in Charlottesville three years ago. Because demagogues have been fanning the flames of racism nonstop," he wrote. "I am now challenging @realDonaldTrump, again, to find the courage to extinguish it."
The Metropolitan Police Department have been contacted for comment.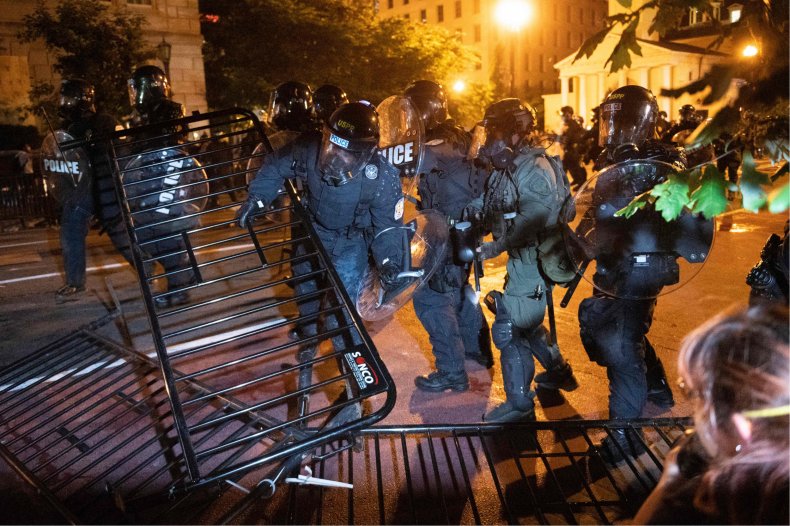 Trump was reportedly rushed to an underground bunker when violence erupted at a rally outside the White House on Friday night.
After the unrest continued into the weekend, D.C. Mayor Muriel Bowser on Sunday night ordered a citywide curfew from 11 p.m. on Sunday until 6 a.m. on Monday and activated the National Guard to support the city's Metropolitan Department.
The president wasn't seen in public on Sunday, but he tweeted messages blaming the violence on "anarchists" and calling for Democratic mayors and governors to "get tough."