Virginia Lawmaker Praises Northam-Youngkin Governor Transition Meeting in Dig at Trump
Representative Don Beyer (D-VA) on Sunday complimented a smooth transition meeting between Virginia's Democratic Governor Ralph Northam and Governor-elect Glenn Youngkin, while making an apparent dig at former President Donald Trump.
"The Democratic candidate conceded to the Governor-elect, a Republican. The Governor of Virginia, a Democrat, welcomed him. They didn't lie. They didn't try to cheat. They didn't try to overturn results. They didn't incite violence. That's how democracy is supposed to work," Beyer tweeted Sunday about the Thursday meeting.
Beyer appeared to be criticizing the former president, who for more than a year has pushed the narrative that the 2020 election was stolen and riddled with voter fraud.
Trump's unsubstantiated claims that votes were stolen from him helped fuel the January 6 insurrection at the U.S. Capitol, when a mob of his supporters attempted to stop the election certification for President Joe Biden. Trump and his allies have repeatedly failed to prove his theory through numerous election audits and lawsuits in states including Arizona, Georgia, Pennsylvania, Wisconsin and Florida.
On Sunday, Beyer shared a video of Northam and Youngkin cordially discussing the upcoming transition of power in Virginia as a way to contrast Trump's refusal to accept defeat.
"We just had a lovely lunch, I can't describe it any other way. To be welcomed with such grace into this home is incredibly humbling to me," Youngkin said in the video while standing next to Northam. "I just want to thank you for the incredibly cooperative way that you've expressed you're going to help us. It's important. We've got a lot of work to do...and I just so appreciate your willingness to be so helpful as we head towards this next stage in Virginia's future."
Youngkin defeated Democratic candidate Terry McAuliffe on Tuesday, marking a week of tough races for the Democratic Party. In New Jersey, Republicans also claimed state legislative districts previously held by Democrats, while incumbent Democratic Governor Phil Murphy was re-elected by only a razor-thin margin.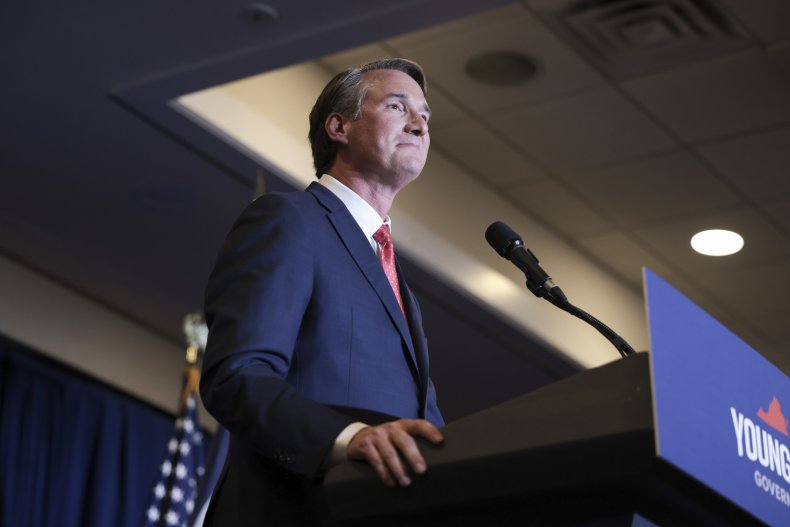 Trump, who lost to Biden in Virginia, said on Wednesday that Youngkin's victory proves that state had an election fraud problem during the presidential race.
"We have a very corrupt election process in this country, and I've exposed that," Trump said during an interview with right-wing radio host John Fredericks. "I don't believe that we lost there. I don't believe we lost Virginia. What a mess, what a mess, this election process. Now I don't believe it. They said Virginia's blue. I never believed it was blue."
Newsweek contacted representatives for Trump for additional comment, but did not hear back in time for publication.