Virginia Man Accused of Running Truck into Protesters Admits to Being KKK Leader
A Richmond, Virginia man who drove his vehicle into a crowd of protesters on Sunday has admitted to being a Ku Klux Klan leader, according to a statement from Commonwealth Attorney Shannon Taylor.
Demonstrators were holding a protest against police brutality in connection with the May death of Minneapolis man George Floyd, who died while in police custody. Rogers allegedly drove his vehicle up to the protest, revved his engine and proceeded to drive his vehicle into the group. No serious injuries were reported. Police took Rogers into custody. Rogers was charged with felony vandalism, assault and battery and attempted malicious wounding.
"The accused, by his own admission and by a cursory glance at social media, is an admitted leader of the Ku Klux Klan and a propagandist for Confederate ideology," Taylor said in a Monday statement. "We are investigating whether hate crimes charges are appropriate."
According to a statement sent to Newsweek from the Henrico Police Department on Tuesday, the victim was "checked by rescue at the scene and refused any further treatment."
During a court appearance on Monday, Rogers was denied bond. He is expected to be defended by a court-appointed attorney.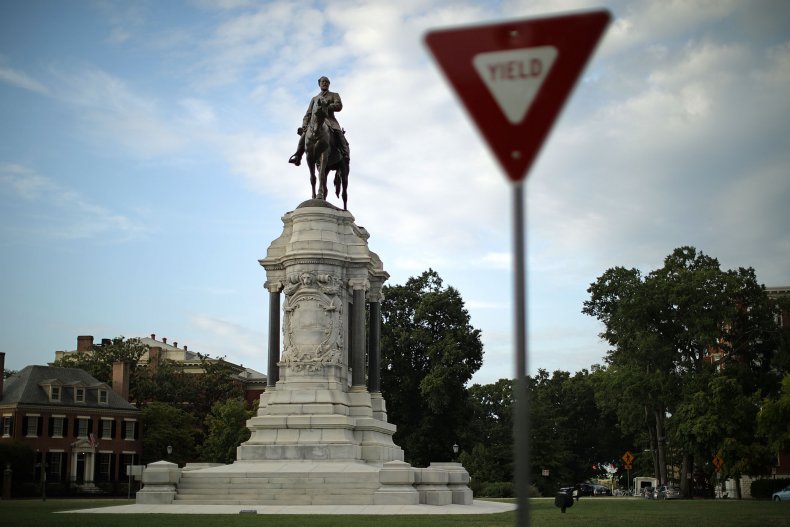 Demonstrations against racism and police brutality sprang up across the country in May after video of Minneapolis police restraining Floyd appeared on social media. As officer Derek Chauvin kneeled on Floyd's neck, Floyd could be heard saying "I can't breathe."
Chauvin and three other officers involved in Floyd's death were fired by the Minneapolis Police Department and later arrested. Chauvin was charged with second-degree murder and second-degree manslaughter. Chauvin's bail was set at $1 million during a Monday court appearance.
Protests against racism in Richmond have led to the removal of two Confederate monuments. Demonstrators pulled down the statue of Confederate General Williams Carter Wickham in Richmond's Monroe Park on Saturday.
Virginia Governor Ralph Northam announced during a Thursday news conference that a statue of Confederate leader Robert E. Lee would be removed from Richmond.
"That statue has been there for a long time," Northam said. "It was wrong then, and it's wrong now. So we're taking it down."
Northam called the removal of Lee's statue an important step in the right direction, but that there were "still monuments of inequalities that exist in our commonwealth and in this country."
Charlottesville, Virginia was the site of a "Unite the Right" rally in 2017. White nationalists faced off against anti-racism protesters, resulting in the death of Heather Heyer. Heyer died as the result of injuries caused by white supremacist James Fields, who drove his vehicle into a crowd of counterprotesters. At least 19 others were injured.
Fields was convicted of federal hate crime charges garnering a prison sentence of life plus 419 years.