Virginia Man Assaults Coffee Shop Owner After She Asks Him to Wear Mask
A Virginia man shouted profanities at the owner of Abyssinia Market and Coffee House, and after being asked to leave he spat at her and later returned to vandalize the premises.
The man walked into the cafe in Old Town Alexandria on Sunday, to be advised that he needed to have a face covering on. The cafe's policy is in line with the state's official mandate that people should wear face masks in public when inside.
Lily Damtew, who runs the Abyssinia Market, explained to her second customer of her first day reopening after lockdown that he needed to have a mask on.
A representative from Alexandria Police Department told Newsweek: "A subject came in and we're told he got belligerent when he was told to wear a mask. Ultimately they left, after spitting towards the owner's feet. And then came back later, as officers were looking for the person, and threw some food around in front of the business and then left again."
Damtew told Alexandria Now about the incident. "I told him that we have a sign on the door saying 'Please wear a mask' but he said, 'No, I don't have to wear a mask."
Lily Damtew is a Black women and her coffee shop serves Ethiopian coffee, which is hand-roasted in town.
The man refused her request to wear a mask and began to argue, saying "you people" and swearing and calling her a "b****". Damtew offered him a mask, which he put over his eyes and mocked her by asking "Is this okay?" she explained.
After a heated discussion, Damtew told the man to leave her store, she claims that on the way out he spat on her feet.
When the man left, Damtew called the police and then locked up her store, fearing that he would return. According to Damtew, the man did return armed with a bowl full of food, which he proceeded to throw on the windows and the tables outside.
Alexandria Police Department told Newsweek that a subject was possibly identified by police and was taken to a facility to receive "services." Nobody has yet been arrested. The case is investigated as a simple assault, due to the spitting incident.
"Had they made contact it would have potentially been assault and battery," explained the Alexandria Police Department representative.
"I'm pressing charges," Damtew said. "He shouldn't have spit and he shouldn't have gone back and vandalized property. We tried to bleach it but we still have stains on the ground."
Damtew has been contacted for additional comment.
This is the first incident of this kind Damtew has had in four years of operating the cafe, and she is scared the man may return. She's decided to keep the premises closed this week, but in response to the incident the local community has rallied around in support, posting their well-wishes on social media and attaching positive messages to her door.
"You make this community greater, I stand with you," read one of the notes.
"Can't wait to see your door open again," said another.
"Abyssinia Market in Old Town Alexandria is owned by valued members of our community," said a Twitter user named Sinan Ciddi. "There is no room for hatred in our city and country!"
"This is not who we are as a City. We reject those that would spew hate and target members of our community," wrote Alexandria Mayor Justin Wilson on Twitter about the recent incident.
On the brink of closing, with financial strain compounded by the coronavirus pandemic, the Abyssinia Market owner has set up a GoFundMe page requesting help.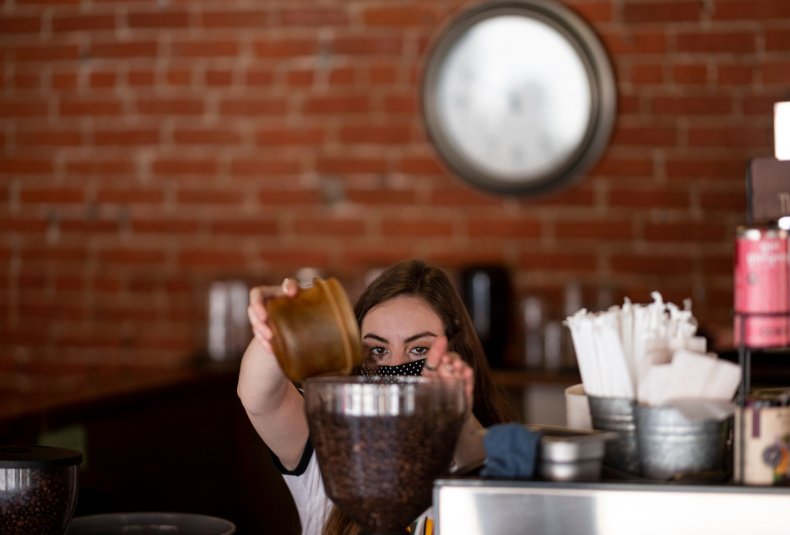 The city of Alexandria requires everyone to wear a face mask when inside in a public place.
"If you must leave your home, you are required to wear a face covering when inside buildings," said the official city statement released June 28.
"Please keep at least 6 feet of distance from others whenever possible. Your neighbors and loved ones are counting on you to stop the spread of COVID-19."
Newsweek has contacted the coffee house owner for further comment.