Virginia Man Shot 10 Times by Police After Officers Gave Him Ride Home, Then Returned for 911 Call
A Black man in Virginia was allegedly shot 10 times by a police deputy after the officer gave him a ride home when his vehicle had stalled and then returned when the man placed a 911 call shortly afterward.
Isaiah Brown, 32, is hospitalized in intensive care with 10 bullet wounds following the shooting early Wednesday morning in Spotsylvania County, local NBC News affiliate WRC-TV reported. Brown's siblings told the news channel that their brother was unarmed, with only his phone in his hand, when the shooting took place near their home.
"The officer just started shooting at him for no reason. I didn't hear a warning shot. All I heard was 'Hands up!' one time. And all he had was his phone, so I know he put his hands up," Tazmon Brown, the victim's brother, told the TV station.
Police and Brown's siblings told the station that the incident began around 2:30 a.m. on Wednesday morning when the shooting victim's car broke down at a gas station. A police deputy, who is white, gave Brown a ride to his home and assured his siblings that he wasn't in any trouble. However, the same deputy returned later after Brown placed a 911 call about a domestic disturbance. The officer then ended up shooting him multiple times outside the home.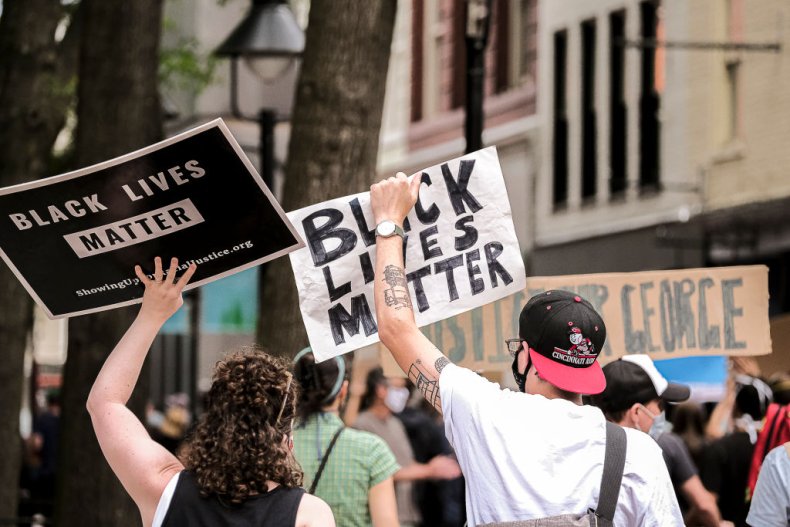 In an email to Newsweek on Friday morning, Sergeant Brent Coffey, a spokesperson for the Virginia State Police, explained that the shooting took place at around 3:30 a.m. on Wednesday morning. Coffey said the officer responded after receiving a 911 call.
"The sheriff's deputy attempted to verbally engage Brown, and it was during this encounter that the deputy discharged his service weapon. Brown was shot, and the deputy immediately rendered medical aid," he wrote. "Brown was transported to Mary Washington Hospital, where he is still being treated for serious, but non-life threatening, injuries."
Coffey noted that "the investigation remains ongoing at this time." He said that "once state police completes its investigation, the criminal investigative file will be turned over to a special prosecutor, Fredericksburg Commonwealth's Attorney LaBravia Jenkins, for review and adjudication."
Yolanda Brown, the victim's sister, told WRC-TV, "I'm just still trying to figure out where he felt the threat at, to feel the need to shoot."
It's unclear why her brother called 911, but police have said it was regarding a "domestic situation." Tazmon Brown told the news station that he thinks his brother hoped to get a ride back to his stalled vehicle.
The shooting comes as national attention is focused on police shootings and systemic racism in the nation's justice system. On Tuesday, a grand jury in Minneapolis convicted former police officer Derek Chauvin for the May 2020 murder of George Floyd, who was Black. Floyd's death sparked a massive wave of nationwide demonstrations against police brutality and racism.
New polling released Friday by ABC News and The Washington Post showed that 60 percent of Americans believe more should be done to hold police accountable. Furthermore, 63 percent said they believe that Black people and other minorities receive unequal treatment in the justice system.