Virginia Mom Stabs Baby Son To Death, Wounds 8-Year-Old Daughter—Police
A Virginia woman is facing murder charges after police claimed she stabbed her 10-month-old son to death and seriously wounded her 8-year-old daughter.
Officers had responded to an apartment complex in the 300 block of Hilltop Drive in Newport News after receiving a call about a "female in distress" at around 9.30 p.m. on Monday, the Newport News Police Department said.
On arrival, they found what police chief Steve Drew described as a "horrific" scene.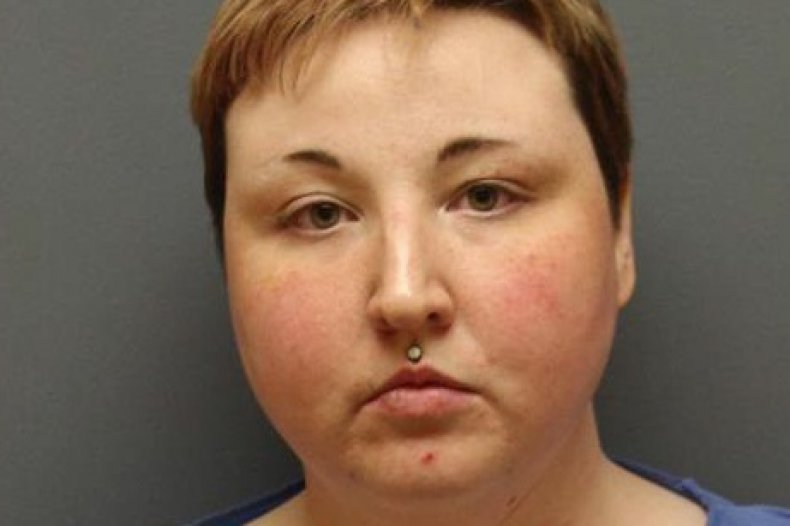 Officers immediately began providing first aid to two children who were found suffering from multiple stab wounds. But the infant, later identified as 10-month-old Zell Howard, died at the scene.
His sister was was taken to hospital, where she was in a critical but stable condition, police said on Tuesday.
Their mother, 35-year-old Sarah Whitney Ganoe, has been charged with second-degree murder, malicious wounding, and two counts of felony child neglect.
At a news briefing on Tuesday, Drew said police initially got a call from Ganoe's fiancé, the baby's father, who was in hysterics after receiving a text message from her. "He had received threats about what he would be coming home to," Drew said.
Drew said officers found the children stabbed in a bedroom, with a pocket knife measuring around two inches found nearby.
"Both of them were stabbed multiple times," he said. "All over their body... We're not dealing with an adult body, right? We're dealing with an 8-year-old... a 10-month-old. Any stab wound is critical."
Drew said officers "immediately gave aid, trying to talk to both children, to calm them, to reassure them," Drew said. "The compassion they showed was impeccable."
Drew added that the officers "who went across the threshold and into that apartment, the things they saw, they will remember for the rest of their careers."
Ganoe was at the home when officers arrived, Drew said. She was immediately arrested then taken to hospital for treatment of superficial injuries, he said.
Drew said the father of the baby arrived at the scene and was interviewed by police. The girl's father lives out of state and police have yet to make contact with him, he added.
Police had been to the apartment in response to domestic disturbances prior to Monday, Drew added. Investigators are following up with city agencies to see if they had any interaction with the family, he said.
Ganoe was being held in custody to the Newport News City Jail. The investigation remains ongoing.
Newport News Police have been contacted for additional comment.