Before the U.S. Supreme Court announced Friday that it had voted to overturn Roe v. Wade, Virginia's secretary of public safety and homeland security warned that any "violence" in response to the ruling will not be tolerated.
Bob Mosier, who is part of Governor Glenn Youngkin's cabinet, penned an opinion piece that was published by The Washington Post on Friday. He stressed the importance of freedom of speech, referring to protests that may break out following the SCOTUS decision. But he also vowed that Youngkin's administration "will protect all citizens of our commonwealth—and that includes keeping state and federal judges safe while simultaneously safeguarding our First Amendment rights."
Several of the court's conservative justices, such as Amy Coney Barrett, Samuel Alito and Clarence Thomas, live in Virginia, the Associated Press reported.
A leaked draft opinion first reported by Politico in early May showed that the Supreme Court was poised to overturn Roe v. Wade nearly 50 years after the landmark decision. Though the draft did not reflect a final decision from the court, the news sparked outrage and protests from abortion rights advocates, including outside the homes of some SCOTUS justices.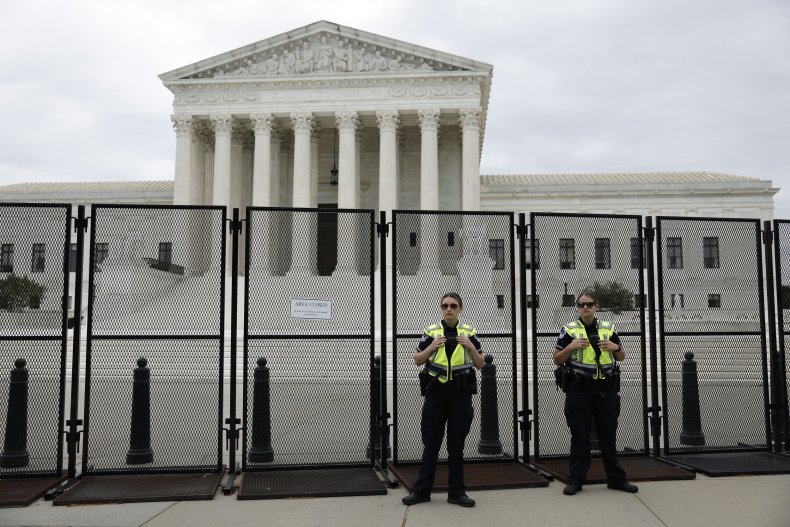 This month, a man who was arrested near conservative Justice Brett Kavanaugh's Maryland home allegedly indicated that he was bothered by the potential rollback on abortion rights.
In his opinion piece before the court issued its ruling on Friday, Mosier wrote: "It matters how we conduct ourselves. This is not the first time the United States or Virginia has dealt with robust differences of opinion and conviction, nor will it be the last. Trials and tribulations will come in the future just as they have throughout our history. And just like we have in the past, we will overcome them together.
"What sets Americans and Virginians apart is the manner in which we choose to air our grievances. This is the difference between our vibrant discourse and the places in the world that aren't protected by these freedoms."
Mosier said that he wanted to "assure" all residents of the state that Youngkin's administration was "committed" to their safety and First Amendment protections.
"Ahead of the Supreme Court ruling in the Dobbs case, we are taking preparatory measures across the commonwealth to ensure the public's safety during these politically charged times," he wrote.
Mosier was referencing Dobbs v. Jackson Women's Health Organization, the case taken up by the Supreme Court under which Roe was overturned. Another SCOTUS decision, Planned Parenthood v. Casey, which mostly protected the same abortion rights as Roe, was also overturned in the Dobbs decision Friday.
Mosier said that Youngkin has frequently spoken to the justices, and maintaining their safety is a "top priority."
"It is imperative that protected peaceful protests don't turn into violence or destruction after the Supreme Court's ruling," he wrote. "This is for the safety of all Virginians. Let me be clear: Those who do not heed this message and perpetuate violence will be brought to justice to the fullest extent of the law."
In a statement following the court's announcement, Youngkin called on Virginians to "respect the rule of law."
"Our administration is committed to protecting individuals' constitutional rights and ensuring Virginians are safe," the statement read. "I am in regular contact with the Supreme Court Justices and my administration is in coordination with our mayors, and local and state police to ensure we are ready to take appropriate action if need be. Virginia will not stand for lawlessness or violence."
​​Updated 6/24/22, 1:59 p.m. ET: This story was updated with a statement from Youngkin.