Virginia Police Chief On Leave Amid Controversy Over Arrest of State Sen., 13 Others After Confederate Monument Protest
A police chief in Portsmouth, Virginia, was placed on paid leave on Friday following weeks of controversy stemming from a Confederate monument protest in June.
News of Portsmouth Police Chief Angela Greene's removal was first reported by The Virginian-Pilot after the paper obtained an email sent by Portsmouth City Manager Lydia Pettis Patton. A spokesperson for the city confirmed Greene's removal in an email to Newsweek.
"The City confirms that Police Chief Angela Greene is on paid leave," the statement from Public Affairs Officer Dana Woodson said. "During this period Assistant Chief Scott Burke is serving as Acting Chief of Police of the City Police Department."
In the email obtained by The Virginian-Pilot, Pettis Patton said the removal was "effective immediately and until further notice." The city declined to say how long officials expected Greene to remain on paid leave or provide a specific reason for her removal.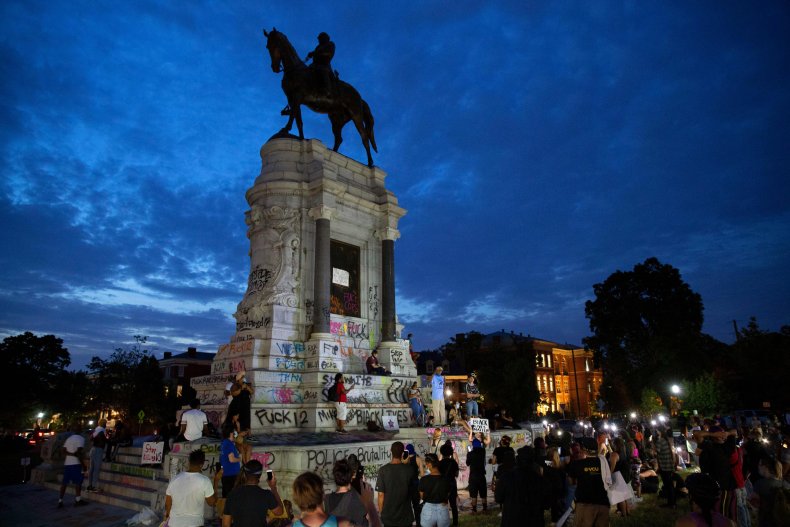 Greene's tenure as police chief has been uncertain over the last few weeks due to federal arrest warrants her department issued on August 17. The warrants were for the alleged actions of 14 people—including a state senator—at a Confederate monument protest on June 10, at which a man was seriously injured when a falling piece of the statue hit him.
The warrant for Virginia State Senator Lillie Louise Lucas said she allegedly "[conspired] to intentionally destroy, deface, or damage property belonging to another, with the value of, or damage to, such property being $1,000 or more." The warrant said that the property in question was a monument.
The department also issued felony arrest warrants for three NAACP representatives, a school board member, three public defenders and six other citizens.
Shortly after Greene announced the warrants, the Norfolk-based television station WTKR obtained an email from Pettis Patton that said Greene previously informed her about a potential conflict of interest in the case. The decision to issue the arrest warrants was made without Pettis Patton's knowledge, the city manager said.
The fallout from the arrest warrants continued in the days following as city leaders called for Greene to resign. In a statement sent to WTKR three days after issuing the warrants, Greene said her department first looked into the incident to determine if there was a conflict of interest, due to the presence of city officials at the protest. Greene said the department later found there was no conflict of interest, enabling their investigation to move forward.
"During our investigation, it was determined that although felonious acts were committed by several individuals, no conflicts of interest for this department were revealed," Greene's statement said. "Therefore, it was incumbent upon this law enforcement agency to take action."
Greene was placed on paid leave just over two weeks after city leaders began calling for her resignation.