Virginia PTA Official Says 'Let Them Die' About Parents Opposing Critical Race Theory
Michelle Leete, a leader in the Virginia state Parent-Teacher Association and an official in the NAACP's Fairfax chapter, was captured on video at a Thursday rally saying "Let them die!" in reference to people who oppose critical race theory being taught in schools.
She made the comments while speaking to fellow counter-protesters present during a "Stop CRT rally" outside a Fairfax County school board meeting. Leete is Vice President of Training at the Virginia state PTA and Vice President of Communications for the Fairfax County PTA. She is also First Vice President of the Fairfax County NAACP.
Many people in the crowd cheered and applauded upon hearing Leete's cry of "Let them die!"
Asra Nomani, an education activist who helps run the watchdog group Parents Defending Education, filmed the speech and shared it on her Twitter account.
Nomani was not among those who were enthusiastic about Leete's comments. She spoke with The Daily Wire about the video, stating: "It was shocking that anyone would cheer and applaud a call to violence."
"Ironically, her hateful, intolerant words are a perfect illustration of the divisive ideology of critical race theory in action," Nomani added. "In the name of tolerance, it preaches intolerance and is a betrayal of all values of humanity and decency."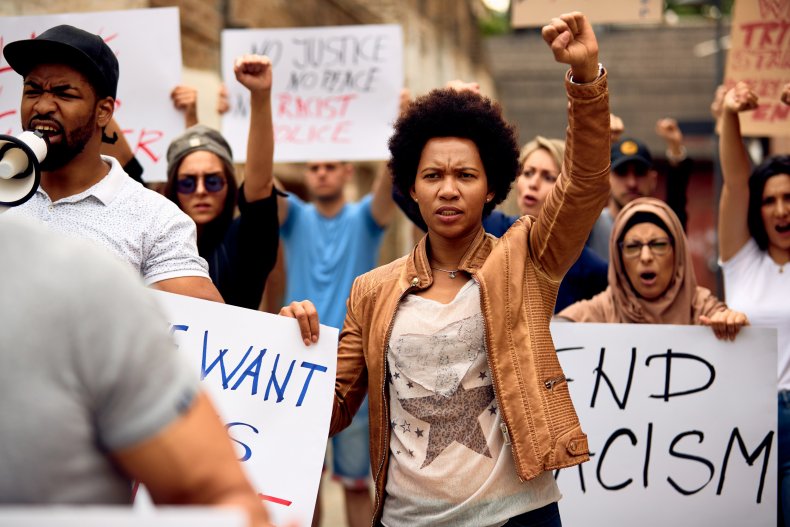 In the video, Leete is heard saying to the group: "So let's meet and remain steadfast in speaking truth, tearing down double standards, and refuting double talk. Let's not allow any double downing on lies. Let's prepare our children for a world they deserve. Let's deny this off-key band of people that are anti-education, anti-teacher, anti-equity, anti-history, anti-racial reckoning, anti-opportunities, anti-help people, anti-diversity, anti-platform, anti-science, anti-change agent, anti-social justice, anti-healthcare, anti-worker, anti-LGBTQ+, anti-children, anti-healthcare, anti-worker, anti-environment, anti-admissions policy change, anti-inclusion, anti-live-and-let live people."
"Let them die," Leete said in conclusion.
Legal scholar Jonathan Turley, a professor at George Washington University Law School who has a child in the Fairfax school system, wrote on his blog that Leete's speech was counterproductive to her argument. "Leete fell back on the same shaming that accused parents of hating everything and everyone because they do not want this material to be taught to their children," he said.
In Fairfax County, top-rated Thomas Jefferson High School recently announced plans to eliminate standardized testing requirements and application fees for incoming freshmen. The move was done to promote diversity, but it caused a backlash among many parents in the community.
Critical race theory, meanwhile, has become a hot topic issue at schools around the country. In Fairfax and neighboring Loudoun County, the teaching of the theory has met strong opposition. A Public Opinion Strategies poll from early June found that critical race theory is viewed negatively by voters in Fairfax and Loudoun counties, by a 50 percent negative to 42 percent positive margin.
Fifty percent of voters in the counties who responded to the survey said they are opposed to the teaching of the theory in local public schools. Forty-two percent said they supported its teaching.
Newsweek contacted Michelle Leete for comment but did not hear back in time for publication.