Virginia Woman Cut by Razor Blades Attached to Joe Biden Yard Sign
A Virginia woman was cut by razor blades when trying to dismantle her Joe Biden sign, as police warn Arlington County residents to be cautious.
The day after Election Day, the woman took the political signs to a family member's house before beginning to dismantle them. She was then cut by razor blades that had been taped to the sign, suffering minor injuries that did not need medical treatment.
While Arlington County police have not received reports of similar incidents, they are urging residents to be careful when removing their signs.
Carol Burnett, program chair for the Arlington Democrats group, told WUSA 9: "There is not a single route that has not had some damage [to political signs].
"I would say this is unprecedented for Arlington. This goes beyond the normal sort of loss of signs by teenage kids and the wind."
Burnett also said that signs in support of Biden and Kamala Harris were specifically targeted, suffering vandalism and destruction. Arlington has voted overwhelmingly Democrat in the 2020 election, with Biden currently leading with a 64 point margin, according to the New York Times.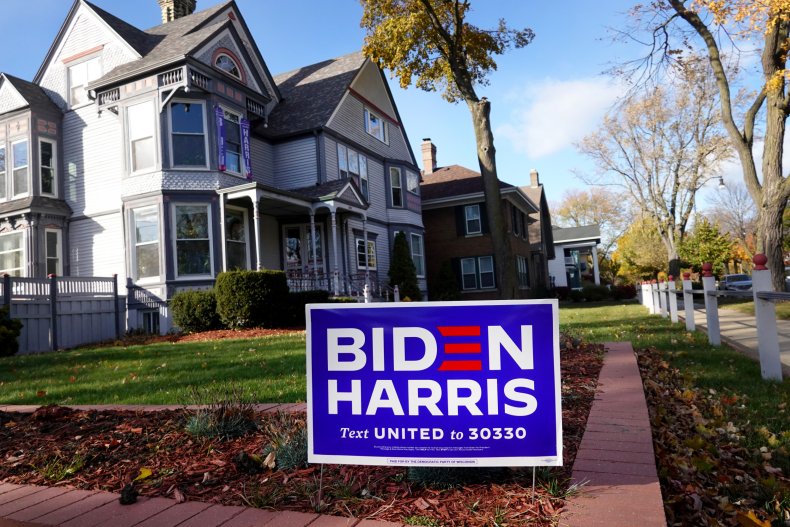 Elsewhere, razor blades were added to signs in support of President Donald Trump in Michigan, in October.
The Oakland County Sheriff's Office said that a building inspector was removing the signs as they were in the right of way when he was cut by the razor blades that had been attached to the bottom of the sign. Two signs at the location had blades taped to them and the inspector received lacerations to three fingers which required medical attention.
Oakland has also voted Democrat in the 2020 election with Biden leading with a 14 point margin, according to the New York Times.
Both Trump and Biden supporters have suffered damage and vandalism to their signs during the 2020 presidential campaign election, while some supporters have been targeted due to their political yard signs.
For example, a woman in Maine was suspected of targeting houses displaying Trump yard signs when residents found their signs vandalized and dog feces posted through their letterboxes in September.
However, while political signs have been a source of tension for some neighbors, rival signs brought two neighbors together in Wisconsin. When Biden-supporter Tim Place's sign was stolen, his Trump-supporting neighbor, Josh Schoemann, replaced it.
Schoemann told Newsweek: "I think people are really yearning to be united again. That's why I felt it important to replace Tim's sign and to share this story. We can't change it all at once, but we can each do our part to simply move the needle."