Virginia Reports Highest Single-Day Rise in Coronavirus Cases After State Pushes Ahead With Reopening
Virginia recorded its highest single-day increase in new COVID-19 cases on Thursday, less than a week after public health restrictions started to be lifted in the state.
There were 1,229 new coronavirus infections reported in the state on Thursday, up from the previous high of 1,055 seen on May 1, according to the Virginia Department of Health. Most of the state began to gradually reopen under phase one of Governor Ralph Northam's "Forward Virginia" plan on May 15, although some areas deemed hot spots remain locked down.
Total cases reported in the state are 34,137, although 1,709 are probable cases, meaning the cases were diagnosed by doctors based on symptoms and exposure without testing. Testing for the virus has also increased, with 6,758 new tests reported on Thursday.
COVID-19 has caused 1,100 deaths in Virginia, with 25 new deaths being reported Thursday. Deaths reported have been trending downward overall. The state's department of health does not keep records on how many people have recovered from the disease but at least 4,778 people who were previously hospitalized have since been discharged.
Restrictions began to ease in the state last week, although Virginia remains under a state of emergency until June 10. Church services and in-person dining at restaurants were allowed to resume at 50 percent capacity. Other establishments like barbershops, salons and tattoo parlors were also allowed to reopen under the relaxed restrictions.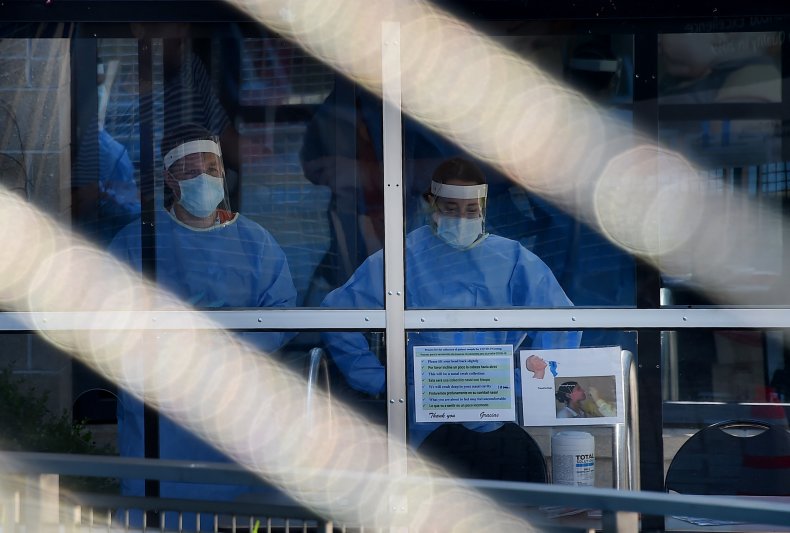 Northam announced Monday that beaches in Virginia Beach would be added to phase one of the reopening plan and allowed to reopen on Friday, after a large number of beachgoers gathered in defiance of restrictions last weekend.
The governor said that the beaches would reopen on the condition that strict guidelines are followed. Most other beaches in the state are not expected to reopen until phase two, which could begin on May 29 at the earliest.
"If people swarm these beaches and ignore social distancing rules or the regulations the city has put into place, I will not hesitate to reinstate phase one restrictions or even close the beach outright," Northam said at a news conference. "My message to Virginians is this, and it's very simple: You must be responsible."
A University of Virginia model used by the health department estimates that mitigation efforts have so far prevented over 83,000 additional cases in the state. The model predicts that new cases will peak at between 4,474 to 6,322 per week in July, after the public health restrictions are expected to be lifted statewide.
"Two-thirds of newly reported cases came from Northern Virginia, and coincide with increases in testing in recent days," a spokesperson for Northam told Newsweek in a statement. "Northern Virginia remains under a stay at home order. The Governor encourages all Virginians to continue following these important safety guidelines."
Update 5/21, 9:01 p.m.: This article has been updated to include a statement from the office of Virginia Governor Ralph Northam.