In Virginia Race, McAuliffe Runs Against the NRA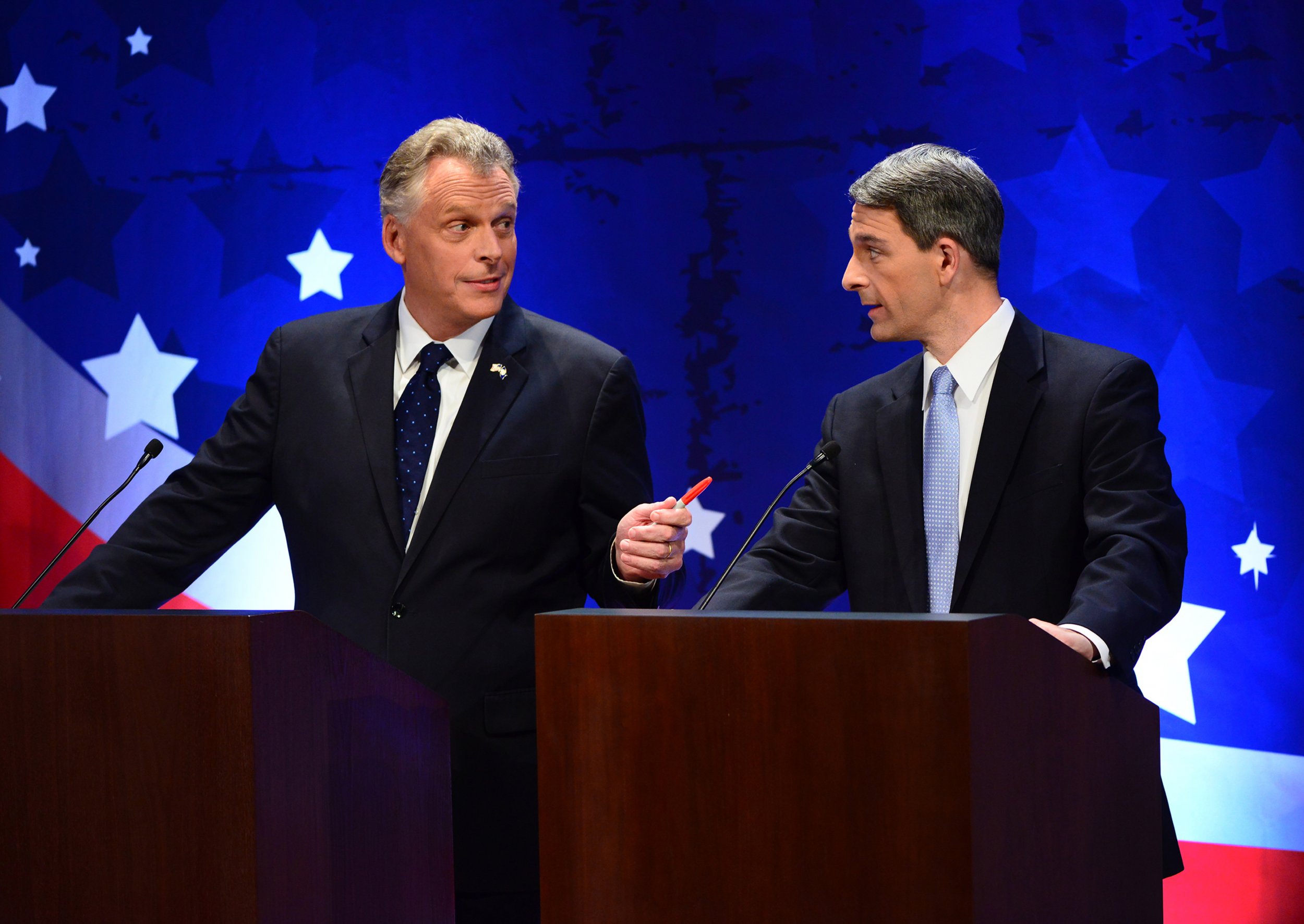 Since when is dissing the National Rifle Association a path to victory in Virginia? Since yesterday, maybe.
In the final debate before Virginians elect their next governor on November 5, Democratic gubernatorial candidate Terry McAuliffe dismissed his F rating from the NRA during a back-and-forth with the Republican candidate, Virginia Attorney General Ken Cuccinelli.
"I don't care what grade I got from the NRA," McAuliffe said. "I never want to see another Newtown or Aurora or Virginia Tech ever again."
The fight over guns in this contest is a testament to the efforts of Democrats who've changed their stance on tougher measures and a rebuke to those who say hugging the NRA line is the only way to win statewide elections. A few years ago, gun-control was a losing issue on both sides of the aisle. Today, Democrats are finding that supporting moderate gun-control measures (such as universal background checks and bans on high-capacity ammunition magazines) is a good tactical move, even in purple states like Virginia.
"It's clear to everyone that this is not your grandfather's Virginia," Larry Sabato, who heads the Center for Politics at the University of Virginia, wrote Newsweek in an email. "That includes guns. Once upon a time, Virginia Democrats were almost indistinguishable from the state's Republicans in adherence to NRA views."
Of course, many Virginia Democrats still align with the NRA, but their state now mirrors the national debate, and as such, is a good bellwether. Virginians have elected F-rated candidates, including now-Senator Tim Kaine, who served as governor from 2006 to 2010. Sabato thinks McAuliffe's anti-NRA stance was a smart way to whip up the Democratic base.
Smart, perhaps, but not safe. Less than two months ago, voters in Colorado recalled two state senators who voted for universal background check legislation and to ban large-capacity magazines – the same reforms McAuliffe supports. "The people of Colorado have made history tonight, sending a loud and clear message that will reverberate throughout the country and alter the terrain of the gun-control debate," Kurt Bardella, a communications consultant for the recall, told USA Today.
"This notion that gun control is dead after Colorado is just nonsense," Ladd Everitt, spokesman for the Coalition to Stop Gun Violence, says of the Virginia gubernatorial debate. "It's definitely a sign of the times that a candidate for governor feels comfortable speaking that forcefully on the need for new gun laws."
The NRA's Political Victory Fund has spent upwards of $500,000 for Cuccinelli, while a group created by New York City Mayor Michael Bloomberg, which has poured millions into the gun-control effort, is attacking Cuccinelli for his pro-gun stance.
McAuliffe's comment came in response to his opponent, who has been pounding on the gun issue. "I'm an A-rated NRA candidate. I'm running against the only – the only – F-rated candidate running statewide. And that's Terry McAuliffe," Cuccinelli said.
Plenty of people agree with Cuccinelli. After the debate, conservative blogger Shaun Kenney told Politico it was a, "near disaster for Terry McAuliffe on the Second Amendment. 'I don't care what grade I got from the NRA' is not something that rural Virginians, mothers caring for the safety of their children, or concerned fathers want to hear… To many Virginians where hunting is a family tradition, McAuliffe's repudiation on guns is going to sting."
McAuliffe is betting on the Virginia that Kenney is referring to fading fast, and it's worth noting that the debate took place at Virginia Tech, the site of a 2007 mass shooting that left 32 people dead and 17 wounded.