Virginia School Board Votes 7-1 Against Banning Confederate Flag From Dress Code, Board's Only Black Member Dissented
On Monday, the Franklin County School District in Rocky Mount, Virginia, ruled 7-1 that apparel emblazoned with the Confederate flag will not be banned in an update to the district's dress code.
The only no vote came from the board's sole African American member, Penny Blue, who argued that the Confederate flag is a symbol of white supremacy which needed to be banned. Blue has repeatedly urged a vote on the matter, beginning at an October 14 meeting, according to the Roanoke Times.
An attempt at amending the code to ban all clothing bearing hate speech or imagery, "examples [including] the Confederate flag," prior to the vote split the board 4 to 4.
The decision came after a four-month debate which sparked passionate arguments on both sides. Those who are against the Confederate flag in the classroom agreed with Blue's statement that the flag provides a distraction in a learning environment.
Newsweek subscription offers >
Quoting from the court ruling Hardwick v. Heyward before the vote at the January 13 meeting, Blue said, "You have to have your head in the sand if you don't think it is reasonable to believe wearing the Confederate flag would cause disruption in the learning school environment."
"The slippery slope that I believe we are going down is that if we are too general, and every teacher and every principal has such subjectivity, and we're not consistent, that's the slippery slope," she added, in her own words.
Further testimony came from local residents who spoke at the meeting.
"Should your pleasure outweigh my pain?" asked Ruby Penn.
Newsweek subscription offers >
Donna Cosmato, another board member, stated that she agreed with the ban as a citizen but not as a board member. As a member, she agreed with the notion supported by pro-flag voters that a ban of Confederate flag regalia might count as a violation of student's freedom of speech, and result in civil suits from students.
Cosmato's husband, Patrick, meanwhile, earned gasps from the crowd by saying during his turn at the microphone, "Nothing needs to be banned... I would urge those who want to walk around on this earth spring-loaded in the offended position, please just get over it."
"I don't like it. I wish students wouldn't wear it," Franklin County Schools Superintendent Dr. Mark Church told WSET. But he added that banning the flag might cause "severe" disruption to daily school life such as fights of either a verbal or physical nature between students.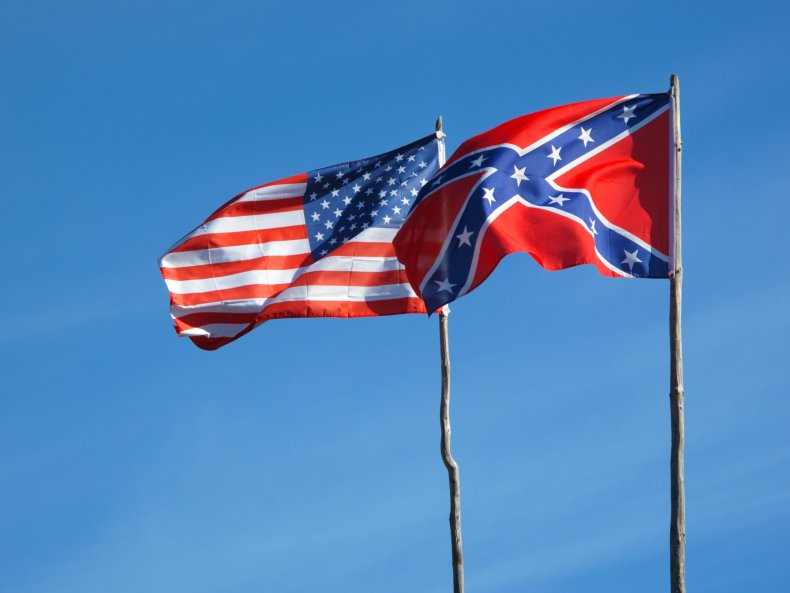 The board ultimately pulled support for its choice from the Supreme Court ruling Tinker v Des Moines, according to WSET.
The 1965 case focused on the right to expression of then-13 year old student Mary Beth Tinker, who wore a black armband to school to protest the Vietnam war. Her school suspended her and four other students for wearing their armbands; they grouped together to file a civil rights lawsuit against the school, and wore black clothing for the rest of the year in protest.
The appeals process went all the way to the Supreme Court.
The ACLU represented Tinker, and the Court ruled in her favor on February 24, 1969, voting 7-2 that students do not "shed their constitutional rights to freedom of speech or expression at the schoolhouse gate."
Confederate flag bans have earned a mixed reception from schools nationwide. While some districts, such as that of Lapel, Indiana, have successfully amended dress codes to incorporate hate speech bans, others have met with strong resistance from students, some of whom seem to see the flag not as a hate symbol but a fashion statement, or a symbol of the gun rights movement.
"Everyone loses in this lopsided vote to privilege those who continue to reject the truth about the Confederacy. Allowing symbols of the Confederate States to be displayed and worn in public schools serves to advance the false and dehumanizing narrative of white superiority and black inferiority. Unless symbols of this country's oppressive past are used as tools to teach the truth, their presence only serves to uphold a revisionist Confederate history and the belief that white supremacy was and remains a guiding principle and value in society," said Lecia Brooks, a member of the Senior Leadership Team from the Southern Poverty Law Center, when reached for comment by Newsweek.
"Further, school districts that support the promotion of Confederate imagery should consider the message this sends to students who are forced to grapple with the pain and oppression triggered as a result.
"The Franklin County Public School District has made its decision, and we respect the right of communities to decide. For some Franklin County residents, this decision underscores the importance of local elections as well as the need for local control," Brooks continued.
"We encourage school district officials to look to the state of Virginia as an example. Given recent changes in the Legislature, the state is poised to give more municipalities the power to decide what they want to see in their public spaces. What's more, it seems that the majority of municipalities in Virginia are ready to stop advancing the Lost Cause by removing these symbols of hate and degradation and begin working toward a future that reflects shared values of dignity and respect," Brooks concluded.
According to the most recent U.S. Census data available, the racial makeup of Franklin County is 87 percent Caucasian and about 8 percent African American.
Updated: (1/16/2020 10:42 p.m.): With a comment from Lecia Brooks, a member of the Senior Leadership Team from the Southern Poverty Law Center
Virginia School Board Votes 7-1 Against Banning Confederate Flag From Dress Code, Board's Only Black Member Dissented | News