Virginia School Employee Sexually Abused Four Girls in His Office—Police
An IT specialist at a Virginia elementary school has been charged with sexually abusing multiple girls, according to police.
Prince William County Police Department (PWCPD) officers apprehended Johnathan George Skocik, 33, after detectives were alerted on April 6 to numerous serious allegations that had been made against him.
The assaults against the girls allegedly took place at John Jenkins Elementary School (JJES), in Woodbridge, between March and April this year.
At the time of these incidents, the Skocik was an employee with Prince William County Public Schools (PWCPS).
According to a Saturday, April 16, PWCPD Facebook post, Shock was identified as the suspect after being identified by several girls.
It read: "Over the course of the investigation, detectives identified four total victims, all 8-year-old girls, as being inappropriately touched by the accused while in his office within the school building.
"The victims reported the encounters to a teacher who then informed school administration and the authorities. The accused was removed from the school and away from contact with children as the investigation was conducted."
Police said Skocik was arrested on April 15 and charged with four counts of aggravated sexual assault and four counts of indecent liberties by a custodian.
The PWCPD asked anyone with any information that could aid the detectives with their investigation to contact them via its website.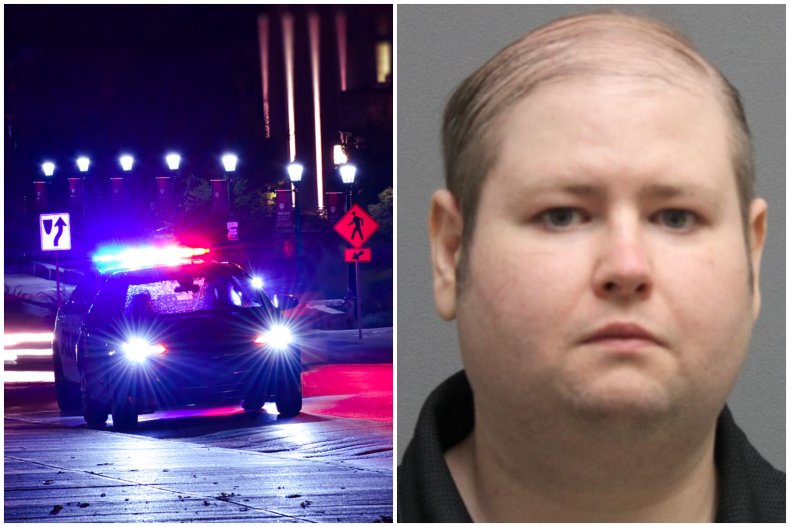 An April 15 letter to parents by JJES Principal Xanthe McFadden, sent to Newsweek said: "I am writing to inform you that the Prince William County Police Department will be releasing information about charges of alleged inappropriate behavior with students involving one of our school's support staff members. The parents and guardians of those students affected have been contacted.
"While we are limited in what we can say during the police investigation of this matter, I can tell you that the employee has been placed on administrative leave and will not be at school pending the outcome of this case. We are cooperating with the Police Department in the investigation.
"Please know that the safety of our students and staff at Jenkins Elementary School is our highest priority. Should you have any questions or concerns, please do not hesitate to contact me."
Newsweek has contacted the PWCPD for comment.
According to Virginia state law, aggravated sexual battery is a felony offense punishable by a prison term of no less than one and no more than 20 years as well as a fine not exceeding $100,000.
Depending on the severity of the sexual abuse, a person found guilty of taking indecent liberties by a custodian can face either a Class 5 or a Class 6 felony.
In Virginia, a Class 5 felony can result in imprisonment of not less than one year and no more than 10 years and a fine of no more than $$2,500.
A Class 6 felony in the state can result in not less than one year, no more than five years or, at the discretion of the judge or jury, confinement in jail for no more than 12 months and a fine of no more than $2,500.
Sexual abuse against children in the U.S. is an issue with tens of thousands of victims each year with the Rape, Abuse and Incest National Network estimating a claim of child sexual abuse is made every nine minutes.
According to the Child Maltreatment Survey, published in 2018 and commissioned by numerous U.S. child protective services, 57,329 minors were found to be victims of sexual abuse in 2016.
Earlier this month, it emerged Michael Porter, 55, was accused of secretly filming more than 100 children at numerous YMCAs around Chicago from 2006 to 2020.
He is accused of filming victims between the ages of 5 and 17 as well as inappropriately touching at least two young boys inside a locker room.
Newsweek previously reported in July 2021, the FBI announced they would charge Porter with seven counts of production and attempted production of child pornography, two counts of receipt of child pornography and one count of possession of electronic devices containing child pornography.