Virginia Senator Charged With Felonies After June Confederate Monument Protest
Virginia Senator Louise Lucas was charged Monday on felony counts in connection with the attempted destruction of the Confederate Monument in Portsmouth during a protest in June. The demonstration left a man seriously injured after he was struck by part of a falling statue.
Lucas faces charges of injury to a monument in excess of $1,000 and conspiracy to commit a felony, as do three local NAACP representatives and a Portsmouth School Board member. Three public defenders and others face a felony charge of injury to a monument in excess of $1,000.
"I am asking these persons with arrest warrants to immediately turn themselves in to the Portsmouth Police Department," said Portsmouth Police Chief Angela Greene during a Monday news conference.
Newsweek reached out to Senator Lucas' office for comment.
Protests against Confederate monuments across the country began after the May 25 death of George Floyd while in the custody of Minneapolis police officers. Many involved in the protests view the monuments as a symbol of racial hatred and have attempted to tear the statues down. Some U.S. cities have moved their Confederate monuments out of public view in an attempt to quell the demonstrations.
Senator Lucas was present at the June protest where she informed officers that peaceful protesters were exempt from being arrested at the Confederate monument because it was owned by the city. "Anybody who pays taxes has the right to be on the property," Lucas said in a video posted on social media.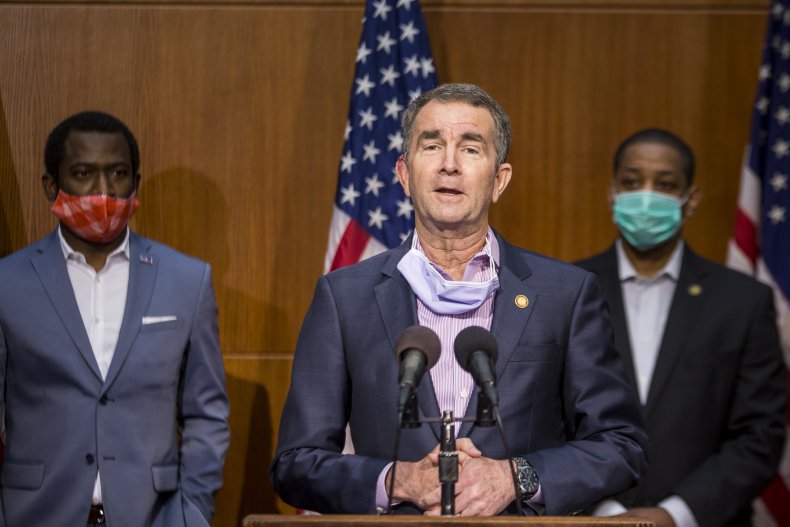 During the Portsmouth protest in June, demonstrators climbed onto the Confederate monument and dislodged one of four Confederate soldier statues, which hit protester Christopher Green. Green was taken to a local hospital where he spent some time in a medically-induced coma. Police did not attempt to interfere with the protesters until Green was injured.
Chief Greene told reporters in June that her officers were instructed by an "elected official" not to arrest any of the demonstrators, but to allow them to deface the monument. "By that time, when it was all clear, the property damage was already occurring," Greene said, "and that's when we switched from the preservation of property to the preservation of life."
While Chief Greene did not name the official which told officers not to arrest protesters, Senator Lucas suggested it may have been Portsmouth Mayor John Rowe. Rowe denied speaking with Senator Lucas about the demonstration.
"As you know, I do not have the authority to direct the Portsmouth Police Department to take or refrain from taking any law enforcement action or to offer permission to damage the monument," Rowe said in a July letter to the Portsmouth City Council.
Political discussions to remove Portsmouth's Confederate monument had been going on for years. In April, Virginia Governor Ralph Northam signed legislation that gave local governments the authority to relocate such monuments. The law went into effect at the beginning of July.
"Racial discrimination is rooted in many of the choices we have made about who and what to honor, and in many of the laws that historically governed this Commonwealth," Northam said about the law. "These new laws make Virginia more equitable, just, and inclusive, and I am proud to sign them."
In July, the Portsmouth City Council voted to relocate the monument to a storage area.