Republican Virginia State Senator Edited Yearbook Containing Blackface Photos, Racist Slurs, Including N-Word: Report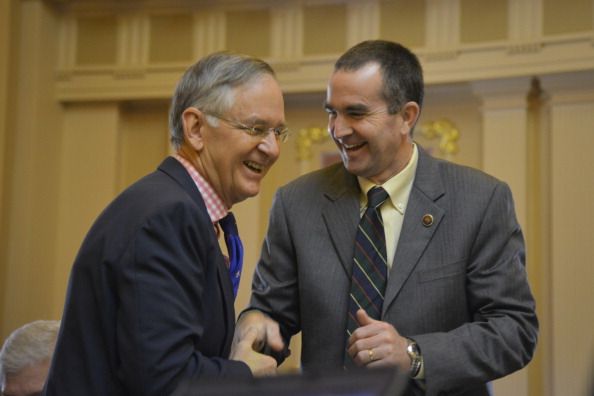 Amid the growing list of scandals rocking Virginia, with multiple politicians being urged to resign for previously dressing in blackface, it has been reported that State Senator Tommy Norment was once the editor of a college yearbook that featured racist photos and slurs.
According to a report published by The Virginian-Pilot on Thursday, the Virginia Military Institute yearbook titled The Bomb was published in 1968 and lists Norment as its managing editor.
"It has been the objective of this year's Bombstaff to concentrate on the VMI as it exists in actuality, not in theory," Norment wrote in the yearbook on a page for its editors, according to the newspaper.
The yearbook reportedly included multiple photos of students in blackface. One such photograph showed students at a party, another showed two men dressed in blackface while holding a football. The n-word was also used at least once in the yearbook.
In another section of the yearbook, one student listed as being from Bangkok was referred to with the racial slurs "Chink" and "Jap." Under another student's' photograph, the caption reads: "He was known as the 'Barracks Jew' having his fingers in the finances of the entire Corps."
Norment did not comment to reporters who asked him about the yearbook on Thursday morning. The senator was going into a Republican Caucus meeting and told them that he was there "to pass a budget."
The Republican was first elected to the Virginia Senate in 1992 and currently serves as majority leader. Norment received his bachelor's degree at the Virginia Military Institute before earning a law degree at William & Mary.
The yearbook discovery came as several other Virginia lawmakers were under attack for their past behavior.
Governor Ralph Northam, the state's top Democrat, faces scrutiny after a racist photo from his 1984 medical school yearbook resurfaced over the weekend. The photograph included one man in blackface and another in a Ku Klux Klan white robe. Northam initially apologized, but then backtracked and said he was not either of the men in the photograph.
Virginia Attorney General Mark Herring has also faced backlash for dressing in blackface when he was in college. Herring acknowledged the incident, writing in a statement that "when I was a 19-year-old undergraduate in college, some friends suggested we attend a party dressed like the rappers we listened to at the time, like Kurtis Blow."
Herring then apologized for his and his friends' "ignorance and glib attitudes" and said the moment had "haunted" him for decades.
As these old photos resurfaced this past week, another Virginia Democrat was accused of sexual assault. Vanessa Tyson, a fellow at Stanford University, accused the state's lieutenant governor Justin Fairfax of sexually assaulting her in June 2004. Tyson graphically detailed the alleged assault, but Fairfax has denied it, saying that the encounter was consensual.
"I wish her no harm or humiliation, nor do I seek to denigrate her or diminish her voice. But I cannot agree with a description of events that I know is not true," Fairfax wrote in a statement.
Northam, Herring and Fairfax have all received calls to resign amid the controversies.