Virginia Soldier Stole 'Tank' and Took It on Joyride Through Richmond
A soldier has been arrested for stealing a military vehicle and taking it on a joyride through the streets of Virginia.
Officers were involved in an unusual chase following reports an armored personnel carrier (APC) was being driven through Richmond at speeds of up to 40mph.
Videos of the vehicle—which police later confirmed was not a tank or equipped with any weaponry—were posted to social media by shocked onlookers.
"This is INSANE! Someone has hijacked a 'Tank-like' vehicle from Fort Pickett and just drove it by our apartment! This is on Broad Street in the Fan," Parker Slaybaugh, communications director for Virginia state House Speaker Kirk Cox, wrote on Twitter.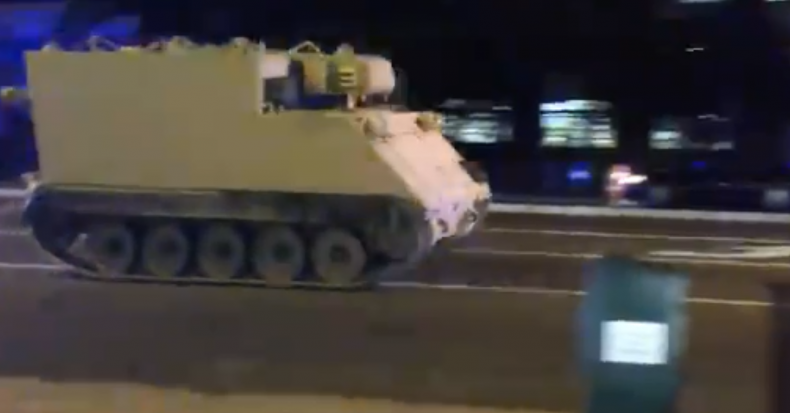 The vehicle, believed to have been taken from Fort Pickett in Blackstone, Virginia, was property of the Virginia National Guard. It made its way northbound on Interstate 95 and into the City of Richmond, reports Cleveland.com.
The driver of the vehicle eventually stopped and surrendered to authorities around 9:40 p.m. on Tuesday on East Broad Street and 11th Street in Richmond—close to the city's Capitol building, according to USA Today.
Dozens of state troopers were said to be in pursuit of the vehicle at the time of the chase.
"The Virginia State Police began pursuit of the vehicle since receiving the initial report and traveled along with it from Nottoway County to the City of Richmond," said Corrine Geller, Virginia State Police spokesperson. "No crashes or injuries occurred during the course or as a result of this incident."
Charges are still pending against the driver, who has not been identified, after he was taken into custody by Virginia State Police.
Updated: The headline of this story has been updated to correct a typo.